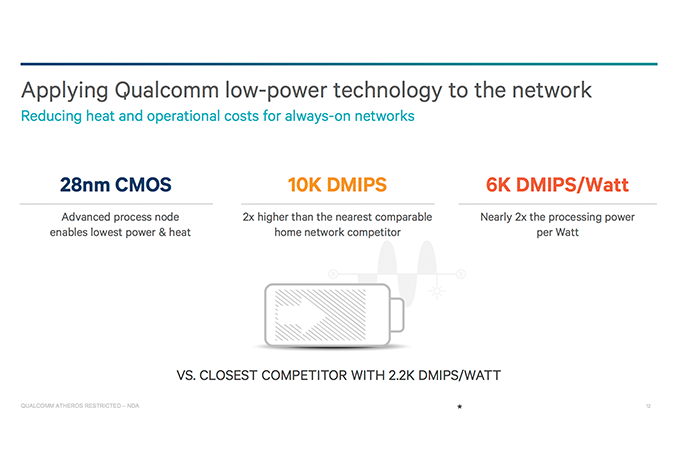 Today Qualcomm Atheros is announcing two new products and an entirely new category on its roadmap, the Internet Processor, prefixed IPQ (Internet Processor Qualcomm). The two new SoCs are IPQ8064 and IPQ8062, close cousins of the APQ8064 (Snapdragon 600) silicon we're become very familiar with. The lineup is targeted at high performance headless networking devices like home gateways, routers, and media servers that are part of a smart home network. With regular consumers adding more devices to their personal ecosystem, demanding more throughput and higher performance, the idea for Qualcomm is to use some of their IP and silicon in networking products as well.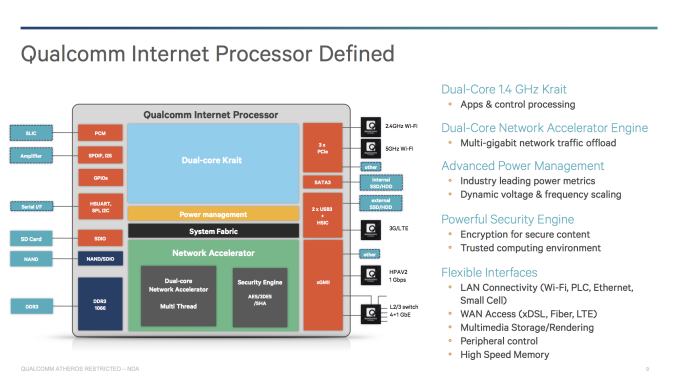 In comes IPQ8064, which has 2 Krait 300 CPUs clocked at up to 1.4 GHz, two network accelerator engines clocked at up to 730 MHz, capable of processing up to 5 Gbps of aggregate throughput through the SoC all built on TSMC's 28nm LP process. There's a host of I/O in IPQ8064 as well, 3 PCIe 1x lanes, one SATA3 port, 2 USB 3.0 ports, and XGMII (10 Gbps media independent interface). There's also the same PCDDR3 1066 interface we saw with Snapdragon 600 for memory. IPQ8062 is a cut down variant of IPQ8062 with less performance and fewer interfaces, though I'm not clear on the exact differences.
Update: Both IPQ8064 and IPQ8062 have 2 Krait CPUs and the dual core packet processor engine, the difference is clocks and aggregate throughput. 8064 clocks its Kraits at 1.4GHz (ultimately for 5 Gbps) and 8062 runs its Kraits at 1.0GHz (ultimately for 3 Gbps).
IPQ8064 has been sampling for four months, and Qualcomm Atheros expects products to arrive with it inside in the first half of 2014.