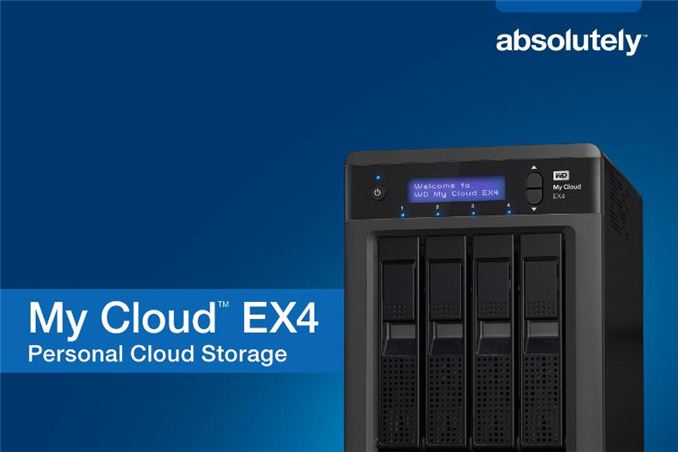 We had covered the launch of the Western Digital My Cloud platform last month. The unit available at launch was a single-bay version similar to the popular My Book Live. At that time, I had indicated that Western Digital would bring out multi-bay variants. Today, we are seeing the announcement of the My Cloud EX4, a four-bay variant.
The My Cloud EX4 comes in diskless as well as 8, 12 and 16 TB models. WD Red hard drives are included in the non-diskless models. Screw-less hard drive trays enable easy hot-swap, if necessary. There are two GbE ports and two USB 3.0 ports on the rear side of the unit. Supported RAID modes include RAID 0,1,5 and 10, as well as JBOD. Non-diskless models come pre-configured in RAID-5.
There appear to be two power input ports on the rear side of the unit, and if there is support for redundant power supplies, that would be a first in this product category. Western Digital also indicated that the platform has 512 MB of RAM, and is powered by a 2.0 GHz processor. We will be able to confirm the SoC and other details of the platform once we are able to lay hands on the unit.
As expected with any NAS targeting home consumers, the unit is a certified DLNA media server with Twonky 7.2 pre-installed. Western Digital also touts the availability of third-party apps such as aMule, Icecast, Joomla etc. Android and iOS apps are available for access to the NAS from anywhere (outside or inside the local network on which the NAS is installed).
The diskless unit has a MSRP of $380. The 8,12 and 16 TB variants cost $800, $950 and $1150 respectively. Hit up the source link for more information on the WD My Cloud EX4.


Source: Western Digital