Battery Life
The Transformer Book T100 features an integrated 31Wh battery. As the keyboard dock doesn't include an extra battery, that's all you get. The good news is that Intel's Atom Z3740 is built on the company's first 22nm SoC process and it's paired with LPDDR3. At least on the silicon front, the T100 should be fairly power efficient. Granted there are still the PMIC, display, WiFi and other components to worry about, but here's to hoping ASUS did a reasonable job there as well.
Unfortunately ASUS delivered our T100 review sample less than 48 hours ago and I've been using it non-stop since then. I think I technically broke embargo by using it at a press event but it's the only way I'd get enough time with the thing under my belt to feel comfortable writing about it. The bad news is that I only had enough time to provide a battery life teaser. I'm still running more data but for now all I've got is our WiFi web browsing test.
The T100's results are presented with the keyboard dock attached and with the display calibrated to 200 nits: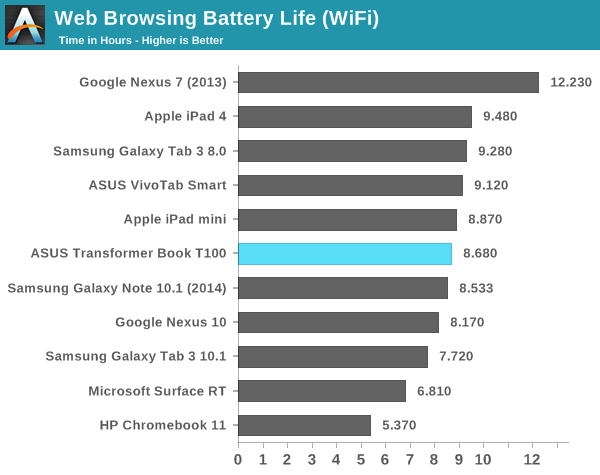 Battery life looks decent at just over 8.5 hours on a single charge. In practice I had no complaints about battery life while using the device. It feels more like a tablet in that regard and less like a notebook, which is a good thing. Once again we're seeing ASUS redefining what we've come to expect from an entry level notebook PC here. Even compared to Chromebooks we see the T100 do extremely well. I'm curious to get a better feel for how Bay Trail performs in the battery life department, which I'll be doing over the coming days. So far the results look good but not quite stellar if you compare it to traditional Android/iOS tablets. I am curious to see how BT running Android would turn out.