Display
The T100 features a 10.1-inch 1366 x 768 IPS display, which makes for awesome viewing angles and an experience that will put most entry level notebooks to shame. Compared to what we're used to seeing from Windows notebooks, ASUS did a tremendous job with the panel selection given the price of the T100.
Brightness, black levels and contrast are all reasonable but nothing extraordinary. Max brightness in particular is limited to only 228 nits. That's more than bright enough for indoor use, but outdoors or in direct sunlight you may wish for a brighter panel. Black levels are quite good, which helps deliver great contrast ratio. As I mentioned at the beginning of the article, the gap between display panel and cover glass is large enough that reflections can be an issue - a problem that is worsened by the fact that the panel can't get super bright.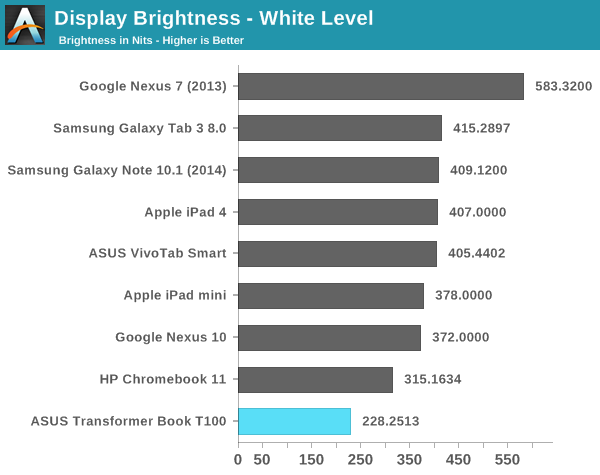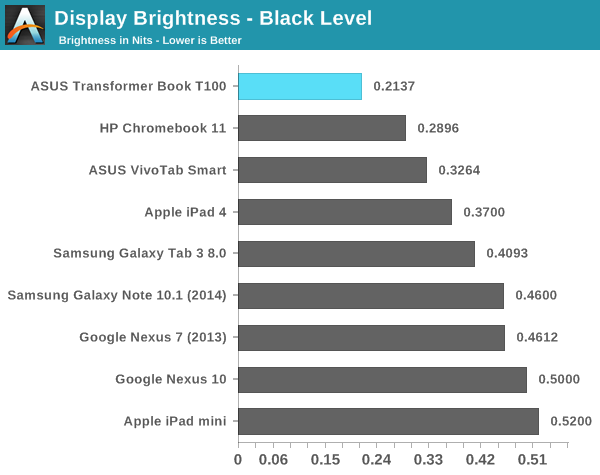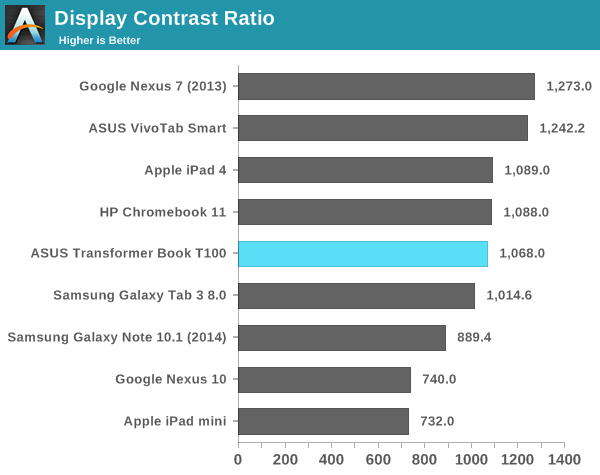 Whether or not any of this is a problem to you really depends on perspective. If we're limiting our comparison to traditional entry level PC notebooks then ASUS has really redefined what it means to be a $349 PC. If you broaden the comparison to Android tablets and even Chromebooks, the comparison grows more difficult.
Color accuracy isn't great on the T100. Once again, compared to what you'd traditionally get from a Wintel PC at this price point it's amazing. Compared to the Chromebook 11 we recently reviewed at $279 however, the T100 needs some work.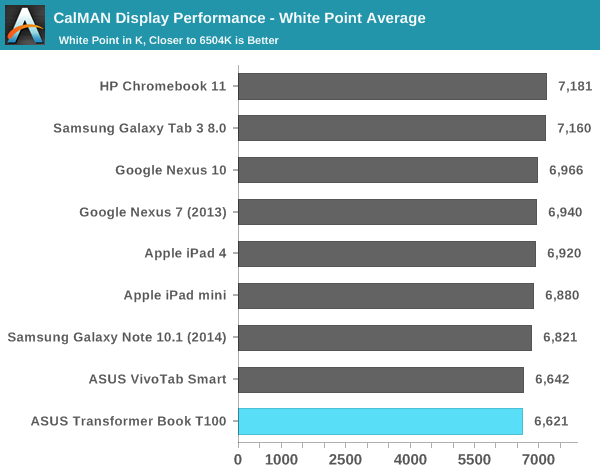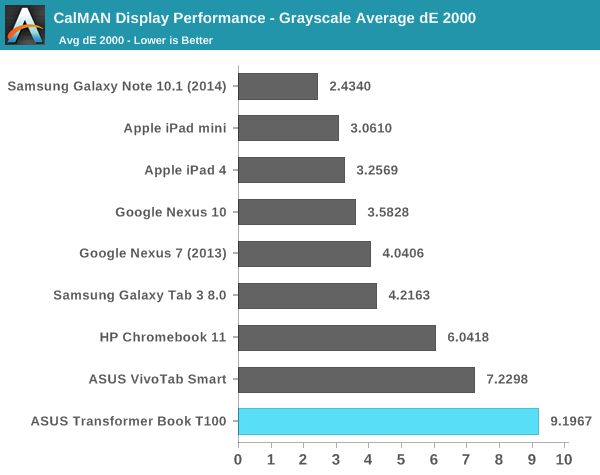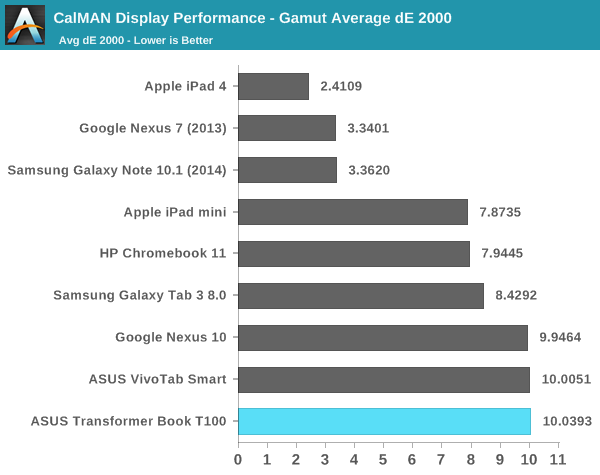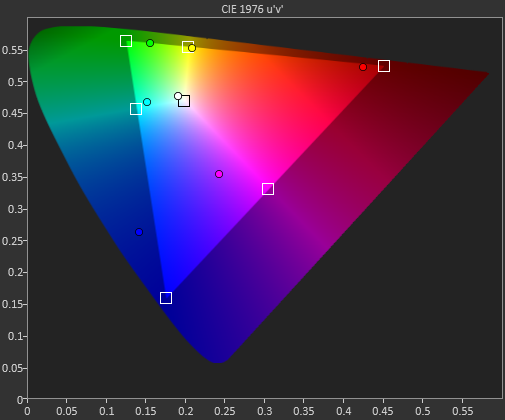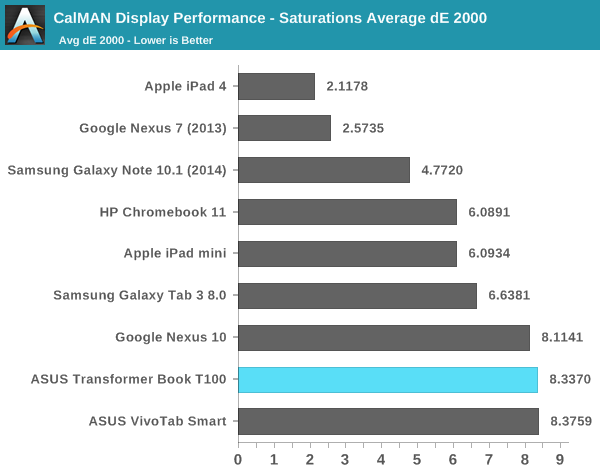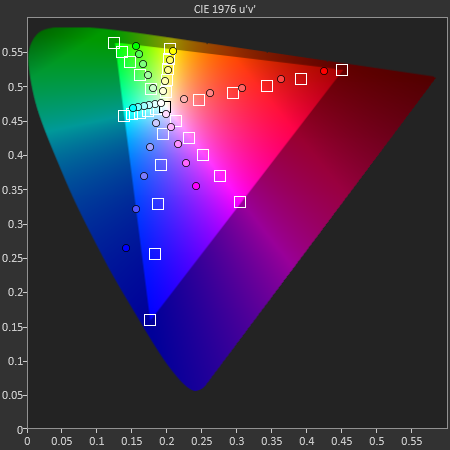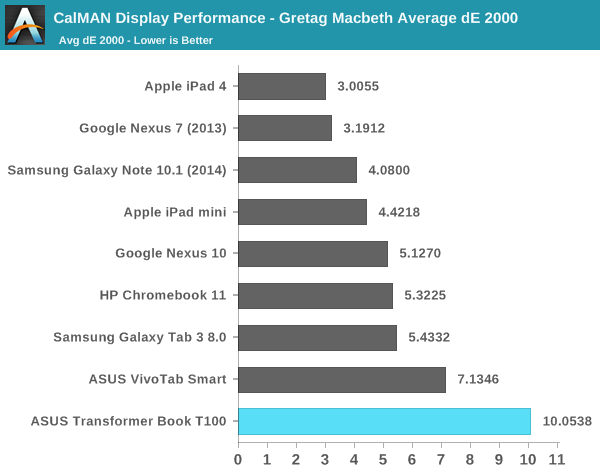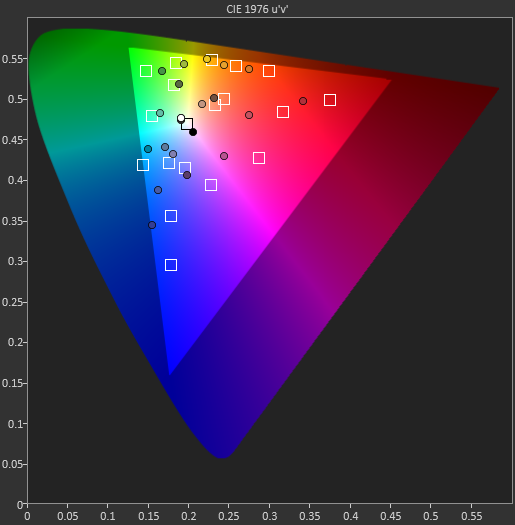 It's definitely not a bad display, it just doesn't live up to the expectations of some other low cost devices we've seen lately (e.g. 2013 Nexus 7, Chromebook 11). The charts below show you the stark difference between what we're expecting to display and what the T100 actually displays:



There's a green hue to all of the white/grays, and the other colors are just off. Users definitely benefit from the viewing angles of IPS but the T100 needs calibration.