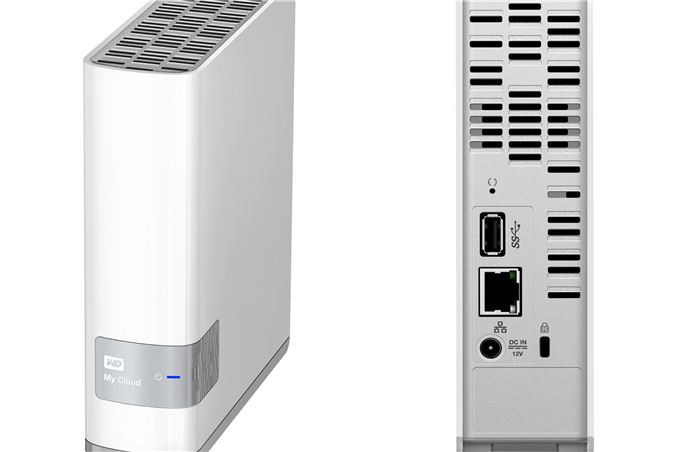 The network attached storage market is growing by leaps and bounds. While the SMB (small and medium business) / enterprise market is driven by speed, IOPS and concurrent access support, the consumer segment is primarily driven by capacity and ease of use. Vendors have typically targeted the consumer / SOHO NAS platform with RISC-based chipsets, while Atom-based units target the higher-end SOHO and SMB market. Western Digital's SMB NAS units run Windows Storage Server (the Sentinel series), but they also have a Debian Linux platform for consumer units. We have evaluated the Linux-based My Book Live before. Running on the Applied Micro APM82181 PowerPC-based platform, the unit earned our recommendation for the extreme ease-of-use and mobile app ecosystem.
Today, Western Digital is announcing a very ambitious update to the My Book Live. At launch, the new My Cloud lineup will have only one member. This member, a network attached hard-disk, will come in 2, 3 and 4 TB capacities priced at $150, $180 and $250 respectively. However, under the same lineup, Western Digital also plans to bring out two and four-drive configurations to the market soon.
The My Cloud units sport a single Gigabit Ethernet connection and a dual-core processor (WD refused to disclose the identity, but it should become apparent when we receive units in hand). The units are backed by free iOS and Android apps (with direct upload from the mobile device to the NAS as the main feature) as well as well as the WD SmartWare Pro software for PC backups. Time Machine support is also available for Mac users. The units are also compatible with DLNA devices as a DMS (Digital Media Server).
The launch of the My Cloud lineup will definitely heat up the competition in the consumer NAS segment. WD's storage background will also help in making the units hit an optimal price point. Interesting aspects to look forward to would be whether the two and four-drive units will have removable drives and/or hot-swap capabilities. We are looking forward to review one of these when the multiple-drive versions hit the market.