The script for Corsair cases is pretty much down pat at this point. You can expect ease of assembly, clean design, great liquid cooling support, and middle of the road air cooling stock performance. In these respects, the Obsidian 750D is a pleasant surprise; air cooling performance isn't pack leading, but it's slightly better than just competitive until you start really beating on the system. I'd come into this review having a clear idea of what to expect, but everyone loves when their expectations are exceeded, and that was true of the 750D.
To be certain, the 750D isn't a total, market-crushing homerun. Corsair has yet to really hit one of those, but this is at least an excellent entry in their portfolio. Usability has always been their strong suit and the 750D continues to improve on that; there simply isn't another company that makes easier cases to build in. The toolless 2.5" drive caddies hammer that home. SSDs continue to be a usability hiccup with modern enclosures, and only Corsair and NZXT seem to really be thinking outside the box here. We also continue to get solid build quality, good looks, and excellent liquid cooling support.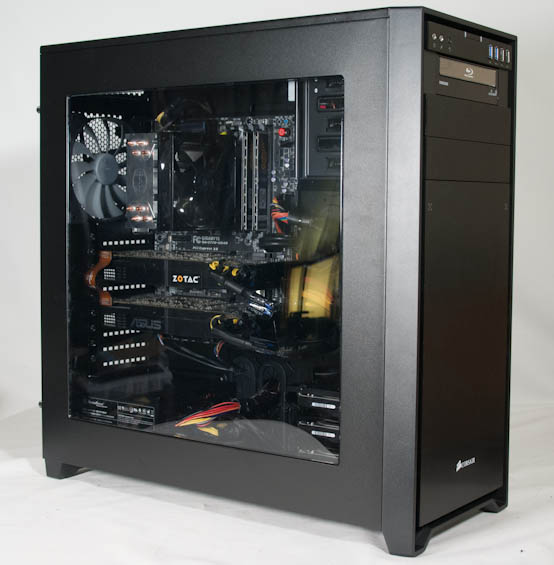 Corsair's seemingly ancient struggle with air cooling performance is starting to finally wane, but their balanced approach with the 750D's fans sacrifices performance in overclocked multi-GPU configurations. The old ATX standard is something Corsair continues to have issues with; only their exotic Carbide Air 540 is really able to offer a solid balance between liquid cooling support and air cooling performance. The cabling issues that spring up around their otherwise innovative SSD mounting system are also a small scratch on their otherwise excellent usability record.
The net result is that the 750D is exceptional, but still requires at least a little specialization. I think it's worth the $159 and I suspect any watercooling enthusiasts out there looking for something solid from Corsair that didn't cost an arm and a leg and weigh twice that much will be happy to see it; in some ways this is really a 900D for the rest of us. Corsair's case designs continue to grow and evolve and they're quickly becoming the new Antec (as that company seems to have unceremoniously ceded the case market they used to own), and the 750D is at least another interesting step on that road.