CPU Performance
Tegra 4 features the fastest ARM CPU configuration of any device we've ever tested. There are four Cortex A15 cores inside running at up to 1.9GHz. Note that 1.9GHz is the max CPU frequency even with all four cores active. Tegra 4 is an absolute beast. Do keep in mind that the Tegra 4 is actively cooled via a fan inside Shield, which does give it a bit more thermal flexibility than what we'd normally find in an Android tablet.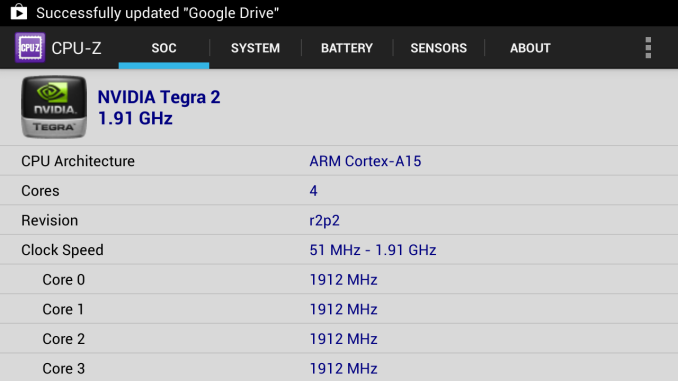 CPU-Z incorrectly identifies Tegra 4 as Tegra 2, the cores and frequencies are accurate though
Looking at even our limited CPU performance suite, the combination of ARM's first 3-issue out-of-order architecture, incredibly high clock speeds and a big chassis to dissipate heat is extremely evident. SunSpider performance is in downright low-frequency Core territory, and it just blows away anything else we've seen from any device running Android or iOS. The comparison in Google's Octane benchmark is still strong, although the Nexus 10 comes very close. Finally, we see great performance in Kraken as well. It's a shame we haven't seen Tegra 4 used in more places, because honestly this thing could make for a killer Windows RT device.
I threw in some of our early Snapdragon 800 performance data, and it looks like Tegra 4 still pulls away with a win in that comparison as well. ARM's Cortex A15 is just insanely quick. Again, there is a fan in Shield - that definitely helps make this possible.
For what it's worth, there's no funny CPU clock boosting going on upon launching any of these tests.