GPU Performance - 3DMark
The GPU performance story is finally a competitive one for NVIDIA. Although Tegra 4 lacks full OpenGL ES 3.0 compliance, it does finally dedicate enough SoC die area to GPU performance to compete with the likes of Apple and the iPad with Retina Display. We'll start with 3DMark, which is Android and Windows only at this point.
3DMark for Android features the Ice Storm benchmark and uses OpenGL ES 2.0. Ice Storm is divided into two graphics tests and a physics test. The first graphics test is geometry heavy while the second test is more pixel shader intensive. The physics test, as you might guess, is CPU bound and multithreaded. The overall score takes into account both graphics and physics tests. The benchmark is rendered to an offscreen buffer at 720p/1080p and then scaled up to the native resolution of the device being tested. This is a very similar approach we've seen by game developers to avoid rendering at native resolution on some of the ultra high resolution tablets. The beauty of 3DMark's approach here is the fact that all results are comparable, regardless of a device's native resolution. The downside is we don't get a good idea of how some of the ultra high resolution tablets would behave with these workloads running at their native (> 1080p) resolutions.
Here we see Tegra 4 in Shield outperforming all of the shipping players on Android, and virtually tying with Adreno 330 in Qualcomm's upcoming MSM8974 (Snapdragon 800 platform). Tegra 4's GPU performance is still no where near even Intel's HD 4000, but we're seeing massive improvements in raw FP throughput in ultra mobile GPUs. I'm very eager to see what's possible once Kepler makes its way into NVIDIA's mobile SoCs next year with Logan.
The 3DMark Physics test is also worth looking at as it shows a 36% increase in performance over four Krait 300 cores running at 1.5GHz. There are faster Krait 300s out there, but another 13% isn't enough to make up this gap. The Krait 400 comparison is much closer, but the Krait 400s have to be clocked at 2.3GHz to equal the performance of the 1.9GHz Cortex A15s. It remains to be seen which combination is ultimately lower power.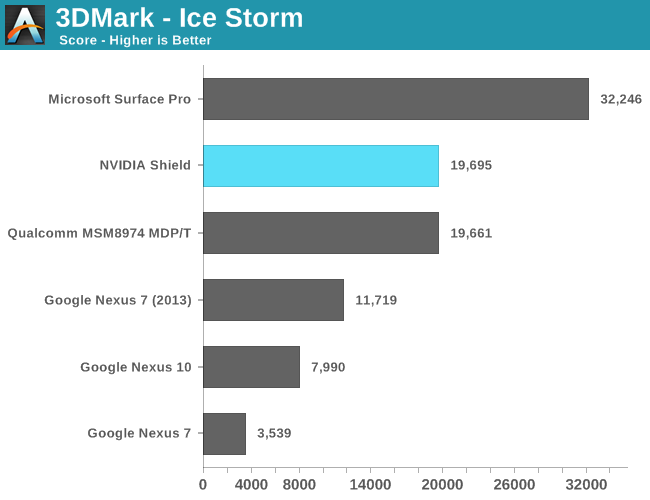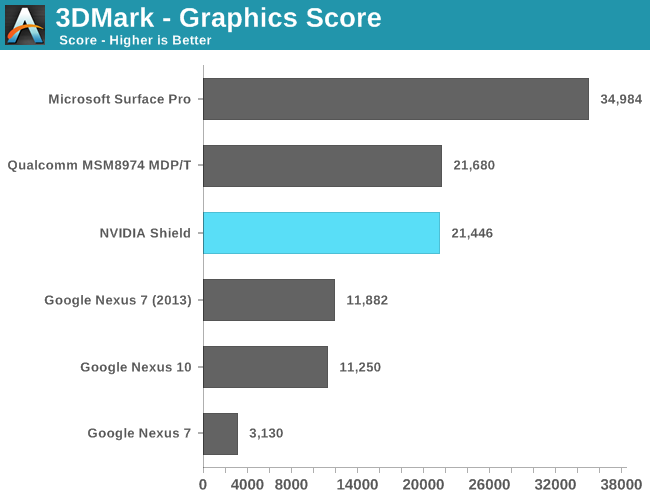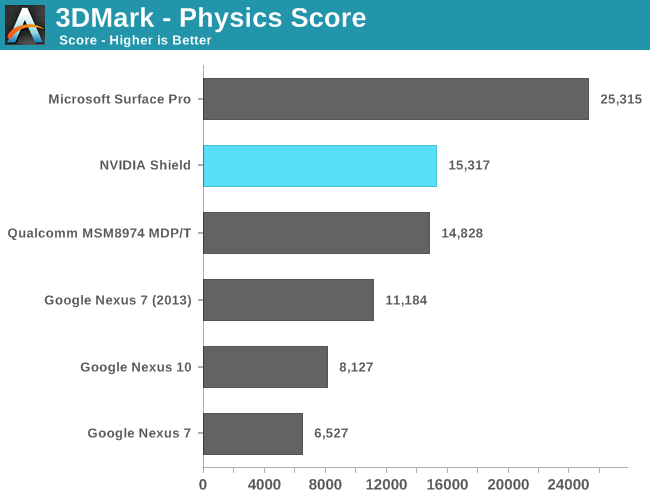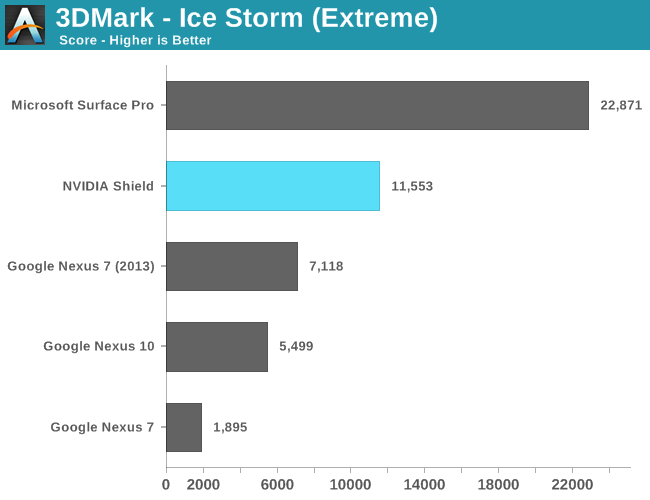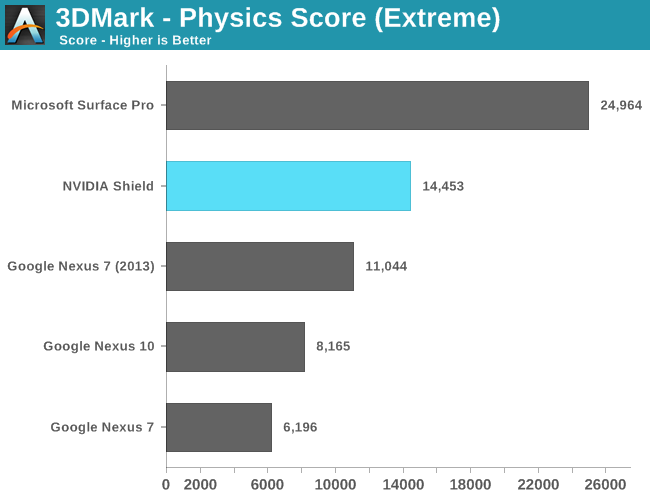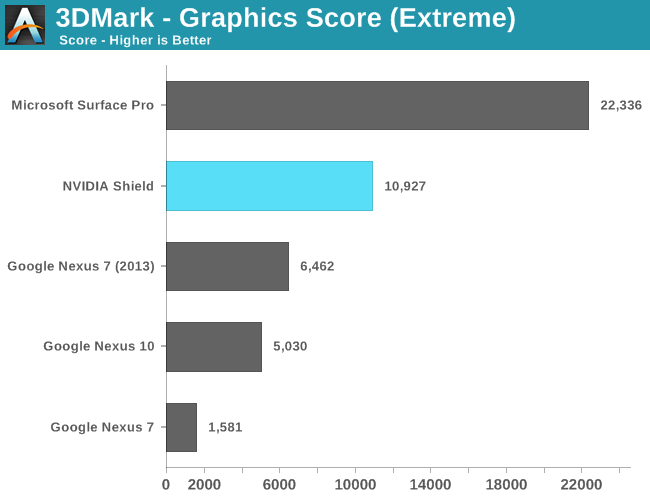 Basemark X
Basemark X is a new addition to our mobile GPU benchmark suite. There are no low level tests here, just some game simulation tests run at both onscreen (device resolution) and offscreen (1080p, no vsync) settings. The scene complexity is far closer to GLBenchmark 2.7 than the new 3DMark Ice Storm benchmark, so frame rates are pretty low.
In both tests, NVIDIA posts big gains over anything presently shipping from the Android camp. Adreno 330 pulls ahead on a level playing field, holding a 24% performance advantage over Tegra 4.
I would've loved to have seen this sort of competition from NVIDIA back when the iPad 4 launched, but it's at least good to see NVIDIA move from being a value player with Tegra 3 to a high performance contender with Tegra 4.