Dirt 3
Dirt 3 is a rallying video game and the third in the Dirt series of the Colin McRae Rally series, developed and published by Codemasters. Dirt 3 also falls under the list of 'games with a handy benchmark mode'. In previous testing, Dirt 3 has always seemed to love cores, memory, GPUs, PCIe lane bandwidth, everything. The small issue with Dirt 3 is that depending on the benchmark mode tested, the benchmark launcher is not indicative of game play per se, citing numbers higher than actually observed. Despite this, the benchmark mode also includes an element of uncertainty, by actually driving a race, rather than a predetermined sequence of events such as Metro 2033. This in essence should make the benchmark more variable, but we take repeated in order to smooth this out. Using the benchmark mode, Dirt 3 is run at 1440p with Ultra graphical settings. Results are reported as the average frame rate across four runs.
One 7970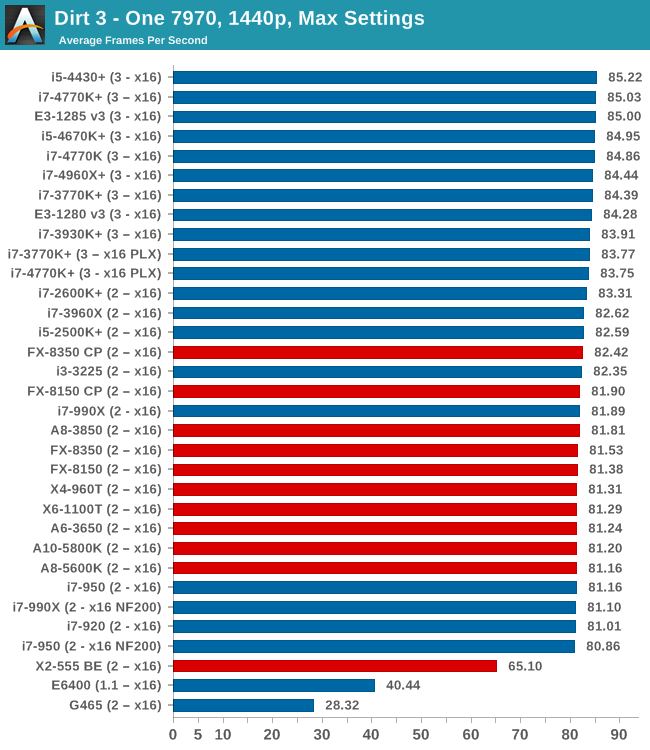 Similar to Metro, pure dual core CPUs seem best avoided when pushing a high resolution with a single GPU. The Haswell CPUs seem to be near the top due to their IPC advantage.
Two 7970s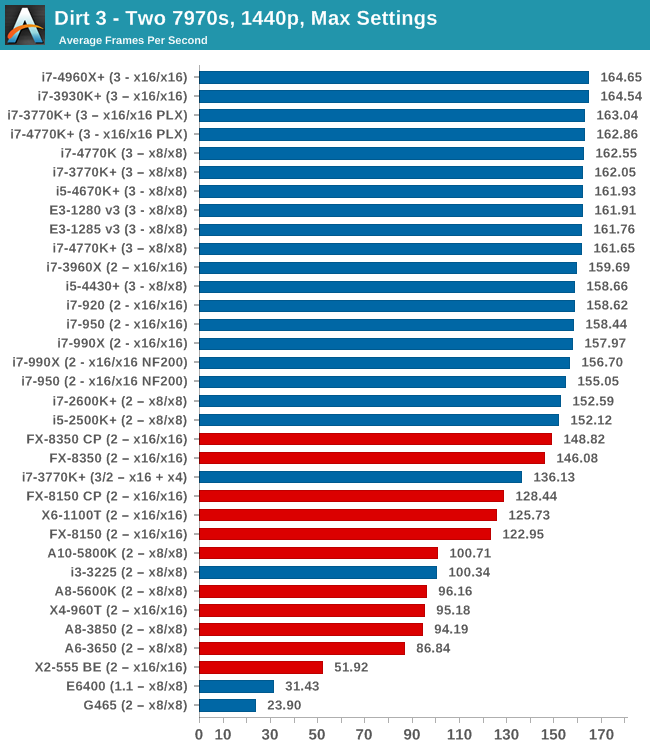 When running dual AMD GPUs only the top AMD chips seem to click on to the tail of Intel, with the hex-core CPUs taking top spots. Again there's no real change moving from 4670K to 4770K, and even the Nehalem CPUs keep up within 4% of the top spots
Three 7970s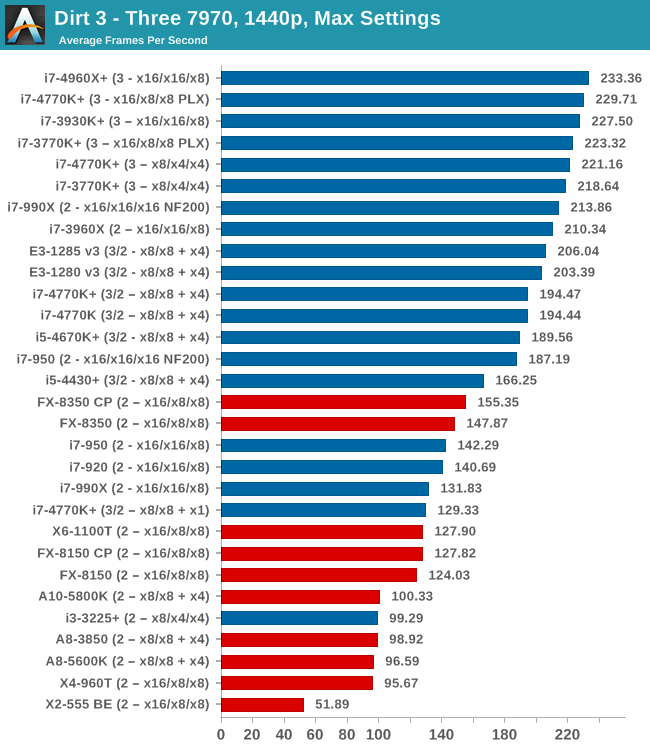 At three GPUs the 4670K seems to provide the equivalent grunt to the 4770K, though more cores and more lanes seems to be the order of the day. Moving from a hybrid CPU/PCH x8/x8 + x4 lane allocation to a pure CPU allocation (x8/x4/x4) merits a 30 FPS rise in itself. The Nehalem CPUs, without NF200 support, seem to be on the back foot performing worse than Piledriver.
One 580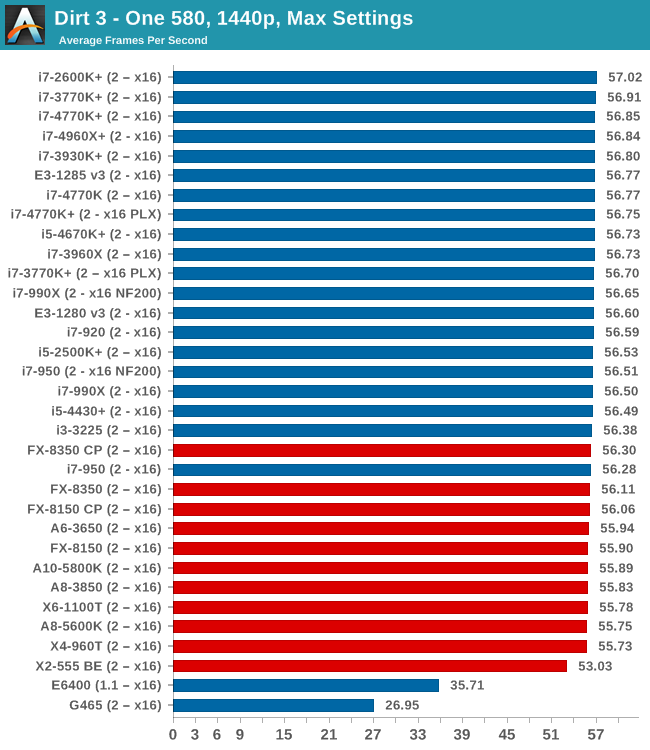 On the NVIDIA side, one GPU performs similarly across the board in our test.
Two 580s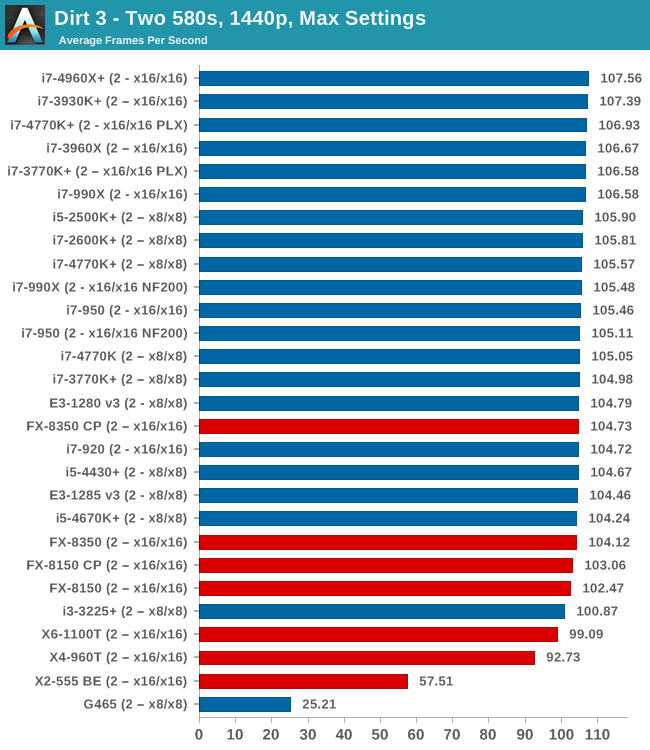 When it comes to dual NVIDIA GPUs, ideally the latest AMD architecture and anything above a dual core Intel Sandy Bridge processor is enough to hit 100 FPS.
Dirt3 Conclusion
Our big variations occured on the AMD GPU side where it was clear that above two GPUs that perhaps moving from Nehalem might bring a boost to frame rates. The 4670K is still on par with the 4770K in our testing, and the i5-4430 seemed to be on a similar line most of the way but was down a peg on tri-GPU.