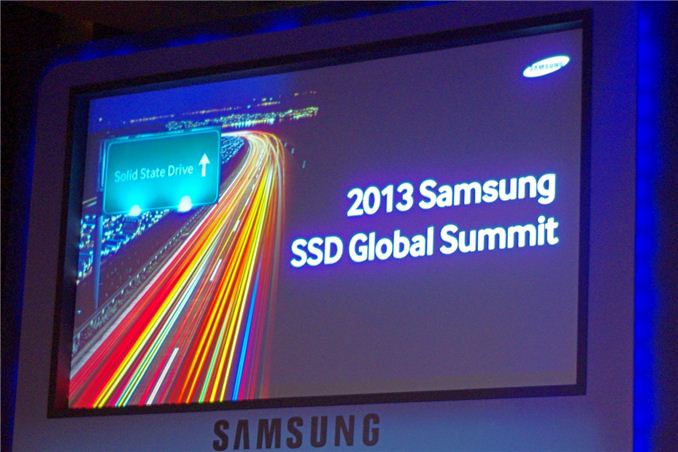 As part of the 2013 Samsung SSD Global Summit here in Korea, Samsung announced that latest member to their SSD lineup – the Samsung SSD 840 EVO, under the banner 'SSDs For Everyone'. This new drive will be available in 120 GB/250 GB/500 GB/750 GB/1 TB capacities, using 19nm Toggle 2.0 TLC, compared to the Samsung SSD 840 which uses 21nm Toggle 2.0 TLC and the 840 Pro which uses 21nm Toggle MLC. We also upgrade to the Samsung MEX Controller onboard, one up from the MDX.
Samsung SSD 840 EVO Specifications
Capacity
120GB
250GB
500GB
750GB
1000GB
Sequential Read
540MB/s
540MB/s
540MB/s
540MB/s
Sequential Write
410MB/s
520MB/s
520MB/s
520MB/s
4KB Random Read (QD32)
94K IOPS
97K IOPS
98K IOPS
98K IOPS
4KB Random Write (QD32)
35K IOPS
66K IOPS
90K IOPS
90K IOPS
Cache (LPDDR2)
256MB
512MB
512MB
1GB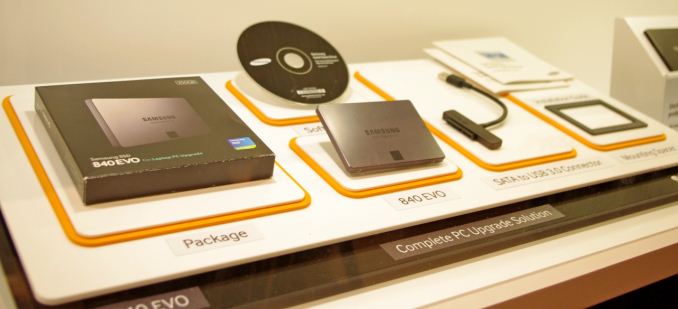 Samsung SSD 840 EVO vs 840 Pro vs 840 vs 830
Samsung
SSD 830
(256GB)
Samsung
SSD 840
(250GB)
Samsung SSD 840 Pro
(256GB)
Samsung SSD 840 EVO
(250 GB)
Controller
Samsung MCX
Samsung MDX
Samsung MDX
Samsung
MEX
NAND
27nm Toggle-Mode
1.1 MLC
21nm Toggle-Mode
2.0 TLC
21nm Toggle-Mode
MLC
19nm Toggle-Mode
2.0 TLC
Sequential Read
520MB/s
540MB/s
540MB/s
540MB/s
Sequential Write
400MB/s
250MB/s
520MB/s
520MB/s
Random Read
80K IOPS
96K IOPS
100K IOPS
97K IOPS
Random Write
36K IOPS
62K IOPS
90K IOPS
66K IOPS
Warranty
3 years
3 years
5 years
3 years
The big thing Samsung want to push with the EVO is the increased write speed for the low capacity models. Using a new feature called 'TurboWrite' (more info on this as we get it), compared to the previous 840, whereby the 120 GB model was rated at 130 MB/s and 86K/32K 4K random IOPS, the new 120 GB model is hitting a rated 410 MB/s write speeds. The peak 1 TB model is rated for 540/520 MB/s sequential read and write, with 98K/90K IOPS respectively. The 1 TB models will also feature 1 GB of LPDDR2 DRAM Cache.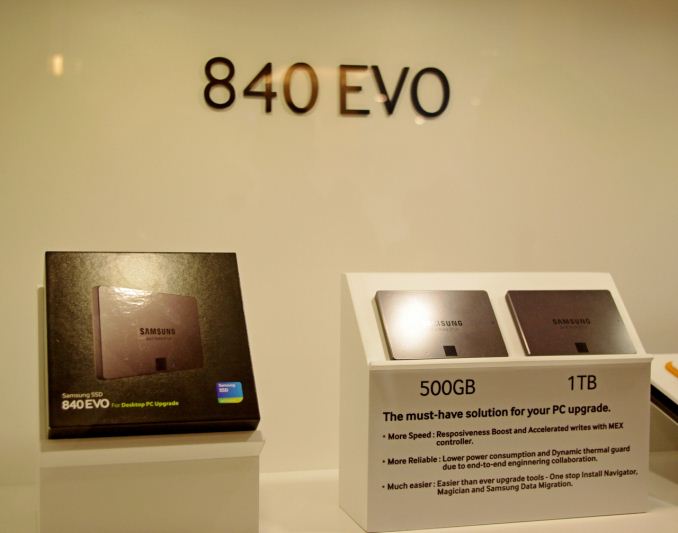 Enterprise storage is also the focus of the SSD Summit, with Samsung unveiling the XS1715, an ultra-fast NVMe (Non-Volitile Memory Express) SSD with up to 1.6 TB of storage. The XS1715 is the first 2.5" SFF-8639 SSD using PCIe 3.0 to provide a maximum sequential speed of 3 GB/s, along with 740k IOPS. The XS1715 will be available in 400GB, 800GB and 1.6 TB versions, with plans to develop the line of NVMe devices.
More information from the Summit as it occurs throughout today and tomorrow!
UPDATE: Pricing is as follows: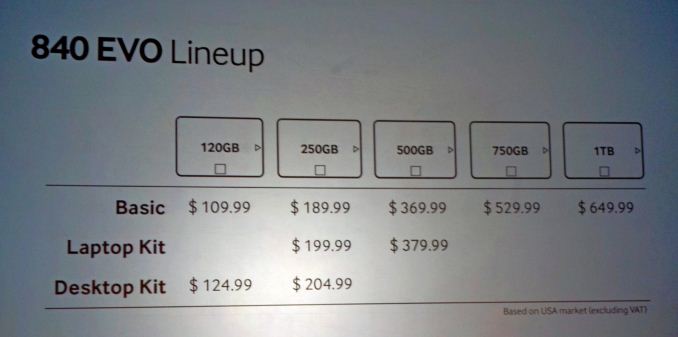 Thus for the 1TB model, $650 makes the drive $0.65/GB. At the 250GB price point, the basic Evo package is $190, compared to the current 840 standard price of $175 at Newegg.