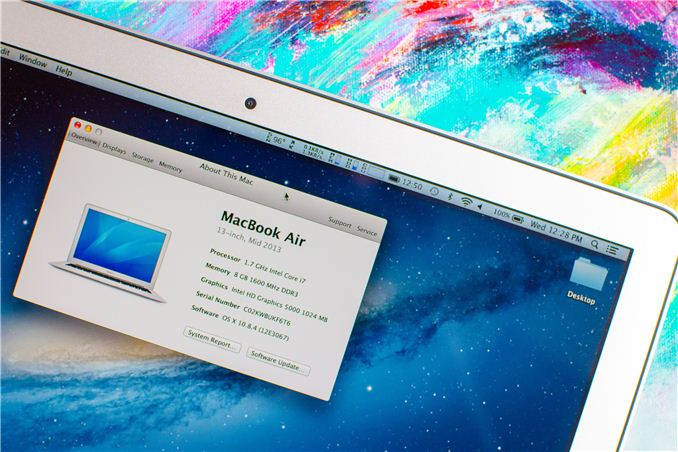 Apple typically offers three different CPU upgrades in its portable Macs: the base CPU, one that comes with the upgraded SKU and a third BTO option that's even faster. In the case of the 2013 MacBook Air, Apple only offered two: a standard SKU (Core i5-4250U) and a BTO-only upgrade (Core i7-4650U). As we found in our initial review of the 2013 MacBook Air, the default Core i5 option ranged between substantially slower than last year's model to a hair quicker. The explanation was simple: with a lower base clock (1.3GHz), a lower TDP (15W vs. 17W) and more components sharing that TDP (CPU/GPU/PCH vs. just CPU/GPU), the default Core i5 CPU couldn't always keep up with last year's CPU.
For most users upgrading from an older machine the regression won't matter. The 2013 MBA includes a much faster SSD, better graphics, and better CPU performance compared to older MBAs as well. For those users who are either trying to make an ultraportable more of a workhorse, or who otherwise need more performance than last year's MBA can offer there is one solution. The BTO upgrade increases the base clock to 1.7GHz, adds an extra 1MB of L3 cache and includes much higher turbo frequencies:
Apple 2013 MacBook Air CPU Comparison
1.3GHz dual-core
1.7GHz dual-core
Standard On
11 & 13-inch MBA
Optional on Both
Intel Model
Core i5-4250U
Core i7-4650U
Base Clock Speed
1.3GHz
1.7GHz
Max SC Turbo
2.6GHz
3.3GHz
Max DC Turbo
2.3GHz
2.9GHz
L3 Cache
3MB
4MB
TSX-NI
No
Yes
TXT
No
Yes
AES-NI
Yes
Yes
VT-x/VT-x EPT
Yes
Yes
VT-d
Yes
Yes
TDP
15W
15W
Processor Graphics
Intel HD 5000
Intel HD 5000
GPU Clock (Base/Max)
200/1000MHz
200/1100MHz
Careful binning makes all of this possible within the same TDP and cooling solution as the standard configuration.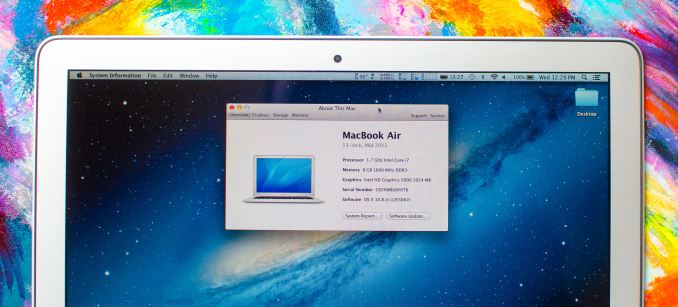 The CPU upgrade comes at a fairly reasonable cost: $150 regardless of configuration. The max clocks increase by almost 30%, as does the size of the L3 cache. The obvious questions are how all of this impacts performance, battery life and thermals. Finally equipped with a 13-inch MBA with the i7-4650U upgrade, I can now answer those questions. The two systems are configured almost identically, although the i7-4650U configuration includes 8GB of memory instead of 4GB. Thankfully none of my tests show substantial scaling with memory capacity beyond 4GB so that shouldn't be a huge deal. Both SSDs are the same Samsung PCIe based solution. Let's start with performance.