Seattle: The Atom Killer?
The chip that has the potential to give Intel some real headaches is "Seattle". It is a pretty revolutionary design for being an AMD CPU. No less than 8 or 16 ARM Cortex A57 are inside this new AMD lower power server SoC. The 28 nm SoC also integrates a 10Gbe controller, a SATA controller (high port count), encryption and compression module. But the real kicker is that this SoC will integrate some of the best Seamicro technology such as TIO (Turn It Off, reducing power by shutting down unnecessary interfaces) and the high performance Seamicro Freedom Fabric.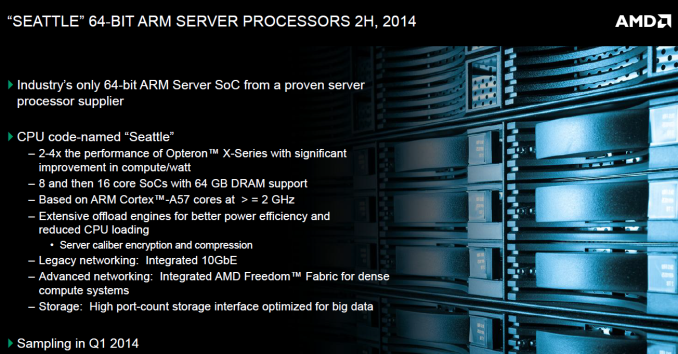 Single threaded performance will be similar to the Opteron X1150, but throughput should up to 4 times higher. There is little doubt in our minds that this might well be one of the best micro server CPU of 2014 (based upon the paper specs). It looks like the Intel Avoton will have a very potent challenger in Q1 2014.
Better Piledriver
It is clear that the micro server market gets the lion's share of AMD's attention. However, the current piledriver based Opteron 6300 gets a small facelift in Q1 of 2014. Apparantly both the core and uncore have received quite a few minor tweaks, resulting in lower TDPs and a better performance/watt. This CPU with 12 or 16 "Piledriver Enhanced" cores is called "Warsaw".
Conclusion
The Opteron-X, Opteron 6300 and "Berlin" CPU will all face stiff competition from the Intel alternatives. The integrated GPU of Berlin will make it very attractive for the HPC market, but it looks like Intel will probably have the upper hand in most of the traditional server markets.
However, the combined AMD, ARM and Seamicro technology inside AMD's new Seattle CPU look extremely promising: these are probably the best specs of a micro server CPU we have seen so far. And since all the right components are now in place, it looks like the micro server is ready for prime time. There is little doubt that Seamicro servers will continue to thrive in their niche market while HP's Moonshot and Dell's Viking will make the market much more popular. So there is good chance that AMD will make a big comeback in 2014 in the server market.