Meet AMD's Berlin: Radeon + Steamroller
The current Opteron 4310 EE (2 modules, 4 cores at 2.2-3 GHz, 40W TDP) and Opteron 4376 HE (4 modules, 8 cores at 2.6-3.6 GHz, 65W TDP) are about the best AMD can deliver for low power servers that need more processing power. These will be replaced by AMD's Berlin CPU, the first Opteron with the new Steamroller cores.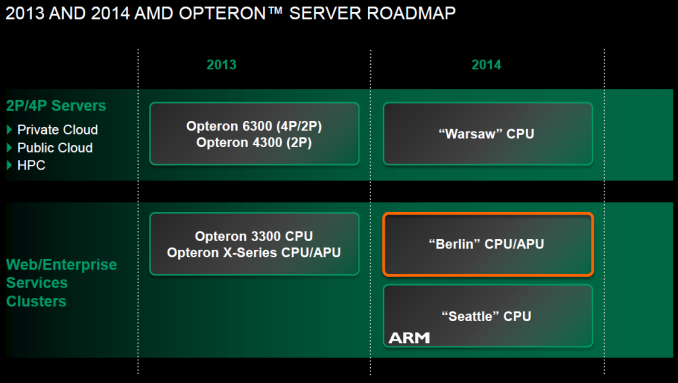 The Quadcore chip integrates a next generation Radeon core, PCI-e 2.0/3.0, LPC, USB 2.0/3.0 and Serial-ATA controller.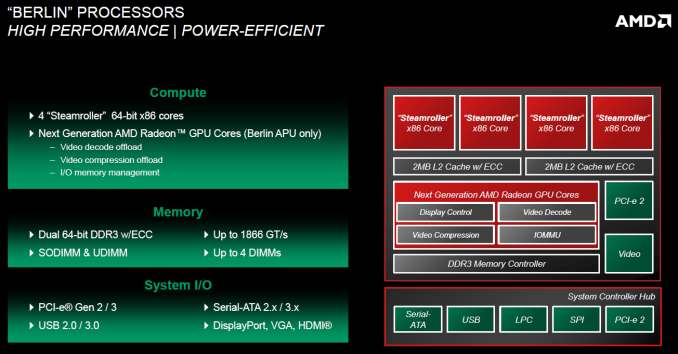 AMD says that using the graphics core for the heavy scalar floating point will get as easy as C++ programming and as a result, Berlin should make a few heads turn in the HPC world. It even looks like SSE-x will get less and less important over time in that market. Andrew Feldman told us that Berlin will offer at least two time much CPU processing performance as the Opteron X-series. Although the TDP will be higher, the performance per Watt will be quite a bit better. Berlin will use the same 28 nm process technology as the Opteron x1150 and x2150. This chip will be available in the first half of 2014, and might experience some stiff competition from Haswell based Xeons.