Build Quality, Heat, and Noise
So the MSI GT70 Dragon Edition was supposed to be our flagship Haswell and NVIDIA GeForce GTX 780M review. On purely CPU-centric tasks, it didn't disappoint, but whenever the GTX 780M was invoked it started having serious problems. So what happened? Monitoring GPU clocks during testing didn't reveal any issues; in fact, most of the time the 780M was running in the neighborhood of 920MHz. Realistically, it should be pulverizing the outgoing 680M at those speeds.
For comparison's sake, this is what the internal design of the Alienware M17x R4 looks like: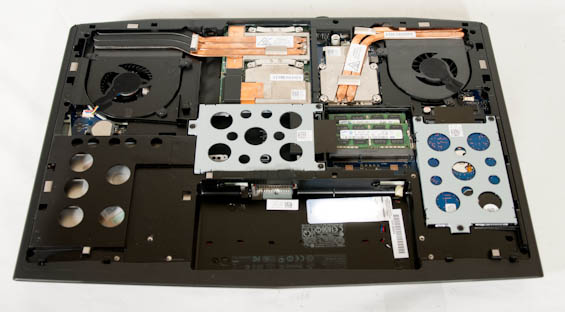 Now here's the internal design of the MSI GT70 Dragon Edition, and hopefully that should give you all the information you need.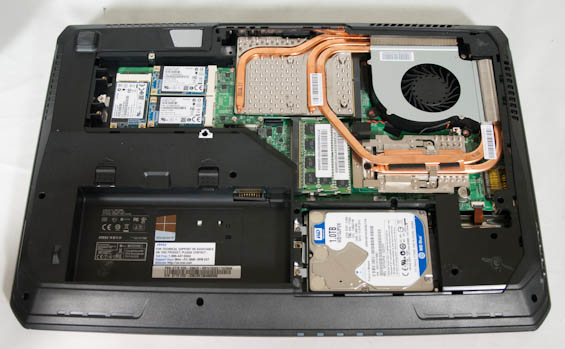 At this point, the problem is pretty evident: MSI is trying to cool both a high performance mobile CPU and a high performance mobile GPU with a single fan. The cooling system has one fan with a pair of heatsinks around it: cool air comes in through the back of the GT70 and through the GPU's heatsink array, and then the hot air pulled off of that is used to cool the CPU's heatsink array behind the GT70's exhaust.
The result is that a few runs of games and some stress testing pops up with a HWMonitor screen that looks like this: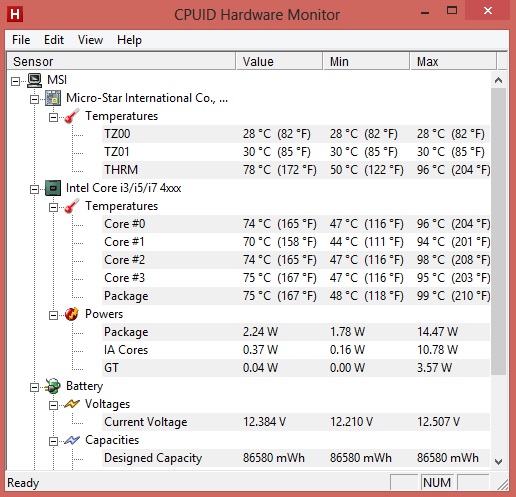 The CPU is throttling. Noise levels remain reasonable during gaming, but that's because the CPU is essentially cooking itself. And keep in mind that the GPU is getting cooled first, so the GTX 780M's boost has a healthy amount of headroom to play with. Now, MSI does have a "feature" that can be employed to mitigate thermal issues.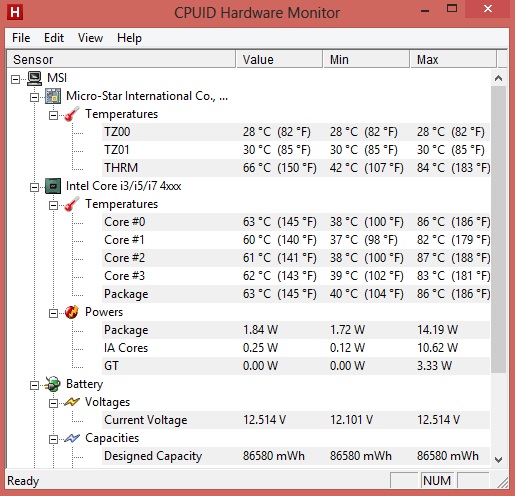 All you have to do to get these thermals is push a touch-sensitive button above the keyboard that toggles the system fan to maximum. Of course, in the process the noise levels wind up being obnoxious and well over 50dB, and performance improves minimally. The fact remains: the MSI GT70 Dragon Edition's thermal design simply isn't enough. I've heard stories of this chassis having thermal issues in earlier models, but at least now I can decisively pin it down.
For a flagship gaming notebook, this is basically inexcusable, and you're really paying for the trio of SSDs in RAID 0 more than anything else. For the same money you can get an Alienware 17 with a GTX 780M. While we haven't tested it yet, it's due in for review soon, and I can tell you that the cooling system is still designed with separate dedicated fans and heatsinks for the CPU and GPU.