Power Consumption
Before proceeding to the business end of the review, let us take a look at some power consumption numbers. The G.Skill RAM was set to DDR3 1600 during the measurements. We measured the average power drawn at the wall under different conditions. In the table below, the Blu-ray movie from the optical disk was played using CyberLink PowerDVD 13. The ISOs were mounted using Windows 8's in-built mounting tool. Prime95 v27.9 and Furmark v1.10.6 were used for stress testing. Blu-ray ISO ripping was done using AnyDVD HD v7.2. The Prime95 + Furmark benchmark was run for 1 hour before any measurements were taken. Power consumption numbers for local file playback using various renderer / decode combinations has already been covered in a previous section. The testbed was connected to a Wi-Fi network (and the GbE port was left unconnected) throughout the evaluation. In all cases, a wireless keyboard and mouse were connected to the testbed.
Haswell HTPC Testbed Power Consumption
Idle
25.94 W
Sleep
1.38 W
Prime95 v27.9 + Furmark 1.10.6 (Full loading of both CPU and GPU)
85.68 W
Prime95 v27.9 (Full loading of CPU only)
73.79 W
1080p24 H.264 Blu-ray Playback from ODD
34.5 W
1080p24 VC-1 Blu-ray Playback from ODD
33.21 W
1080i60 VC-1 Blu-ray Playback from ODD
34.37 W
1080p24 VC-1 Blu-ray ISO Streaming from NAS
30.91 W
1080p24 H.264 MVC Blu-ray ISO Streaming from NAS
32.67 W
Blu-ray Rip to ISO from ODD
36.41 W
The following screenshots gives an idea of how the integrated GPU and the CPU share the thermal headroom. In the first case, we have full CPU loading and no load on the GPU.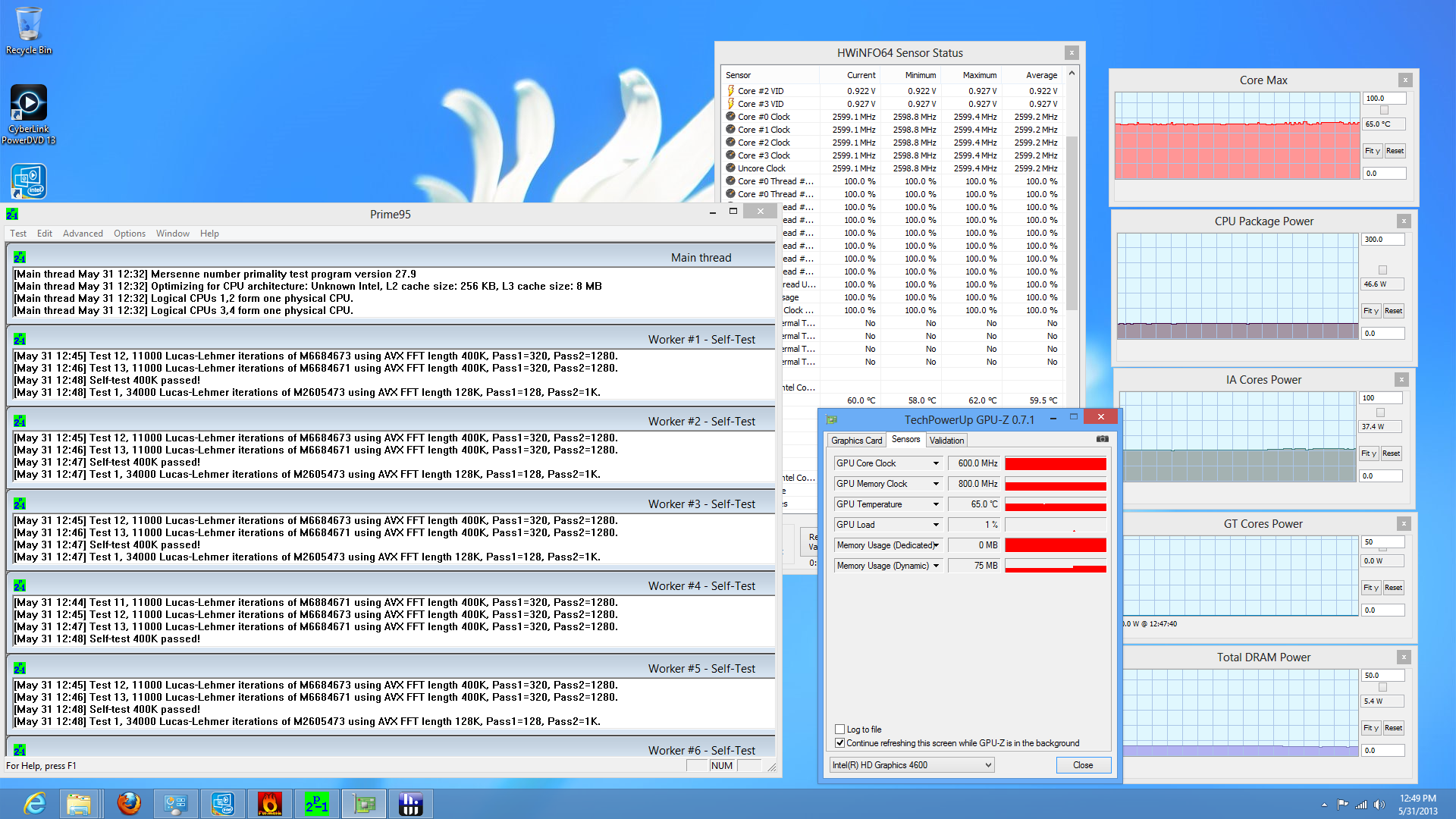 The CPU package power is around 47 W, with the IA cores alone consuming around 37 W. The second screenshot shows the transition from purely full CPU loading to full CPU and GPU loading. The CPU package power rises from 47 W to around 54 W. The GPU is consuming around 18 W, while the IA cores go down to around 27 W.