QuickSync Gets Open Source Support, Regresses in Quality
I have traditionally avoided touching upon QuickSync in any of my HTPC reviews. The main reason behind this was the fact that support only existed in commercial software such as MediaEspresso, and even that functionality was spotty at best. Limited source file type support as well as limited configuration options rendered these unusable for the power users. While full x264 acceleration using QuickSync is out of the question, the developers of HandBrake have come forward with support for QuickSync in their transcoding application.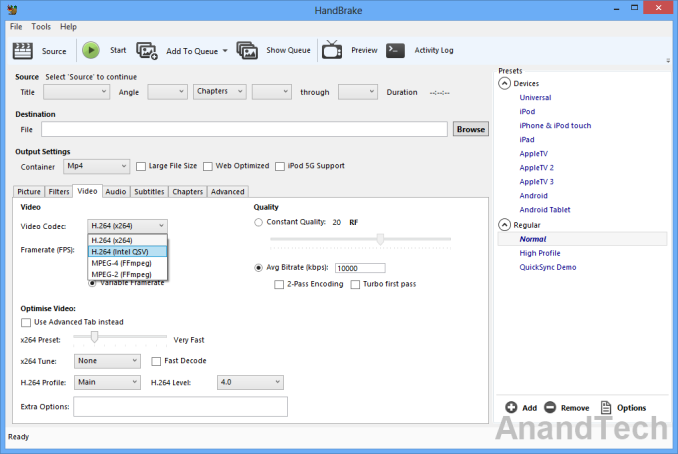 The feature is still in beta (for example, only H.264 files are allowed as input right now, and cropping isn't working properly), but we took it out for a test drive. We took a m2ts file from a Blu-ray and compressed it with a target bitrate of 10 Mbps using x264 single pass (everything at default) as well as QuickSync. The time taken for compression as well as the average power consumption during the course of the process are tabulated below. Numbers are also provided for the same process using our passive Ivy Bridge HTPC (which has the HD4000 GPU).
H.264 Transcoding Performance
Transcoding Configuration
Engine
Power (W)
FPS
1080p @ 36.2 Mbps to 1080p @ 10 Mbps
QuickSync on HD4600
41.81 W
90.41
x264 on Core i7-4765T
67.93 W
51.66
QuickSync on HD4000
50.32 W
127.64
x264 on Core i3-3225
53.63 W
25.99
1080p @ 36.2 Mbps to 720p @ 7 Mbps
QuickSync on HD4600
44.02 W
166.91
x264 on Core i7-4765T
65.37 W
32.88
QuickSync on HD4000
59.67 W
206.65
x264 on Core i3-3225
53.85 W
16.31
Fast and power-efficient transcoding is not the only requirement in the market. Video output quality is also very important. Encoder companies may present whitepapers with cherry-picked frame captures to show their efforts in good light. For all it is worth, the company's selected frame might be an I-frame, while the competitor's samples might be P or B-frames. PSNR is also presented as a metric indicating better quality. However, this is very unfair because encoders might be particularly tuned for PSNR but look bad when compared against the results of encoders tuned for, say, structural similarity (SSIM).
QuickSync is usually pretty fast, but the choice of bitrates in Handbrake seem to force it into one of the new modes in Haswell which actually regressed in both performance and image quality. This explains why the FPS on HD4000 is much more than than on the HD4600. However, Haswell remains very power efficient. Anand had mentioned in passing about image quality degradation in QuickSync on Haswell in yesterday's review. I was also able to replicate it. Given below are 10 consecutive raw frames from the various encoders. Take a look and judge for yourself on the basis of how the encoders handle movement and whether there are any image artifacts in the encoder results.
In our opinion, the QuickSync results on HD4600 appear to be worse than what is obtained on the HD4000. With Haswell, Intel introduced seven levels of quality/performance settings that application developers can choose from. According to Intel, even the lowest quality Haswell QSV settings should be better than what we had with Ivy Bridge. In practice, this simply isn't the case. There's a widespread regression in image quality ranging from appreciably worse to equal at best with Haswell compared to Ivy Bridge. I'm not sure what's going on here but QuickSync remains one of the biggest missed opportunities for Intel over the past few years. The fact that it has taken this long to get Handbrake support going is a shame. Now that we have it, the fact that Intel seems to have broken image quality is the icing on a really terrible cake.
For users looking for the best quality transcodes, software based x264 can deliver better output with tweaked options two-pass encodes (such flexibilities are just not available with the QuickSync encoder). The big attraction to QuickSync remains low CPU utilization (< 10% in many cases) while you transcode. The image quality produced by Haswell's seemingly broken QSV implementation is still good enough for use on smartphones and tablets, it's just a step in the wrong direction.