CPU Performance: Five Generations of Intel CPUs Compared
For the purposes of our look at Haswell, we will be breaking up our review coverage into two parts. The rest of this article will focus on the CPU side of Haswell, while coverage of the GPU - including Iris Pro and Crystalwell - has been spun off into another artice: Intel Iris Pro 5200 Graphics Review: Core i7-4950HQ Tested.
The majority of the market doesn't upgrade annually, so I went back a total of five generations to characterize Haswell's CPU performance. Everything from a 2.53GHz Core 2 Duo through Nehalem, Sandy Bridge, Ivy Bridge and Haswell are represented here. With the exception of the Core 2 platform, everything else is running at or near the peak launch frequency for the chip.
In general, I saw performance gains over Ivy Bridge of 1 - 19%, with an average improvement of 8.3%. Some of the performance gains were actually quite impressive. The 7.8% increase in Kraken shows there's still room for improvement in lightly threaded performance, while the double digit FP performance gains in POV-Ray and x264 HD really play to Haswell's strengths.
Compared to Sandy Bridge, Haswell looks even more impressive. The Core i7-4770K outperforms the i7-2700K by 7 - 26%, with an average performance advantage of 17%. The gains over Sandy Bridge aren't large enough to make upgrading from a Sandy Bridge i7 to a Haswell i5 worthwhile though, as you still give up a lot if you go from 8 to 4 threads on a quad-core part running heavily threaded workloads.
Compared to Nehalem the gains average almost 44%.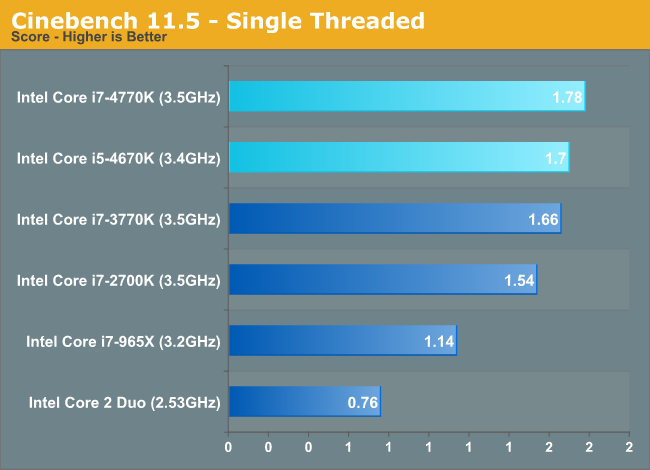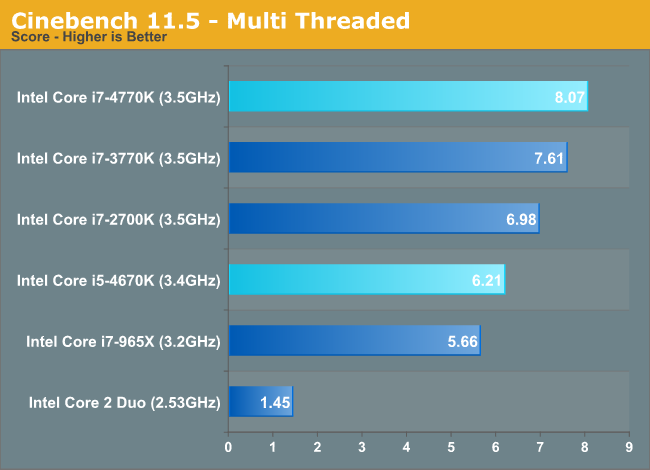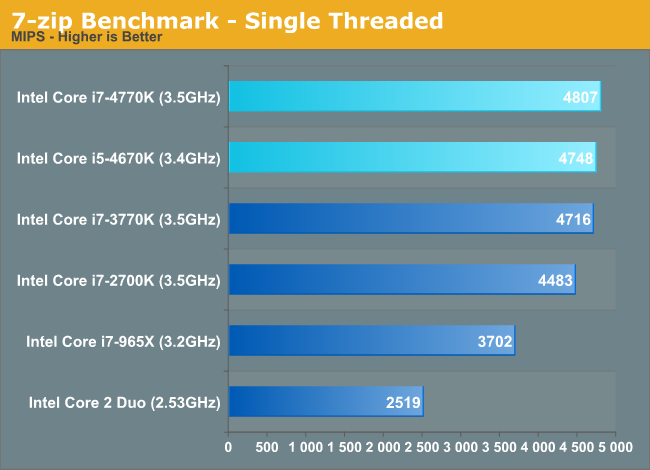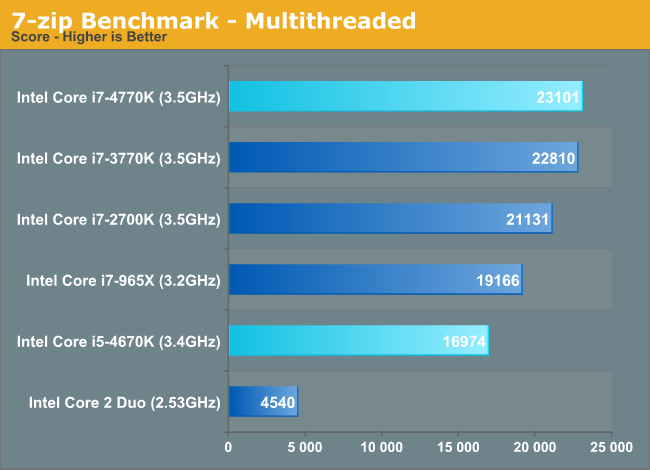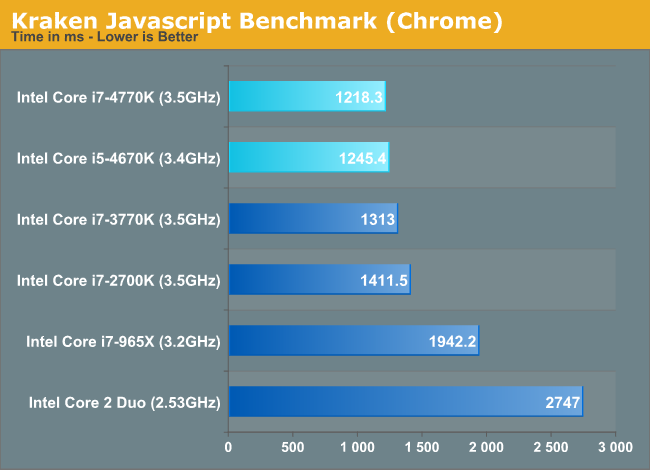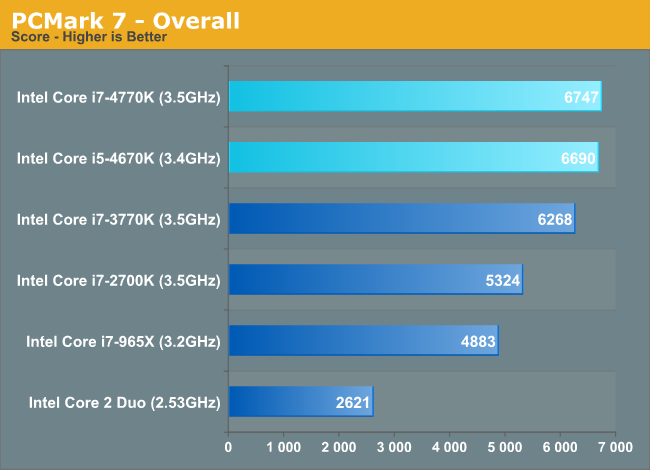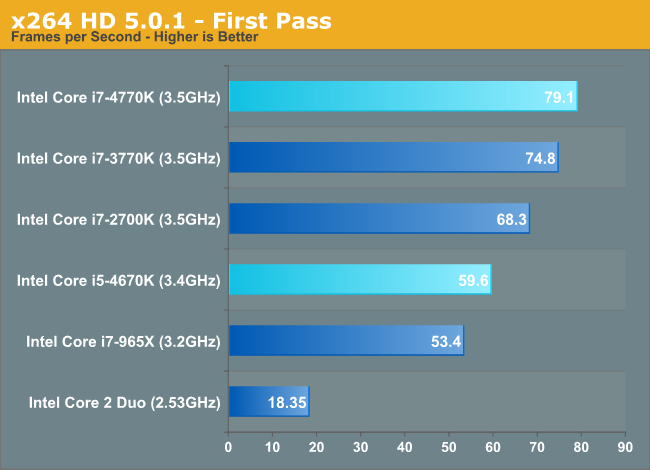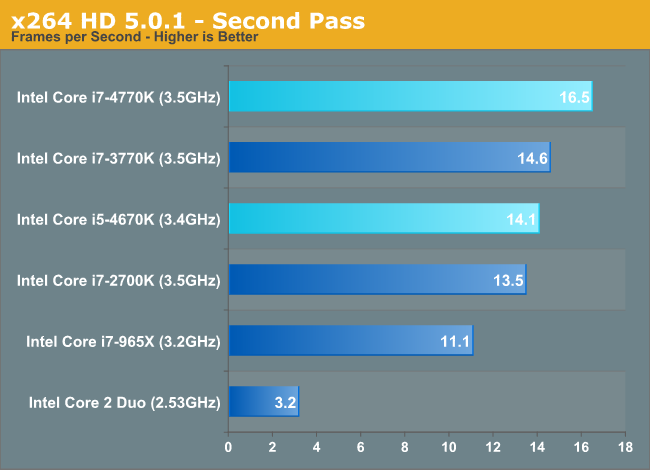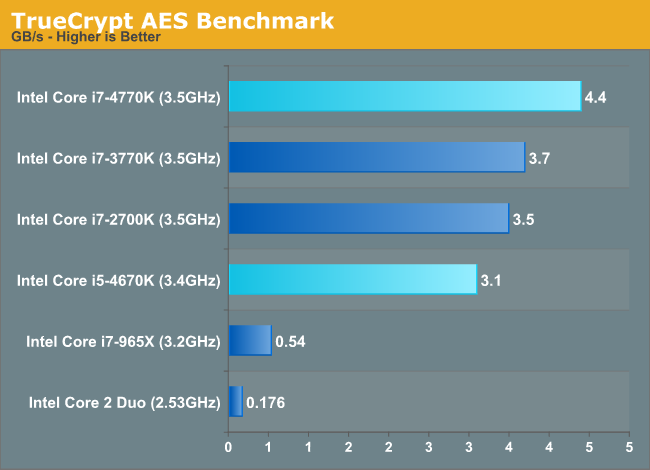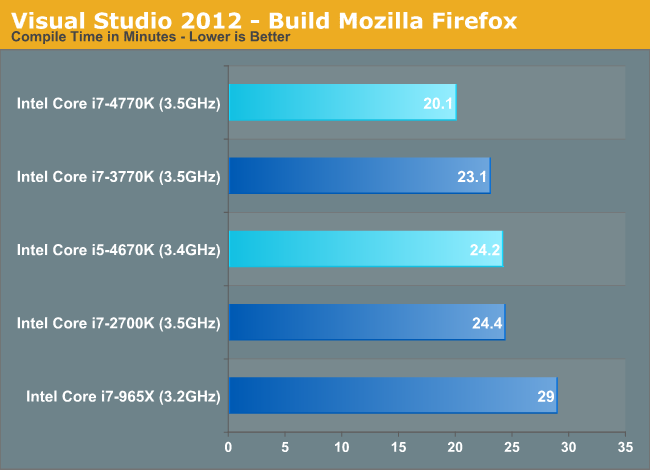 Quite possibly the most surprising was just how consistent (and large) the performance improvements were in our Visual Studio 2012 compile test. With a 15% increase in performance vs. Ivy Bridge at the same frequencies, what we're looking at here is the perfect example of Haswell's IPC increases manifesting in a real-world benchmark.
Gaming Performance
After spending far too much time on the Iris Pro test system, I didn't have a ton of time left over to do a lot of gaming performance testing with Haswell. Luckily Ian had his gaming performance test data already in the engine, so I borrowed a couple of graphs.
As expected, Haswell is incrementally quicker in GPU bound gaming scenarios compared to Ivy Bridge - and most definitely at the top of the charts.