Integer & FP Execution
On the integer execution side, units and pipelines look largely unchanged from Bobcat. The big performance addition here is the use of Llano's hardware divider. Bobcat had a microcoded integer divider capable of one bit per cycle, while Jaguar moves to a 2-bits-per-cycle divider. The hardware is all clock gated, so when it's not in use there's no power penalty.
The schedulers and re-order buffer are incrementally bigger in Jaguar. Some scheduling changes and other out of order resource increases are at work here as well.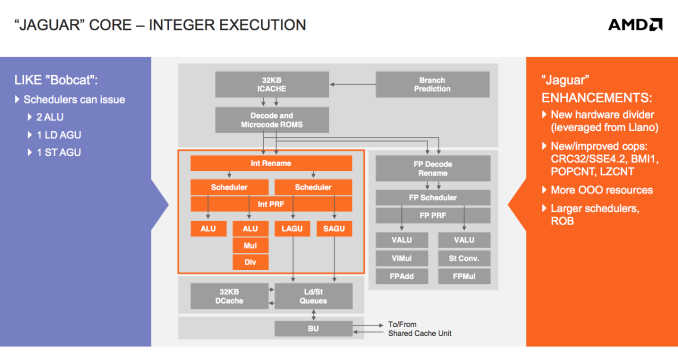 Integer performance wasn't a huge problem with Bobcat to begin with, but floating point performance was a different issue entirely. In our original Brazos review we found that heavily threaded FP workloads were barely faster on Bobcat than they were on Atom. A big part of that had to do with Atom's support for Hyper Threading. AMD addressed both issues by beefing up FP execution and doubling up the maximum number of CPU cores with Jaguar (more on this later).
Bobcat's FP execution units were 64-bits wide. Any 128-bit FP operations had to be chunked up and worked on in stages. In Jaguar, AMD moved all of its units to 128-bits wide. AVX operations complete as 2 x 128-bit operations, while all other 128-bit operations can execute without multiple passes through the pipeline. The increase in vector width is responsible for the gains in FP performance.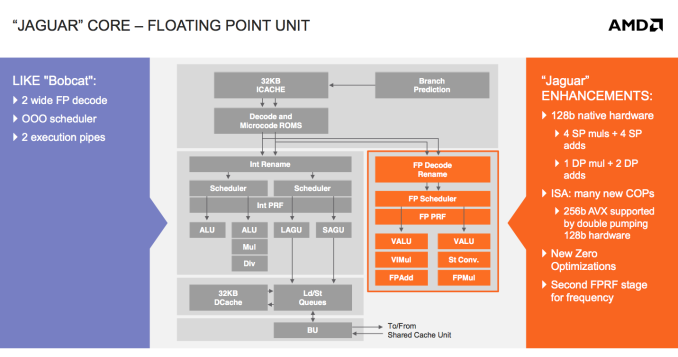 The move to 128-bit vectors in the FPU forced AMD to add another pipeline stage here as well. The increase in FPU size meant that some signals needed a little extra time to get from one location to the next, hence the extra stage.
Load/Store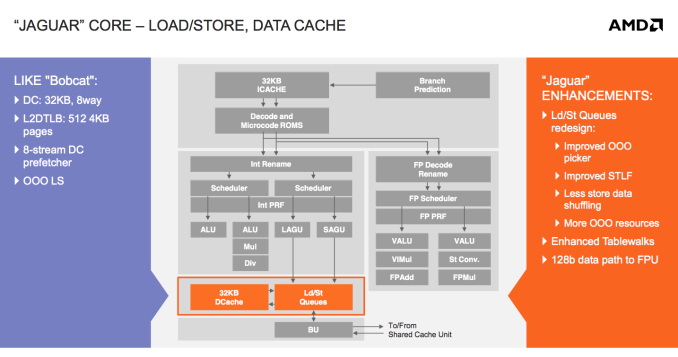 The out-of-order load/store unit in Bobcat was the first one AMD had ever done (Bobcat beat Bulldozer to market, so it gets the claim to fame there). As such there was a good amount of room for improvement, which AMD capitalized on in Jaguar. The second gen OoO load/store unit is responsible for a good amount of the ~15% gains in IPC that AMD promises with Jaguar.