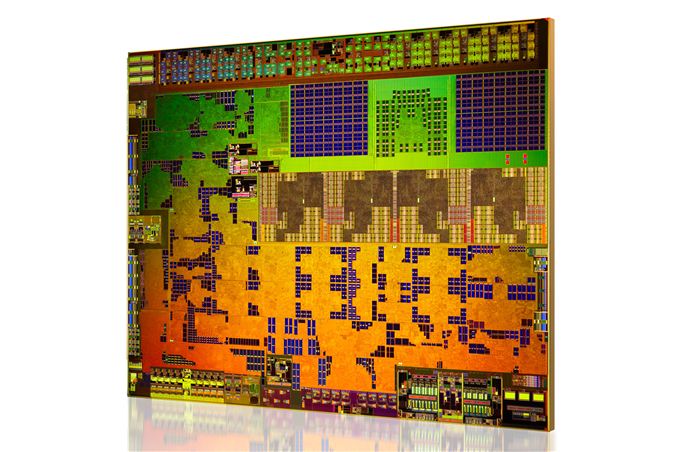 Anand is covering AMD's latest Kabini/Temash architecture in a separate article, but here we get to tackle the more practical question: how does Kabini perform compared to existing hardware? Armed (sorry, bad pun) with a prototype laptop sporting AMD's latest APU, we put it through an extensive suite of benchmarks and see what's changed since Brazos, how Kabini stacks up against Intel's current ULV offerings, and where it falls relative to ARM offerings and Clover Trail. But first, let's talk about what's launching today.
AMD has a three-pronged assault going out today: at the bottom (in terms of performance) is their 2013 AMD Elite Mobility Platform, formerly codenamed Temash. The main subject of this review is the newly christened 2013 AMD Mainstream APU Platform, aka Kabini. And at the higher end of the spectrum we're also getting the Richland update to Trinity, which AMD is calling their 2013 Elite Performance APU Platform. We'll cover all of these with Pipeline pieces, but here's the overview of the Kabini parts: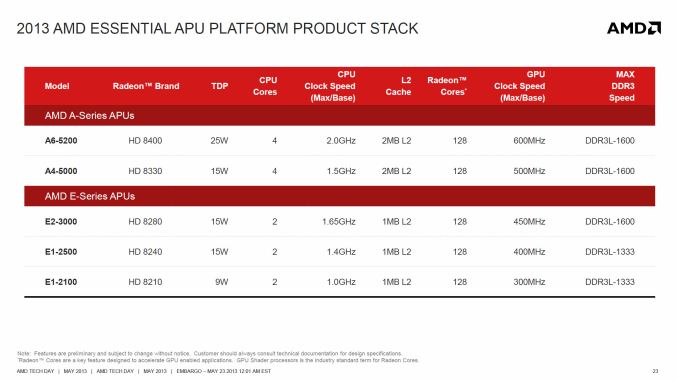 In total there are five new Kabini APUs launching: one 25W part, three 15W parts, and one 9W offering. The hardware is the same from the architectural side of things, with the A-Series parts coming with four Jaguar CPU cores and supporting DDR3L-1600 while the E-Series will be dual-core with DDR3L-1333 on two of the models and DDR3L-1600 on the highest performance option. The GPUs in all cases will be fully enabled 128 core GCN architecture parts, but clock speeds range from 300MHz on the 9W part up to 600MHz on the 25W part, with the 15W parts filling in at clocks of 400-500MHz.
AMD provided plenty of material to discuss, and as usual there's a lot of marketing material that we don't need to get into too much. For those of you that want to see the AMD slides, though, here's the full Kabini presentation gallery. Or if you're really interested, I've put the full 2013 Mobility Platforms deck into our galleries.