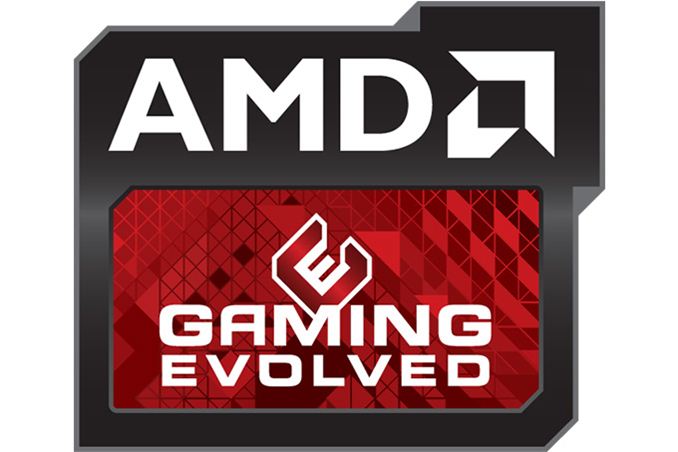 Hot on the heels of last month's expansion of AMD's Never Settle Reloaded game bundle, which saw Far Cry 3 Blood Dragon added across the board, AMD is back once again with another expansion of their game bundle program.
The latest rendition of AMD's program will see AMD launching a new, smaller game bundle to run alongside the Never Settle Reloaded bundle. The new bundle is to be called the Level Up bundle, with the complete package being dubbed the Level Up with Never Settle Reloaded bundle. Level Up won't add any new games to AMD's bundles – the game industry is between major launch periods anyhow – but instead Level Up will see AMD offering a greater number of their bundle games with most of their video cards.
With the exception of the 7990 at the high-end and 7770 at the low-end, most AMD bundles are composed of a subset of four games: Crysis 3, Bioshock Infinite, Blood Dragon, and Tomb Raider. Level Up will see most AMD bundles expanding by one more game, going from 3 to 4 and 2 to 3 respectively, and generally resolving the oddites of some cards including Tomb Raider while other cards include Crysis 3. Specifically the 7900 series and 7870 will become complete sets, with the 7900 series adding Tomb Raider while the 7870 will add Crysis 3. Meanwhile the 7850 remains unchanged, and the 7790 will get a third game with the addition of Tomb Raider.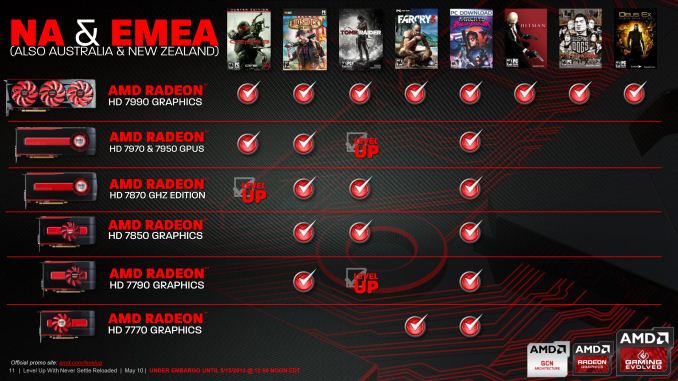 Notably, unlike past AMD bundle expansions, Level Up doesn't completely replace Never Settle Reloaded. Instead it is a bundle that is running concurrent to Never Settle Reloaded. Technically Never Settle Reloaded is unchanged, with the additional games coming from the Level Up bundle. The significance of this separation being that these are two bundles with two different vouchers, making it possible to start and end each program separately while cleanly avoiding the issue of changing a bundle in the middle of its run. At the same time AMD is being especially specific this time around that Level Up is a "while supplies last" offer (though this is technically true for NSR too), so all signs are pointing to Level Up being a more temporary offer, at least for now.
Throughout all of this it's worth pointing out that game bundles are traditionally based around buying large number of copies of a title in advance. So besides the more straightforward benefit of increasing the value of their cards, the separate and temporary nature of Level Up may be AMD using the opportunity to burn off excess Crysis 3 and Tomb Raider keys.
All things considered the expansion of AMD's game bundle is not unexpected, as AMD's success with Never Settle programs means that they will continue using game bundles to increase the value of their products and offset at least some of the need for price cuts. But even this was admittedly earlier than we figured any additional expansion would arrive, so this comes as a pleasant surprise. More interesting perhaps, the 7790 which launched only a bit more than a month ago is already down $10 on average and has seen both Blood Dragon and Tomb Raider added to its game bundle, so we're still seeing some price cuts alongside these larger bundles. Overall with 7790s going for as little as $110 after rebate, and 7870s for as little as $220, game bundles are clearly becoming an increasingly large part of the complete package for AMD video cards, with all of the benefits and drawbacks thereof.