The Noctua NH-U12S and NH-U14S
Noctua shipped us a shiny new pair of recently launched coolers designed specifically to be used in systems that have RAM with tall heatsinks. They're both pretty interesting beasts in their own rights, particularly because they're just...not the exceptionally beefy high performance air coolers we've come to expect. Or at least they don't look it.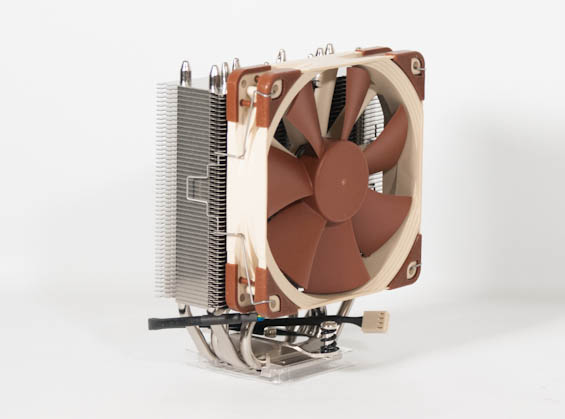 The smaller of the two is the deceptively plain-looking NH-U12S, which sports one of Noctua's standard 120mm PWM-driven fans. Noctua includes clips that allow you to attach a second 120mm fan, but in testing the benefits were negligible at best, offering a substantial increase in noise for 2C better performance at most. Note that these coolers aren't yet available on NewEgg, but are clearly meant to replace older versions that use Noctua's older mounting scheme. The NH-U12S has an MSRP of ~$65, so despite its small stature we're still not in the realm of entry level.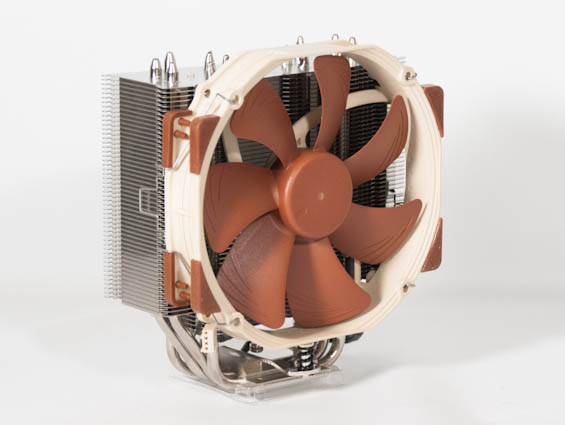 This monster is the NH-U14S, which uses Noctua's special NF-A15 PWM fan. This is a 150mm fan designed to occupy the same space as a 140mm fan, but uses 120mm fan mounting. Given that it's a larger fan that can be mounted in smaller spaces, it's interesting enough unto itself, but here Noctua pairs it with a heatsink designed to take advantage of its unusual profile. This one also accepts a second fan, but like its smaller sibling, sees no real benefit from it. MSRP is a more punishing ~$75, and unlike the NH-U12S, the NH-U14S can and will intrude on the top PCI Express slot.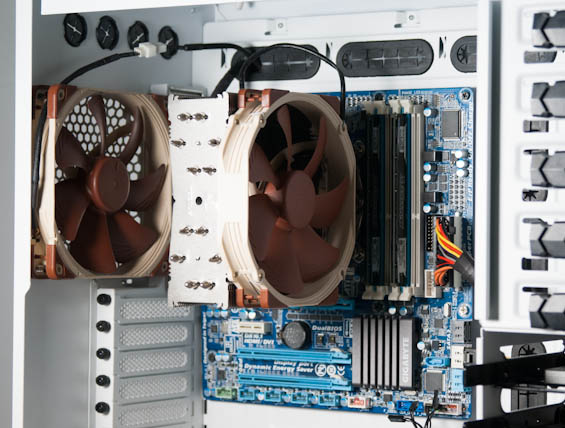 Both coolers come with Noctua's new "SecuFirm 2" mounting kits for both Intel and AMD, and the packages on the whole are of excellent quality. The clipped on fans are both secure and easy to remove and replace, and the backplate is easy to mount. In both packages, Noctua includes a healthy amount of extras: a PWM splitter for adding a second fan, clips for adding a second fan, ultra low noise in-line adapters, and their own thermal material. The instructions are also detailed and full color.
Noctua products are, facing facts, fairly premium stuff. They have premium prices, but thankfully they feel high quality. Everything about the presentation is top notch. The high class presentation seems to be common with some European companies; Swiftech's package for the H220 is extremely smart, with the cooler already assembled, fans already attached, and pretty much ready to be mounted. Likewise, all of the be quiet! gear I've tested has come with a healthy amount of accessories for the cat to steal.