Synthetics
As always we'll also take a quick look at synthetic performance to get a better look at Titan's underpinnings. These tests are mostly for comparing cards from within a manufacturer, as opposed to directly comparing AMD and NVIDIA cards. We'll start with 3DMark Vantage's Pixel Fill test.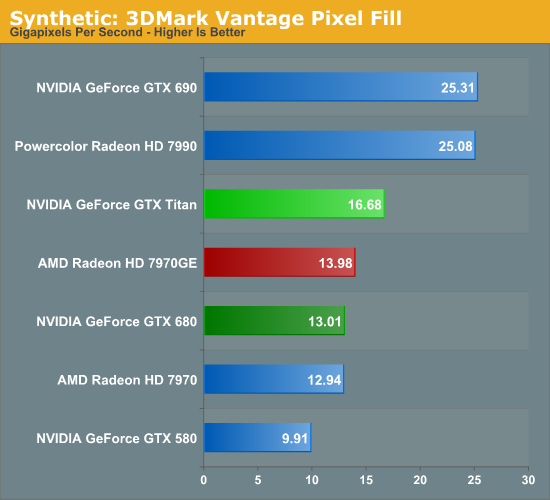 Pixel fill is a mix of a ROP test and a test to see if you have enough bandwidth to feed those ROPs. At the same time the smallest increase in theoretical performance for Titan over GTX 680 was in ROP performance, where a 50% increase in ROPs was met with a minor clockspeed reduction for a final increase in ROP performance of 25%.
The end result is that with gains of 28%, Titan's lead over GTX 680 is just a hair more than its increase in theoretical ROP performance. Consequently at first glance it looks like Titan has enough memory and cache bandwidth to feed its 48 ROPs, which given where we're at today with GDDR5 is good news as GDDR5 has very nearly run out of room.
Moving on, we have our 3DMark Vantage texture fillrate test, which does for texels and texture mapping units what the previous test does for ROPs.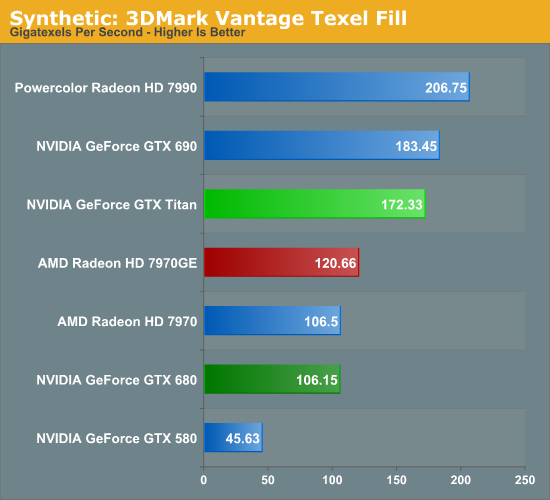 Oddly enough, despite the fact that Titan's texture performance improvements over GTX 680 were only on the range of 46%, here Titan is measured as having 62% more texturing performance. This may be how Titan is interplaying with its improved bandwidth, or it may be a case where some of the ancillary changes NVIDIA made to the texture paths for compute are somehow also beneficial to proper texturing performance.
Finally we'll take a quick look at tessellation performance with TessMark.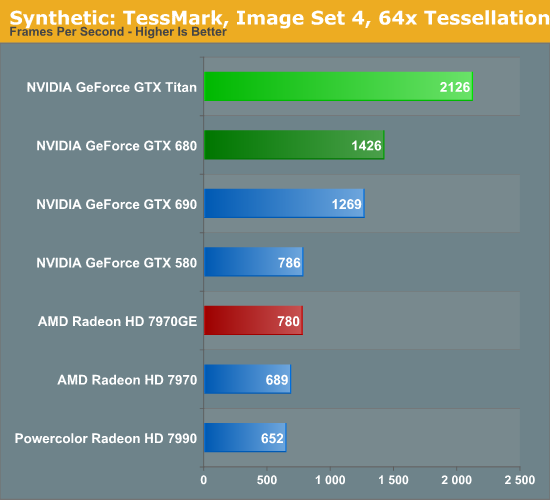 Unsurprisingly, Titan is well ahead of anything else NVIDIA produces. At 49% faster it's just a bit over the 46% theoretical performance improvement we would expect from the increased number of Polymorph Engines the extra 6 SMXes bring. Interestingly, as fast as GTX 580's tessellation performance was, these results would indicate that Titan offers more than a generational jump in tessellation performance, nearly tripling GTX 580's tessellation performance. Though at this time it's not at all clear just what such tessellation performance is good for, as we seem to be reaching increasingly ridiculous levels.