Civilization V
Our final game, Civilization V, gives us an interesting look at things that other RTSes cannot match, with a much weaker focus on shading in the game world and a much greater focus on creating the geometry needed to bring such a world to life. In doing so it uses a slew of DirectX 11 technologies, including tessellation for said geometry, driver command lists for reducing CPU overhead, and compute shaders for on-the-fly texture decompression.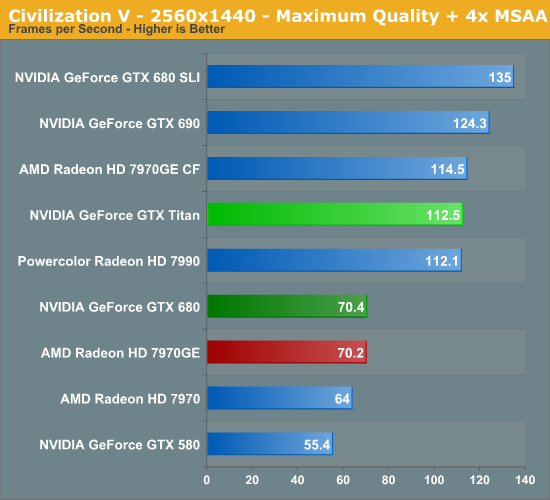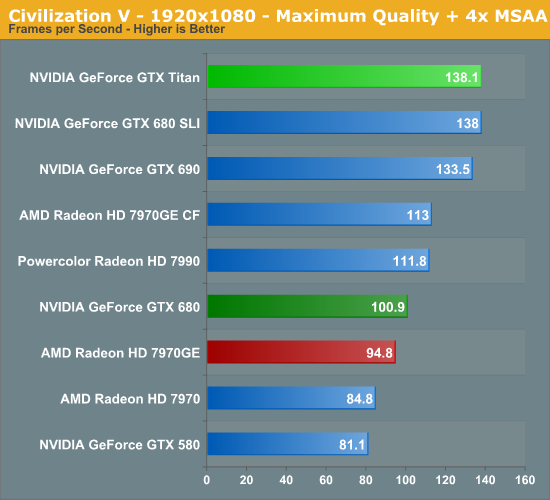 Maxing out at 2560, even with everything turned up none of our high-end cards have a problem here. Somewhat surprisingly we're not completely CPU limited here, but even at 2560 everything north of the GTX 580 gets 60fps.
Nevertheless Titan completely clobbers the competition on our final game, delivering 60% better performance than both the GTX 680 and 7970GE. Even the 7990 can at best tie Titan here, giving us a case for when one GK110 is as good as two Tahiti GPUs. It's not clear what exactly Civ V favors about Titan, but it's clearly something that makes Titan different from GTX 680 and other GK104 cards.