Conclusion: Almost Everything You Need
My title for this review stems from the feeling that I've finally tested an enthusiast-class quiet case that is capable of producing excellent acoustics and performance competitive with cases that don't share its acoustic allowances. The Fractal Design Define XL R2 is a beastly piece of engineering, but it's also a very pleasant surprise. If you eyeball large enthusiast cases but wish they had at least some padding to keep the noise down, Fractal Design may actually have you covered.
Fractal Design continues to carve out an aesthetic that's unique to them without being ostentatious. This is the look that got them attention on American shores in the first place and had you, the readership, clamoring for a review of the Define R3. Sometimes a look just works; Fractal Design had no real reason to redesign here, so they didn't. Meanwhile, though the interior design is a little dated, it's still functional and it gets the job done. This is conservative, but the thermals and acoustics really are among the best in class.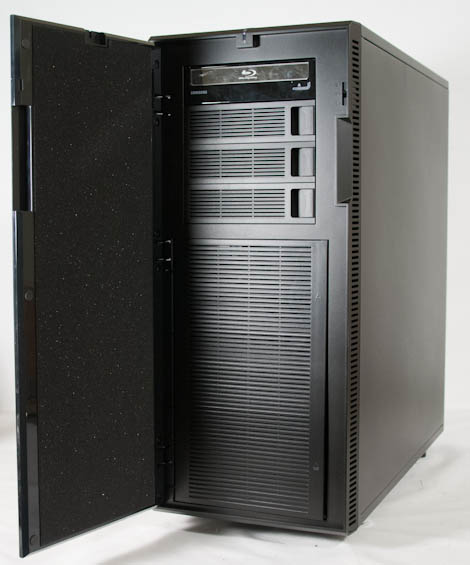 Yet for how fantastically the XL R2 performs, this isn't a clean sweep. While I would definitely argue that the $129 price tag is competitive at worst, and the XL R2 is ultimately a slightly better performer than Nanoxia's Deep Silence 1, by its very nature, the XL R2 does not eclipse Nanoxia's offering. The DS1 is cheaper and smaller, and the result is that the XL R2 winds up serving an ever so slightly different user base. Fractal Design needs to take some of the lessons learned by the XL R2's design as well as some of the lessons learned by their competitors and drill down to a basic Define R5.
There's also the fact that the XL R2 can be, at times, needlessly difficult to assemble. Fractal Design misses minor conveniences that are fast becoming standard in the market, and I think they could stand to add another fan controller though it's not strictly necessary. These are kinks that can be ironed out in another revision but they do merit mentioning. Despite my gripes about the motherboard and power supply installation, though, I have to at least thank them for using hinged panels instead of notched ones. Doing so makes the case much, much friendlier to end users who like to tinker.
Of course, for the reasonable $129 price tag, it gets a bit easier to put up with the Fractal Design Define XL R2's quirks. Truth be told, as far as acoustics in an enthusiast-grade case go, you're really going to have a rough time beating what Fractal Design has accomplished here. Other cases will cool better, sure, but the XL R2 still cools well, and it's able to snuff out a lot of noise in the process. The price is right, the performance is there, and it's exceptionally easy to recommend the XL R2 for a power user that still wants a quiet system. I think the design could use one more revision to bring it completely up to date with the state of the competition, but until we see an XL R3, the Fractal Design Define XL R2 is going to be as good as it gets.