After we published our Surface Pro review I went back and updated it to confirm that the SSD inside was indeed of the mSATA variety. My particular review sample used a Micron C400 mSATA SSD, similar to what I reviewed here a while back. Today, the patient folks at iFixit tore their Surface Pro apart and offered visual confirmation: the Surface Pro SSD is mSATA and technically, if you can get inside the system, it can be upgraded.
While I applaud Microsoft for sticking with an industry standard SSD interface and not something proprietary, iFixit discovered that getting into Surface Pro isn't all that easy. While Surface RT was built from three discrete pieces of VaporMg (kickstand, frame and back panel), Surface Pro only has two (kickstand and the frame with integrated back). The downside to this simplification is that the only way into Surface Pro is to soften the adhesive that holds the display stack in place and pry it out. This tends to be a potentially destructive way of getting into a device, so if you're planning on buying a 64GB Surface Pro and upgrading to a larger SSD yourself you might want to keep this in mind.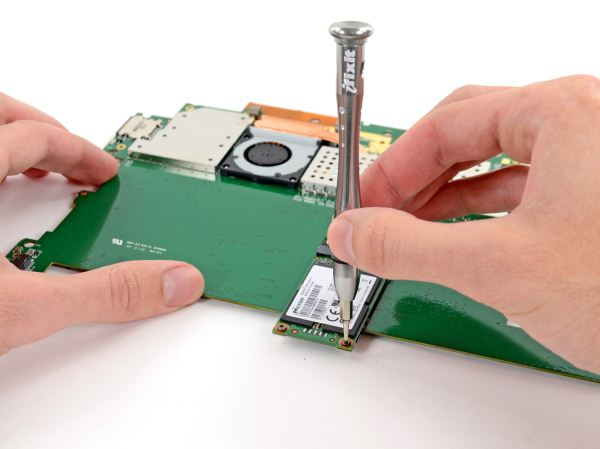 If you're still undeterred, it looks like you should be able to at least physically swap the Surface Pro SSD with something bigger. There's a whole other discussion about compatibility - I'm not sure what has been tested and validated with Surface Pro, but from a physical standpoint the SSD is upgradeable.
Source: iFixit