Battery Life: The Downside
Despite having an integrated 42 Wh battery (similar in size to the 3rd and 4th gen iPads with Retina Display), battery life is a real sore spot for Surface Pro. Haswell is really designed to drive platform power down to very low levels, which should help close the gap between ARM/Atom based tablets and Core based tablets. Unfortunately, Haswell for tablets won't hit until the third quarter of this year, which forced Microsoft to use Ivy Bridge.
In our tablet benchmarks, I never saw Surface Pro break the 6 hour mark on a single charge. In most cases I'd expect to see 5 - 6 hours out of Surface Pro in light, tablet usage. Video playback was especially disappointing as Surface Pro managed to use more power here than during our web browsing battery life test. I suspect this might have to do with the relative power efficiency of Ivy Bridge's video decoder. It'll be interesting to see how Haswell does in this department.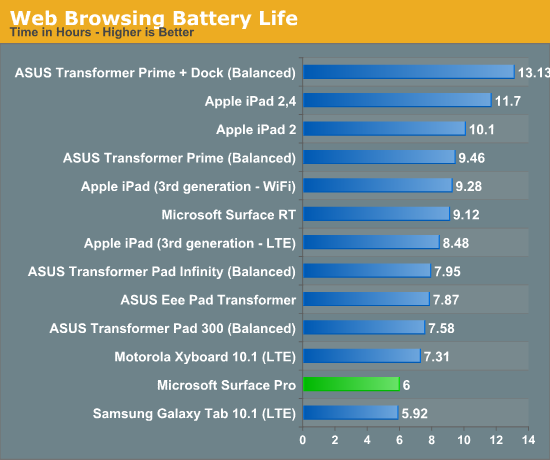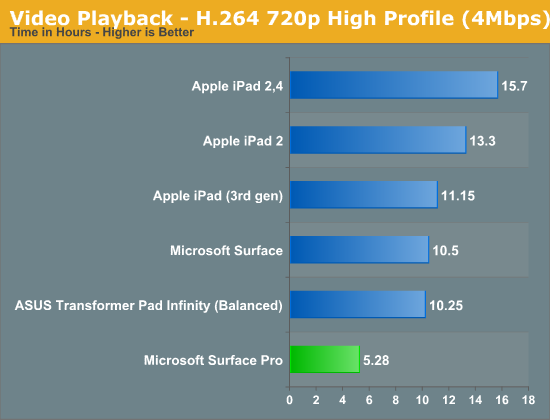 I also put Surface Pro through some of our new notebook battery life tests for 2013, and here it didn't fare too bad. I only have Acer's 13-inch S7 to compare to but Microsoft managed 3.85 hours in our medium workload compared to sub-3 hours for the larger Ultrabook:
Windows 8 Notebook Battery Tests
Battery Test
Acer Aspire S7 (13-inch)
Microsoft Surface Pro
AnandTech 2013 Light
4.00 hours
5.2 hours
AnandTech 2013 Medium
2.88 hours
3.85 hours
This is easily the biggest disappointment with Surface Pro. You just won't get the all day battery life you do with an ARM based tablet out of this design. I expect Microsoft will have a solution to this problem with Haswell, but not until the end of the year.
Charging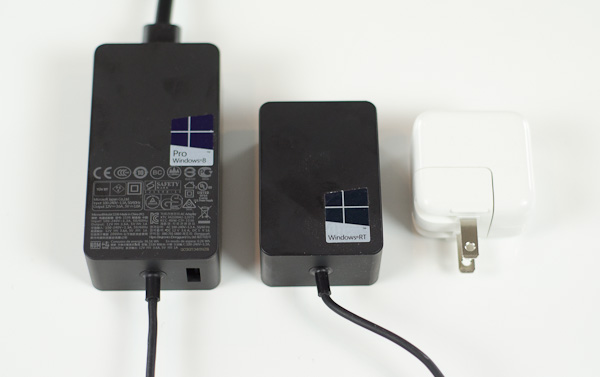 Surface Pro retains the same large, magnetic power connector as Surface RT. In fact, Surface RT's power adapter will still charge Surface Pro. The Pro model does however come with its own 48W adapter. It's a nice looking, but large and still fairly traditional two piece power supply (brick + detachable wall cable). There's no sophisticated cable management other than a tiny hook to help keep the device end of the cable together. One neat feature is the power adapter does feature an integrated USB port for charging your smartphone.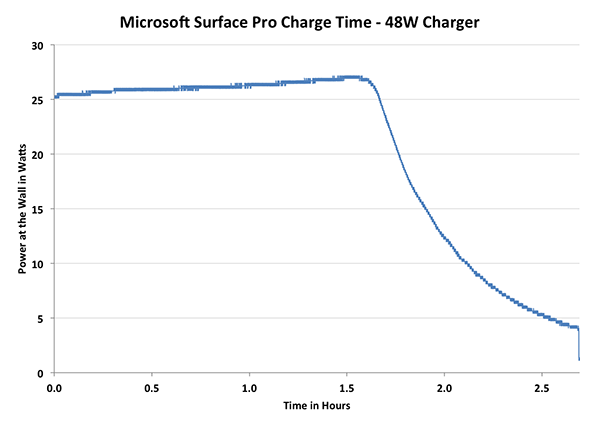 Under max charging load the power supply will draw around 27W at the wall. Microsoft included a 48W unit in order to be able to charge and power the device without slowing down charge time. It took me 2.692 hours to charge Surface Pro from completely empty to 100% with no additional power draw at the wall. The quick charge time is pretty nice and about the only reprieve here when talking about Surface Pro's battery.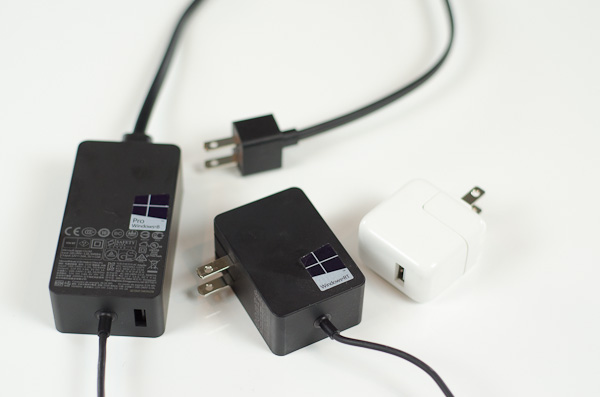 I did notice something odd with the first power supply Microsoft sent me. When charging through my power meter, I picked up some interference in the capacitive touch screen itself resulting in around 10% of my taps not being recognized. Microsoft supplied another power supply that seemed to resolve the issue.