Final Words
Surface Pro is about as well executed as Microsoft could have made it given the currently available hardware. Its performance is outstanding for a tablet - it's truly in a class of its own. If I sit down and use Surface Pro as I would an iPad or Android tablet, it delivers an appreciably quicker user experience. Apple does get fairly close in some cases on far slower hardware, which should concern Microsoft quite a bit should Apple ever choose to go ahead and build a tablet/notebook convergence device of its own. But overall, there's just not a faster tablet on the market. It's really the combination of a very fast CPU and very fast storage that enable such great performance out of Surface Pro.
The beauty of Surface was in its flexibility. The ability to quickly switch between tablet and notebook usage modes, between content consumption and production. Surface Pro really takes that to the next level. It can quickly switch between operating modes just like its predecessor, but it can also double as a full blown notebook or desktop PC. There's tremendous potential in what Microsoft is trying to do here with Surface Pro.
The inclusion of a Wacom powered digital pen is interesting for the creative professionals out there. My only complaint there is the lack of mouse tracking for the pen, it can only be used in pen mode, but if that's something you're ok with then I can see the pen being a good solution to consolidating tablet, notebook and Wacom tablet into a single device for use on the road.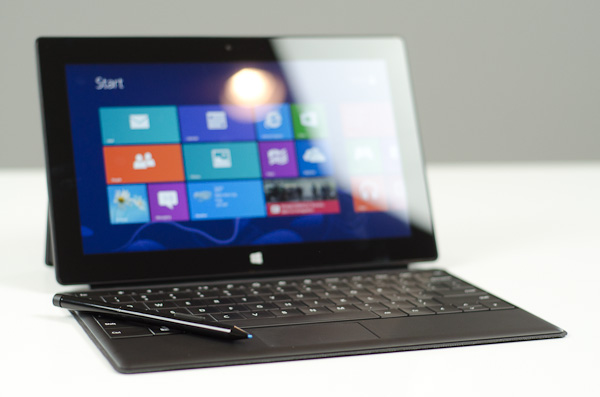 The downsides are obvious. Compared to an iPad or Nexus 10, Surface Pro's battery life is abysmal. Compared to other Ultrabooks it's not too bad, but for Surface to succeed it really needs to do well in both spaces. Haswell is part of the solution to this problem, but we're still talking about waiting until the end of the year before Microsoft can realistically integrate that.
Surface Pro is also considerably thicker and heavier than any popular ARM tablet on the market. Even Surface RT feels like a pleasure to hold after working with Surface Pro for a while. If you're coming from an ARM based tablet, you're not going to be happy with Surface Pro's weight. If however you're coming from the perspective of a notebook user, it's not bad at all. Once again, with lower power hardware I see Microsoft being able to minimize this - but that's a topic for Surface 2 Pro.

My only complaint on the pricing front has to do with the fact that Microsoft won't throw in one of its keyboard covers with the $899/$999 MSRP. I feel strongly that the Type Cover should be bundled with Surface Pro, or perhaps at least offered at a considerable discount.
At the end of the day I found it difficult to recommend Surface RT because I knew faster hardware was less than a year away. Surface Pro is an easier recommendation simply because you don't have to wait for the Windows ecosystem to mature, you can already run all of your existing PC apps on the platform and it's competitive with other Ultrabooks in terms of performance. If you're shopping for an Ultrabook today and want that tablet experience as well, Surface Pro really is the best and only choice on the market. If however you do a lot of typing in your lap and in weird positions, a conventional notebook is better suited for you. The same goes for if you're considering a tablet for reasons like all-day battery life or having something that's super thin and light. Surface Pro is probably the best foot forward towards converging those two usage models, but it's not perfect for everyone yet.
I still believe Microsoft has the right idea here. It just needs some more iterations.