Assembling the Rosewill Armor EVO
I'll just get it out of the way now and hopefully not have to repeat myself later: while assembly of the Armor EVO went mostly smoothly, I absolutely loathe the notched side panels. Maybe it's because they're a royal pain to replace, maybe it's because one actually drew blood when I tried to close up, I'm not sure. These aren't specific to Rosewill; other case designers like BitFenix (case designers who should know better) have employed them in recent designs as well. This is a tired, old, impractical mounting system that needs to be put out to pasture.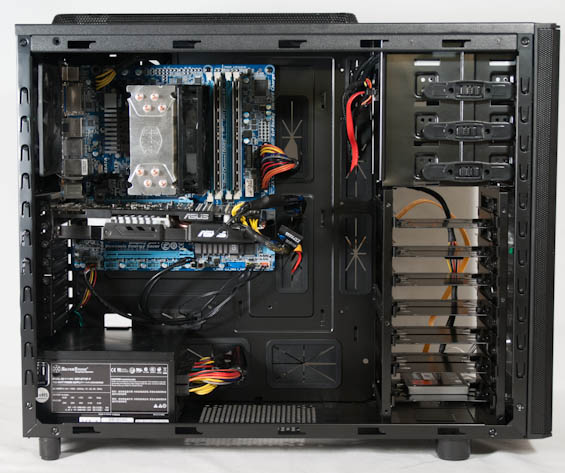 With that grievance out of the way, motherboard installation went mostly smoothly. You'll have to install the standoffs yourself, but that's more a convenience issue than anything seriously meaningful. Drive installation went better, actually; the drive trays that Rosewill uses in the EVO are nice and sturdy, and the mechanisms for securing the optical drive in the 5.25" bay are both easy to use and very firm. Actually, even getting the expansion card and power supply into the EVO was mostly a breeze.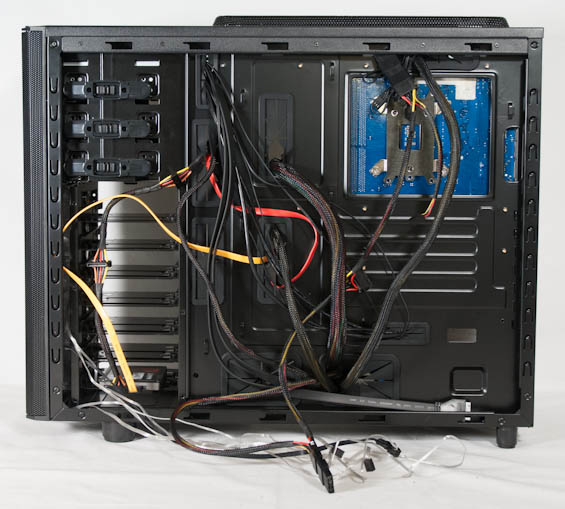 Cabling was a little more fraught but not by much. I feel like the routing holes for the motherboard headers could stand to be a bit bigger, and the opening for the AUX 12V line is still getting caught on the side panel rail behind the motherboard tray, but cabling mostly went pretty easily. The fans all include both 3-pin headers and molex connectors, and the molex connectors can be daisy chained. Really the only problem child as far as the fans go is the side panel fan; NZXT includes an extension cable for this that runs back to their hub in the pricier (and more awesome) Phantom 630, but in the EVO you're on your own and there's no easy place to daisy chain it unless you run more fan cables into the inside of the case instead of keeping them behind the motherboard tray.
If you've assembled an ATX case before, the Armor EVO isn't going to have any surprises for you apart from the struggle to close it back up without putting it on its side. Like I said before, the design of the EVO is pretty bog standard; there are no great innovations and outside of the fans and side panels no major steps backward. This is a pretty brute force design: install your system and then let six fans move a boatload of air.