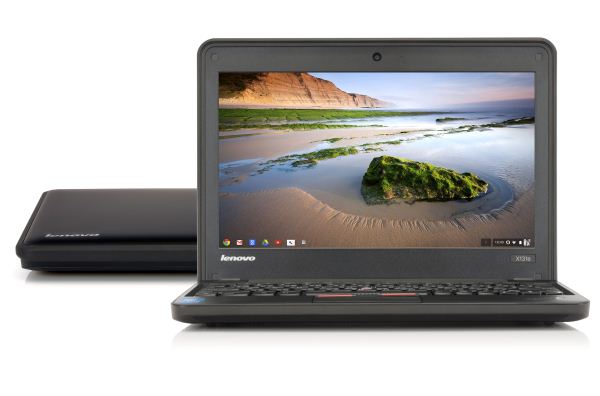 Google's Chromebook initiative hasn't really caught fire as well as their other OS of choice, Android, but with the latest updates and reduced pricing there's still life in the initiative. Acer's C7 for instance is apparently the fastest selling "laptop" on Amazon.com, no doubt helped by the $199 price point. Today Lenovo is joining the Chromebook offerings with their ThinkPad X131e, which takes a different approach.
Unlike the other Chromebooks to date, Lenovo is specifically touting the ruggedness of the X131e as a major selling point, highlighting the benefits such a laptop can offer to educational K-12 institutions. The X131e Chromebook is "built to last with rubber bumpers around the top cover and stronger corners to protect the Chromebook against wear and tear." The hinges are also rated to last more than 50K open/close cycles.
Other specifications include an 11.6" 1366x768 anti-glare LCD, low-light webcam, HDMI and VGA ports, and three USB ports (2x USB 3.0, 1x USB 2.0). Battery life is stated as 6.5 hours, which should be sufficient for the entire school day. The X131e weighs just under four pounds (3.92 lbs./1,78kg) with the 6-cell battery and measures 1.27" (32.2mm) thick. Storage consists of a 16GB SSD, and the X131e comes with 4GB of DDR3-1600. Lenovo does not state the specific processor being used, merely listing it as "latest generation Intel", which presumably means an Atom CPU though Celeron or Pentium are certainly possible. Customization options including colors, asset tagging, and school logo etching are also available.
Besides the rugged build quality, Lenovo cites other advantages of Chrome OS for the K-12 environment. There's built-in protection since all apps are curated through the Google Play store, and Lenovo's Chromebook allows IT teams to manage security and scalability through a management console, where they con configure, assign, and manage devices from a single interface.
The ThinkPad X131e Chromebook will be available starting February 26th via special bid volume pricing starting at $429. That's certainly higher than other options, but for a laptop that can actually withstand the rigors of the K-12 environment that's not too bad.
Source: Lenovo Press Release