Chipsets
We have some good news and some bad news for you all.  The bad news is that after a lifespan of well over two years, the BX chipset will finally die off after this year.  The good news is that it will be taking the horrendously unsuccessful i820 chipset along with it.  And from now until the end of the first half of 2001, Intel's chipset roadmap is pretty simple. 
The Pentium 4 will continue to use the i850 chipset as its only option from Intel throughout the first half of 2001.  The Pentium III will use the i815, 815E and 815EP.  We already know that the only difference between the i815 and the i815E is that the latter uses ICH2 which adds support for 4 USB ports and Ultra ATA/100, but not many know what the i815EP is.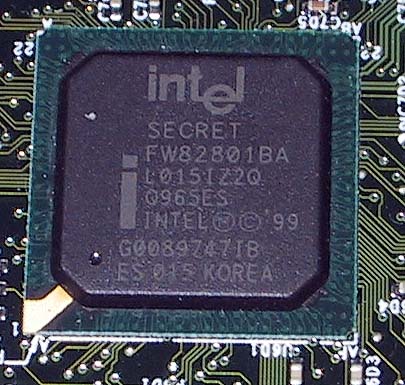 Intel's ICH2 taken from our first i815E board
The i815EP is going to take over as the mainstream chipset from Intel and it's pretty much what the i815 should have been in the first place.  It is basically the i815E without any integrated video, which helps reduce its cost.  In 1000 unit quantities the i815EP chipset can be expected to be $1 - $3 cheaper than the i815E.  And when you're talking about shipping hundreds of thousands of boards, that is a pretty decent savings.  Unfortunately the i815EP still has the same limitations as the regular i815E chipset, mainly the 512MB memory limit and the 2 x CAS2 PC133 SDRAM module limit. 
Also in the second quarter of 2001, all i815 chipsets (E/EP included) will feature the new B-stepping of the MCH which adds Tualatin-256 support.  This unfortunately means that, as we mentioned before, current i815(E) owners won't be able to use the upcoming Tualatin-256 based Pentium IIIs.
On the low end, the i810E will continue to dominate since it is cheaper than even the regular i815 and for an entry level system, add-in graphics cards don't matter all too much.  The i810E will also get an upgrade, basically replacing its ICH1 with a more up-to-date ICH2 making the i810E2 chipset.  This will mean that most of Intel's chipset line will be using ICH2 throughout 2001, according to Intel the shift towards 100% ICH2 usage is the main goal here.