GPU Performance
Contrary to popular opinion prior to its launch, the Clover Trail platform and Cloverview SoC feature a PowerVR SGX 545 GPU. The rumored PowerVR SGX 544MP2 won't show up until Clover Trail+ next year. The SGX 545 is clocked at a fairly aggressive 533MHz.
Architecturally the 545 is very similar to the PowerVR SGX 540 used in Intel's Medfield smartphone platform, with a handful of additions. The shader array remains unchanged at four USSE pipes. The 545 adds four more 10-bit integer pipes, doubles the triangle setup rate and doubles the number of depth test units as well. DirectX 10 class texture hardware is also a part of the mix, as well as everything else needed to officially support DirectX 10 (D3D feature level 9_3).
Compared to what's shipping in the latest iPads however, Clover Trail is horribly under-specced. We don't have good cross-platform (Windows RT/8) GPU tests yet, but based on what I've seen thus far it looks like the GPU here is a bit slower than what you get in a Tegra 3.
Mobile SoC GPU Comparison
PowerVR SGX 545
NVIDIA Tegra 3
PowerVR SGX 543MP2
PowerVR SGX 543MP4
PowerVR SGX 554MP4
Used In
Clover Trail
Tegra 3
iPad 2/mini
iPad 3
iPad 4
SIMD Name
USSE
"core"
USSE2
USSE2
USSE2
# of SIMDs
4
12
8
16
32
MADs per SIMD
2
1
4
4
4
Total MADs
8
12
32
64
128
GFLOPS @ 300MHz
4.8 GFLOPS
7.2 GFLOPS
19.2 GFLOPS
38.4 GFLOPS
76.8 GFLOPS
Looking at raw FP performance tells us a lot of the story. The 545's high clock helps it punch above its weight, but it's still significantly less powerful than the 543MP2 used in the iPad 2/mini (and it's nothing compared to what's in the iPad 3/4).
Tegra 3-class GPU performance may have been acceptable a year ago running Android, but it's just too little too late today. Since Clover Trail has full backwards compatibility with older Windows applications, I can put its GPU performance in perspective. Turning to 3DMark03 and 06, we can get a good idea of the class of performance we're looking at. For complete (and consistent) comparison points, I've tossed the W510's results into Bench so you can compare to any notebook/mobile GPU you want to there.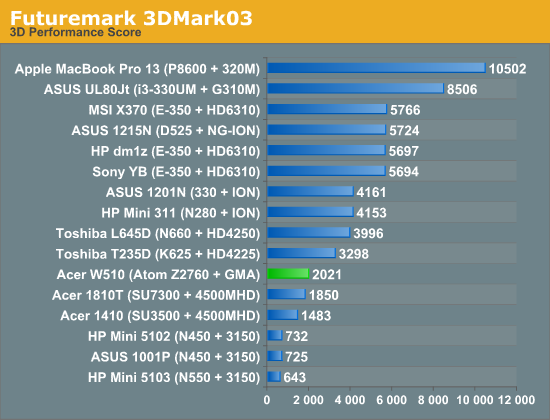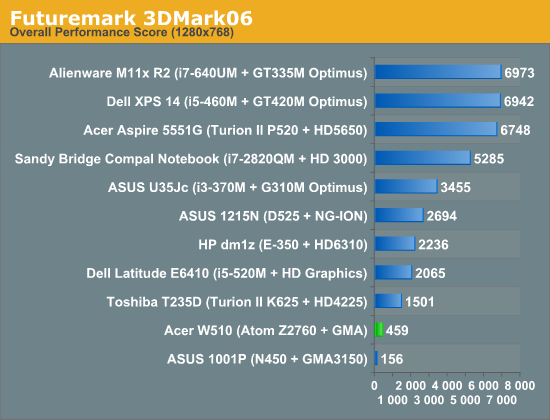 Compared to the old Atom platform with Intel's GMA 3150, the PowerVR SGX 545 based GMA is around 3x faster. Even Intel's old mobile G45 graphics are actually slightly slower. Performance is still far behind everything else modern though. The GPU is more than adequate for Modern UI acceleration, but if you have secret hopes of being able to run some of your older games on Clover Trail you'll want to stash those dreams away.
None of this is really Imagination's fault - Intel remains generations behind in implementing competitive GPUs in its ultra mobile SoCs. Even the jump to PowerVR SGX 544MP2 next year will happen just as Apple likely moves to Img's Series 6 (Rogue) architecture. It's definitely a problem if you're a silicon company that delivers slower silicon than what your customers can put together.