CPU Performance
As I mentioned before, the bulk of the innovation in the iPad mini is around form factor - the hardware platform itself is mostly a reuse of previous designs to keep costs low. The mini retains the 32nm A5r2 SoC as the iPad 2,4 and 5th gen iPod Touch. Despite the smaller size, it also uses the same 1GHz CPU clocks as its bigger brother. Performance is thus identical to the iPad 2,4, and a bit faster than the iPhone 4S. I found that the increase in clock speed does help to mask the fact that this isn't a Swift based platform, although going between the iPad mini and 4 does reveal an appreciable performance difference.
We're still very limited in good, cross-platform CPU benchmarks. We, once again, turn to JavaScript tests run in the browser. For all of the tablets tested here we're using Chrome for Android and Mobile Safari for iOS.
SunSpider has been a part of all of our mobile performance testing for quite a while now. It's not the perfect benchmark, but the test ends up being a good measure of browser performance as well as cache latency and CPU performance.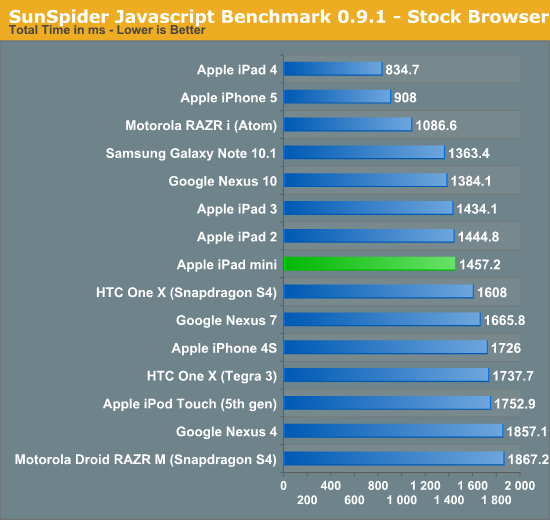 The iPad mini's two Cortex A9 cores running at 1GHz give it performance that is pretty much identical to the iPad 2 and 3, which also feature the same CPU. In the grand scheme of things however, the mini's performance is decidedly last generation. That's not to say that it's bad, it's just that the Swift based architecture in the A6/A6X is significantly better.
Google's Octane benchmark is a much larger test than SunSpider, but we're still looking at JavaScript performance. Octane includes all 8 of the tests from Google's older V8 benchmark but adds 5 new ones including a PDF reader, 3D bullet physics engine and portable 3D game console emulator all built in javascript.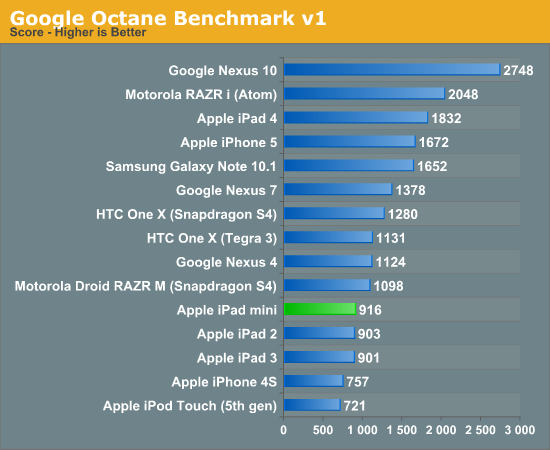 Here the mini shows its age a bit, but mostly because of its conservative CPU clock speeds. Google's Nexus 10 is finally able to flex its muscle here and show just what the Cortex A15 is made of, even outperforming Intel's Atom in the RAZR i. Also note the performance increase compared to the iPhone 4S/iPod Touch, that's purely due to the clock speed advantage (1GHz vs 800MHz). I don't believe Apple picked the wrong clocks for the A5 in the mini as battery life remains a primary concern for this device.
Finally we have Kraken, a seriously heavy javascript benchmark built by Mozilla. Kraken focuses on forward looking applications that are potentially too slow to run in modern browsers today. The result is much longer run times than anything we've seen thus far, and a very CPU heavy benchmark: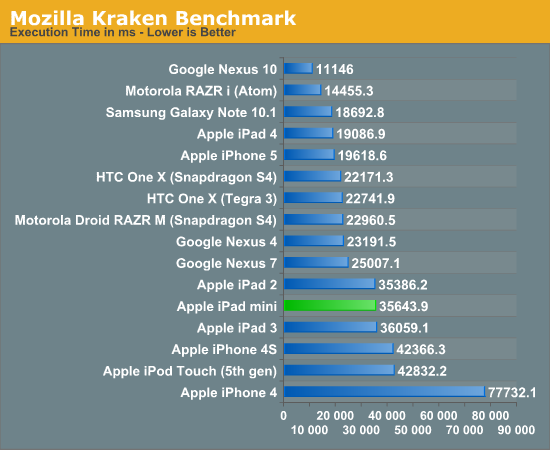 Once again the mini equals the performance of the iPad 2 and 3, but remains appreciably slower than the iPad 4/iPhone 5. Google's Nexus 10 absolutely dominates in this test, continuing to outperform Intel's Atom based RAZR i.