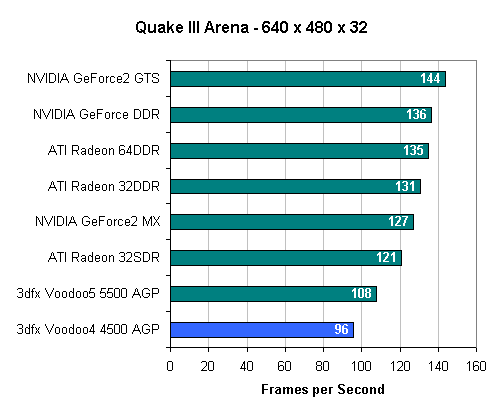 At 640 x 480 x 32 there are three major factors that play into the performance of a graphics card that isn't fill rate limited at such a lower resolution: driver maturity, hardware T&L performance and CPU performance. Since we're using the same CPU for all of these cards, and since the Voodoo4 4500 is using pretty mature drivers now, the main reason that the Voodoo4 4500 is lagging below the rest of the competition is because of its lack of a hardware T&L unit. The same holds true for the Voodoo5 5500, since the rest of the cards in this list have their own hardware T&L engines.
Because of this, as well as the much lower fill rate of the card, the Voodoo4 4500 is almost 33% slower than the GeForce2 MX and 26% slower than the Radeon SDR.
Normally we make the argument that 640 x 480 x 32 isn't the resolution most people are playing at so it doesn't make sense to pay attention to these scores other than to draw conclusions about drivers or T&L performance. However, in the case of the Voodoo4 4500, as you're about to see, performance at 1024 x 768 x 32 isn't exactly ideal, making 640 x 480 and 800 x 600 two resolutions that you may find yourself playing at with this card.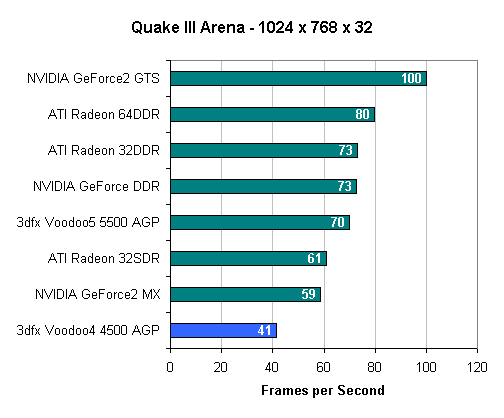 Whereas the Radeon SDR and the GeForce2 MX are hovering around the 60 fps mark at 1024 x 768 x 32, the Voodoo4 4500 is feeling the pain of its fill rate limitation and comes in very close to 50% slower than its two major competitors.
While the Radeon SDR and the GeForce2 MX are both memory bandwidth limited in this case and could improve in performance with a boost in memory clock, the Voodoo4 4500 simply doesn't have the fill rate to compete with those two.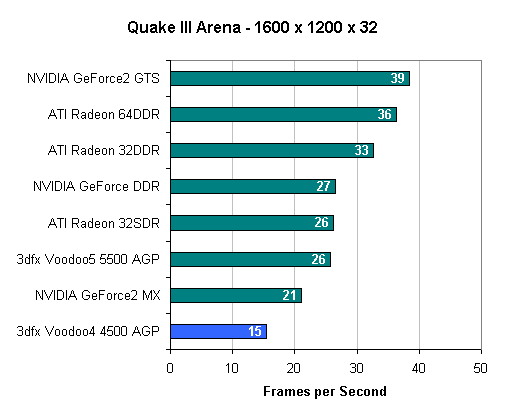 None of the cards in this market segment are truly reasonable solutions for running at 1600 x 1200 x 32. While 30 fps is a decent number to shoot for, it's definitely not as smooth and as desirable as 60 fps which is what we've become used to in recent times.