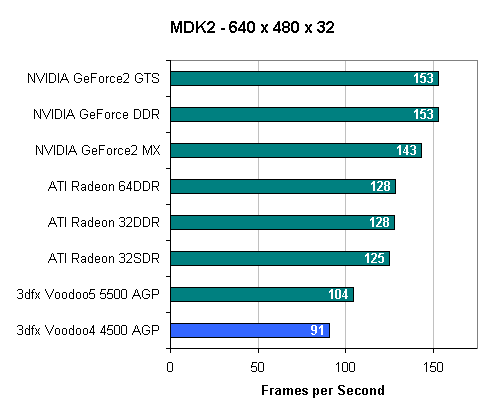 As we switch game engines to MDK2 we get another illustration of what the hardware T&L units from ATI and NVIDIA are buying them in terms of low resolution performance.
The GeForce2 MX extends a 57% lead over the Voodoo4 4500 while the Radeon SDR holds a 37% advantage. But once again, this is at 640 x 480 x 32, most users would like to crank up the resolution just a bit, let's see how the Voodoo4 4500 hands the higher resolution in game that isn't as complicated as Quake III Arena...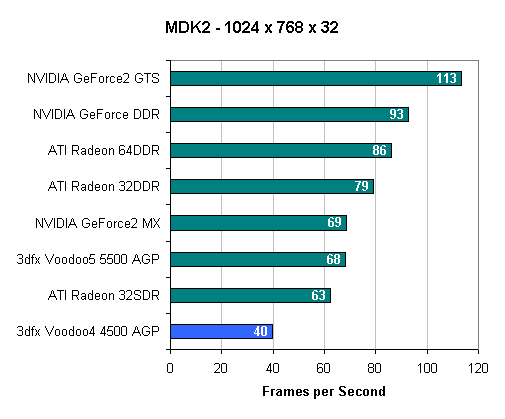 While the GeForce2 MX is able to remain closer to 70 fps, and the Radeon SDR sticks its head up above 60 fps, being fill rate limited the Voodoo4 4500 finds itself yet again at the 40 fps mark. While this isn't horrible performance, it's probably going to force you to kick the resolution down to 800 x 600 x 32 in a situation like this.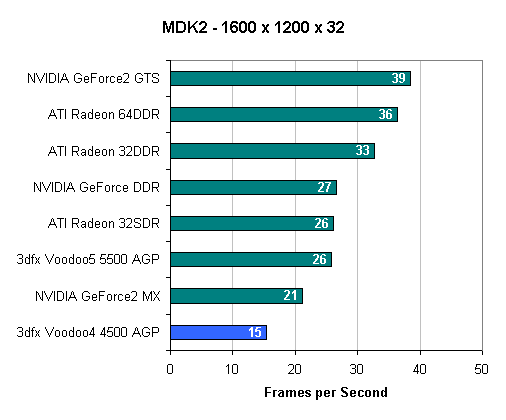 Again at 1600 x 1200 we don't see any reason to even compare these cards. The Radeon SDR's higher fill rate and HyperZ features help give it the 24% lead over the GeForce2 MX and the 73% lead over the Voodoo4 4500 however even with that, at 26 fps you're probably not going to be enjoying the benefits of 1600 x 1200 x 32 for too long.
As we've seen before, it's going to take something with incredible fill rate and memory bandwidth, just as the GeForce2 Ultra to make 1600 x 1200 x 32 a playable resolution. Too bad the Ultra is way out of this price range.