Introducing the DigitalStorm Bolt
Since I've started reviewing boutique desktops I've been of the opinion that while they're not strictly for enthusiasts, the enthusiast market is one that boutiques can tap into by offering something that can't simply and easily be built. It's not just important for these small companies to differentiate from each other in a general sense, but there really does need to be something they offer that allows them to compete on something other than price.
Over the past year a number of them have started to produce systems with custom cases, and DigitalStorm in particular is now on their second custom chassis with the system announced yesterday and reviewed today, the Bolt. DigitalStorm is positing it as the thinnest gaming desktop available, a claim that has to compete with Falcon Northwest's 4"-wide Tiki and Alienware's 3.75"-wide X51. Just being a tenth of an inch thinner than the X51 isn't going to be enough, though. Is the Bolt worth your attention, or does it need to go back to the drawing board?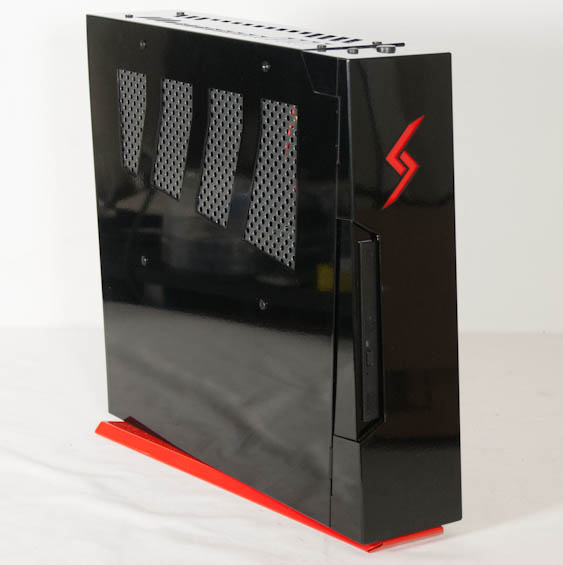 I've said it over and over again but it bears repeating: desktops are getting smaller. Full stop. As more and more connectivity, performance, and features are making their way into smaller form factor MicroATX and Mini-ITX motherboards, there just isn't as much of a need for a full ATX system. Hulking watercooled monsters are fine for show, but realistically don't offer a whole lot more than a smaller, more streamlined build. The fact is that these days, motherboards cover more bases, CPUs are more efficient than ever before, and even a $200 GPU and a 150W thermal/power budget is enough for a decent 1080p gaming experience.
With the Bolt, DigitalStorm is keen to produce a system that's fairly small and light but still offers excellent performance. If it had entered the market a year ago it would've been incredibly compelling just for showing up, but these days it has to contend with Alienware's stellar X51 and the fairly well-received Falcon Northwest Tiki, and most boutiques even have small form factor systems on tap as a matter of course. Even the custom chassis, unheard of for boutiques not too long ago, has to compete with similar designs.
DigitalStorm Bolt Specifications
Chassis
Custom DigitalStorm Bolt
Processor
Intel Core i5-3570K
(4x3.4GHz, Overclocked to 4.2GHz, 22nm, 6MB L3, 77W)
Motherboard
Gigabyte GA-Z77N-WiFi
Memory
2x4GB Corsair Vengeance LP DDR3-1600 (Max 2x8GB)
Graphics
NVIDIA GeForce GTX 660 Ti 2GB GDDR5 (eVGA)
(1344 CUDA Cores, 915MHz/980MHz/6GHz core/boost/RAM, 192-bit memory bus)
Hard Drive(s)
Seagate Barracuda 7200.12 1TB 7200-RPM 6Gbps HDD

Corsair Accelerator 60GB SATA 3Gbps SSD (cache)
Optical Drive(s)
TSSTCorp SN-208BB DVD+/-RW
Power Supply
Sparkle Power 500W 80 Plus Bronze (Rackmount 1U)
Networking
Intel Centrino Wireless-N 2230 802.11b/g/n 2x2
2x Realtek RTL8168 PCIe Gigabit Ethernet
Audio
Realtek ALC892
Speaker, mic/line-in, surround jacks, optical out and S/PDIF for 7.1 sound
Front Side
Optical drive
Right Side
2x USB 2.0
2x USB 3.0
Headphone and mic jacks
Back Side
2x DVI-D (GeForce)
HDMI (GeForce)
DisplayPort (GeForce)
Speaker, mic/line-in, surround, and S/PDIF jacks
4x USB 2.0
2x Ethernet
2x USB 3.0
Antenna
DVI (IGP)
PS/2
Operating System
Windows 7 Home Premium 64-bit SP1
Dimensions
3.6" x 14" x 15.5"
(91.4mm x 355.6mm x 393.7mm)
Extras
Integrated 802.11b/g/n
Overclocked to 4.2GHz
Warranty
3-year parts, labor, and lifetime support
Pricing
Starts at $999
Review system configured at $1,599
DigitalStorm offers four models of the Bolt that they dub "levels." We have the Level 3, which is the second fastest one they have. The Level 3 features an Ivy Bridge-based Intel Core i5-3570K overclocked to between 4GHz and 4.4GHz; ours is overclocked to 4.2GHz with a respectably low Vcore of just 1.2V. Ivy Bridge really shouldn't ever see more than about 1.25V, so it's nice to see how prudent DigitalStorm was with this overclock. It keeps heat down (not that that's a problem for the CPU cooler they're using), and CPU noise winds up not being much of an issue either. The Level 2 uses a stock-clocked i5-3570K while the Level 1 makes do with a lowly i3-2100; the Level 4 enjoys an overclocked i7-3770K.
The Gigabyte GA-Z77N-WiFi motherboard is a solid choice limited just to the Level 3; the Level 1 and Level 2 both employ ASUS' P8H77-I while the Level 4 goes up to an ASUS P8Z77-I Deluxe. Connectivity is fine, and the two memory slots are populated by a pair of Corsair Vengeance LP DIMMs running at DDR3-1600; 8GB is the bare minimum, and only the Level 4 goes up to 16GB.
Where I feel like DigitalStorm loses me is in their choice of using a 60GB Corsair Accelerator SSD for caching a 1TB mechanical hard disk. At $1,599 we should be using at least a 120GB SSD system drive and 750GB of mechanical storage if not more. While benchmark results are alright (as you'll see), it just doesn't really compare to having a dedicated SSD and dedicated mechanical drive. I can see the pro's and con's of going with a caching solution instead of a more basic split, but ultimately I've been unimpressed with SSD caching thus far.
As far as graphics options, the Level 3 features an NVIDIA GeForce GTX 660 Ti 2GB, which is a very robust, very powerful card that's able to run at least as fast as last generation's GTX 570 if not substantially faster in some circumstances. DigitalStorm actually offers reasonably solid choices at each level; the entry-level system enjoys a GTX 650, the Level 2 a bog standard GTX 660, and the Level 4 goes up to a full-fledged GTX 680.
Powering all of this is a standard issue rackmount 1U power supply, an 80 Plus Bronze Certified 500W unit from Sparkle Power. It features a cumulative 48A on three 12V rails, and should definitely provide enough power for even the top end Bolt configuration. Consider that with a GTX 680 and an i7-3770K, at stock we're only looking at about a cumulative 320W of draw. Between overclocking and the remaining components of the system, we top out at probably around 400W. DigitalStorm has also recently certified an 80 Plus Gold unit for use with the Bolt.