Cellular
I talked earlier about the Note 2 being the first Samsung handset I know of to include MDM9x15. In the case of the T-Mobile Note 2 I was sampled, the device includes MDM9215 which is capable of category 3 LTE FDD and TDD, Release 9 DC-HSPA+, GSM/EDGE, and TD-SCDMA along with onboard gpsOneGen 8A GNSS. I've confirmed that MDM9215 is present without having to disassemble or otherwise tamper with the T-Mobile Galaxy Note 2.
One of the most interesting things about the Galaxy Note 2 on T-Mobile is that it literally is the same hardware as the AT&T Note 2 with LTE. Sure, the model number is different, but the T-Mobile Note 2 includes support for LTE bands 17 (which AT&T uses) and 4 (AWS, which AT&T has specced devices out for and T-Mobile has confirmed it will deploy LTE on). This is to my knowledge the first T-Mobile handset with overt LTE support, and thus a solid future-proof purchase if you're determined to have a T-Mobile handset that will work with the carrier's upcoming LTE on AWS plans.
In addition, if you unlock the handset there's no reason it shouldn't work on AT&T's LTE network that I can see. I managed to unlock the T-Mobile Galaxy Note 2 but not before leaving the AT&T LTE market in Dallas. It does however work as expected on WCDMA 1900 in my own market on AT&T after unlocking.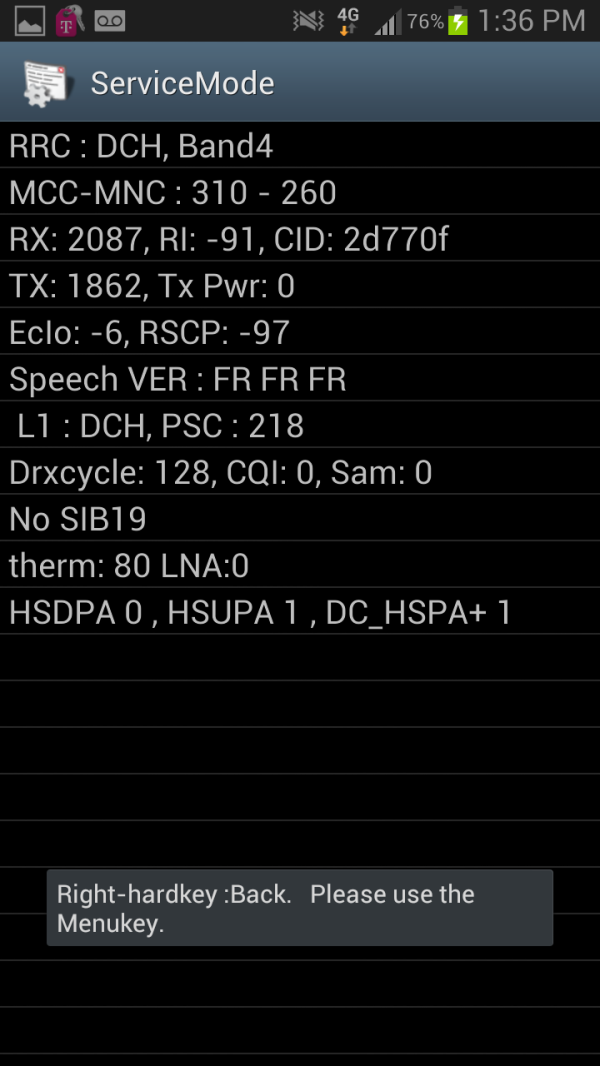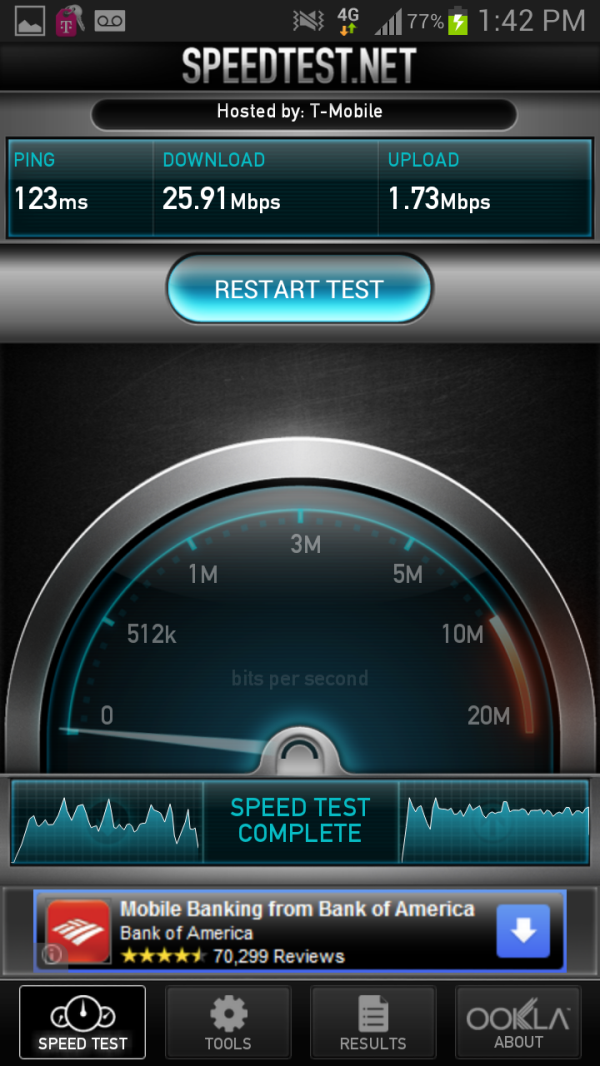 ServiceMode showing DC_HSPA+=1 (left), One of my fastest T-Mobile Tests (right)
As usual Samsung's awesome ServiceMode is on the device and confirms that T-Mobile DC-HSPA+ is working. If you haven't read discussion of DC-HSPA+ before, this is WCDMA carrier aggregation that combines two 5 MHz WCDMA downlink carriers, statistically multiplexes across them, and effectively doubles throughput on the downlink. That gets you from the theoretical maximum of 21.1 Mbps on 64QAM WCDMA up to 42 Mbps on dual carrier at the moment, which T-Mobile does run in its "4G" markets at present. I'm actually a huge fan of T-Mobile's commitment to continually rolling out the latest physical layer upgrades for WCDMA and DC-HSPA+ keeps things feeling very speedy when you're in good coverage and still helps at cell edge. Upstream is still limited to a single WCDMA uplink carrier, but most mobile traffic is so asymmetric to begin with it isn't a huge deal.
Galaxy Note 2 T-Mobile - Network Support
GSM/EDGE Support
850 / 900 / 1800 / 1900 MHz
UMTS/WCDMA Support
850 / 1700 / 1900 / 2100 MHz
HSDPA/HSUPA Speeds
42.2 Mbps (DC-HSPA+ Rel9) / 5.76 Mbps
LTE Support
Band 17 (700 Lower B+C), 4 (AWS), UE Cat 3 FDD-LTE (Up to 100 Mbps DL)
Baseband Hardware
Qualcomm MDM9215 (confirmed) + RTR8600 (?)
Interestingly enough ServiceMode has some hints about there being possibly even more bands, but these are probably for other Galaxy Note 2 variants based on MDM9215 that will pop up or have popped up for other locales.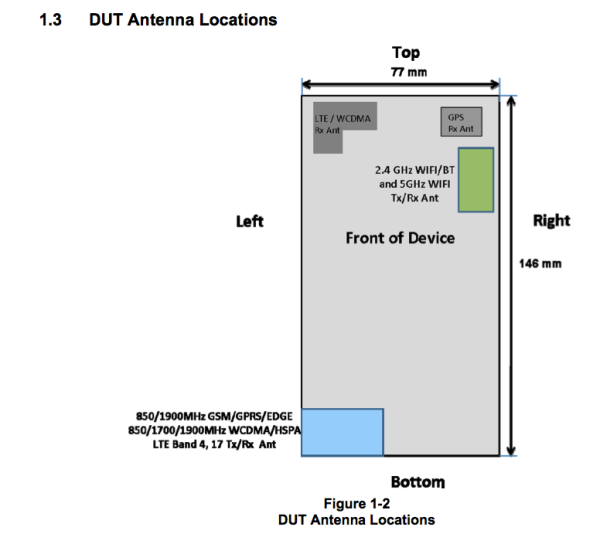 Running speedtests and outputting the results on the Galaxy Note 2 is more of just a sanity check than something very interesting since we've seen dual carrier HSPA+ before. I had to test partially in Dallas, Texas during the Big Android BBQ and partially at home. For whatever reason the conference venue definitely had some T-Mobile propagation issues or loading from all the attendees, but the averages are still decent. I've seen speeds around 25 Mbps down on T-Mobile dual carrier HSPA+ which is pretty impressive honestly.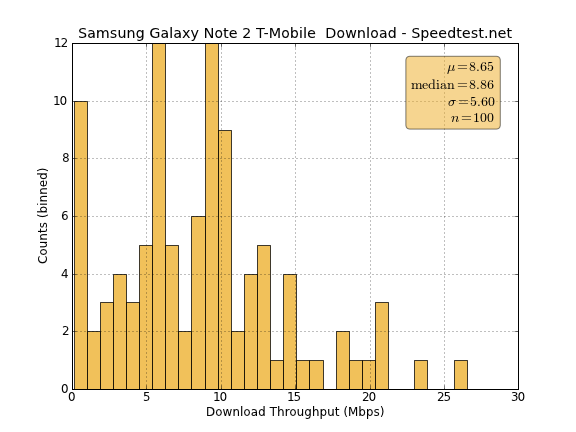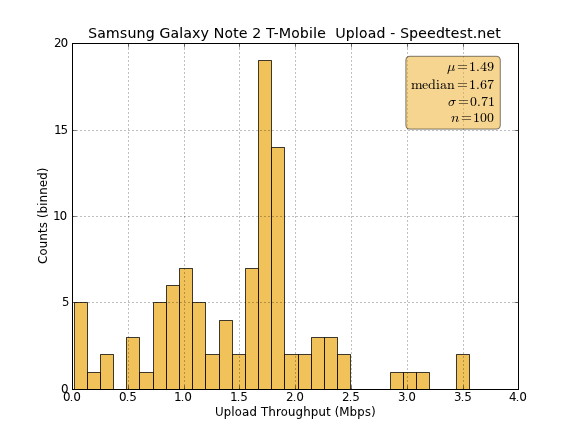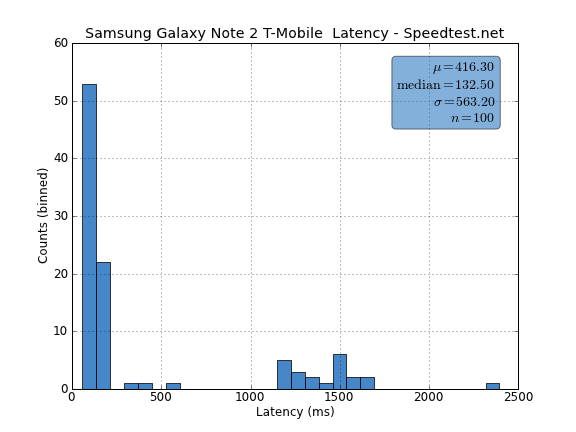 Stats Download Throughput (Mbps)

Avg: 8.65, Max: 26.53, Min: 0.10, StDev: 5.60

Stats Upload Throughput (Mbps)

Avg: 1.49, Max: 3.56, Min: 0.01, StDev: 0.71

Stats Latency (ms)

Avg: 416.30, Max: 2394.00, Min: 57.00, StDev: 563.20
We see a weird double distribution of latency as well since there's some additional setup and negotiation. I suspect getting out of PCH and into DCH results in some of this T-Mobile behavior when using speedtest.net, because tests without letting the radio go into IDLE have very low follow-up latency.
WiFi
The Note 2 uses BCM4334 for WiFi and is enabled for both 2.4 and 5 GHz. Just like the Galaxy S 3 that means 40 MHz channels on 5 GHz for a maximum physical layer speed of 150 Mbps. I did have some weird issues here, no matter what I did I couldn't get the Note 2 to go on the 5 GHz AP, or get up to 150 Mbps.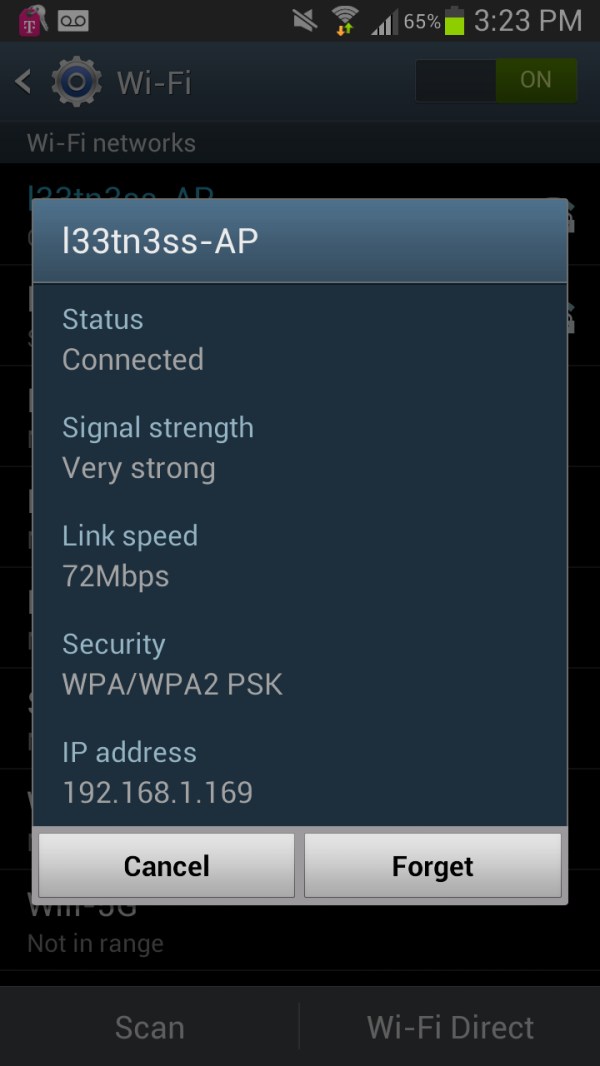 Curiously enough there isn't any 2.4 or 5 GHz priority toggle under the advanced tab in WiFi settings, yet the Galaxy S 3 models have this toggle and the same WiFi hardware stack. I suspect there's some software or configuration issue here.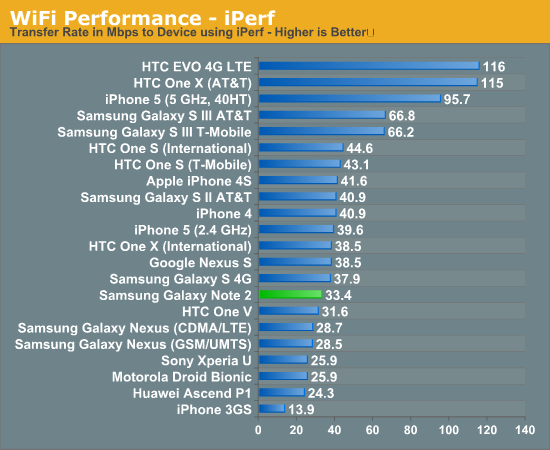 As a result we see iPerf performance out of the Galaxy Note 2 along the lines of what you'd expect for just 2.4 GHz operation. I'm puzzled as to why this is the case quite honestly.
GNSS
There's not really too much to say about GNSS on the Galaxy Note 2 other than that like other MDM9x15 based handsets, it leverages Qualcomm's on-baseband GpsOneGen 8A for both GPS and Russian GLONASS based positioning. Gen 8A includes better LTE coexistence and lower power consumption compared to 8. I tested GNSS and found that locks are speedy and accurate, as expected. I suspect that the days of Samsung phones shipping with flakey GPS are now well behind us.