Speakerphone
The Note 2 puts its speakerphone in the same place as the original Galaxy Note, and thanks to the large size of the handset I bet there's plenty of space for a big driver. The Note 2 also includes a new boost mode I didn't see on Galaxy S 3 before that boosts speakerphone output volume considerably.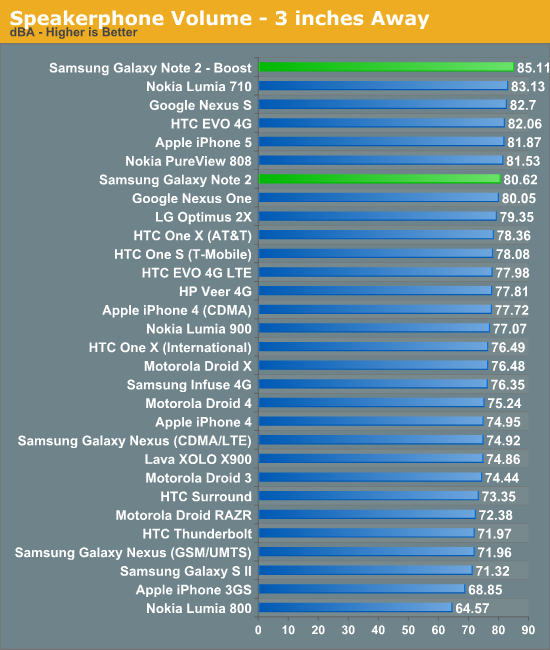 The tradeoff is that there is significantly more saturation and clipping with this mode toggled, but it is very, very loud.
Noise Suppression
Samsung has continually included Audience earSmart processors in its handsets for noise rejection and filtering, and the Note 2 is no exception. Both the original Note, and Note 2 include the Audience eS305 voice processor, though the Note 2 includes newer firmware thanks to its later release date. I'm told that both the Note and Note 2 were interesting challenges due to the extreme size of the handset and just how far apart the microphone pair is — there's one at the very top, one at the very bottom on both models. In addition the T-Mobile Note 2 also has wideband AMR enabled (AMR-WB), which I confirmed inside ServiceMode by poking around. I called between two T-Mobile devices (the Note 2 and my own HTC One S) but it appears as though T-Mobile is still using AMR-NB over UMTS at least as evidenced by the 4 kHz maximum in the below spectral view. Either that or my HTC One S is the limiting factor.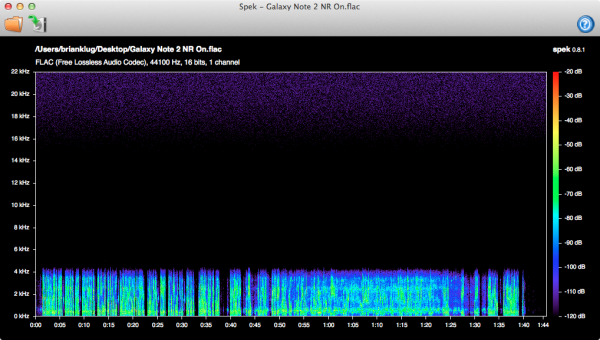 Samsung is unique in that it gives a nice easy way to enable and disable the noise rejection paths by tapping the menu button, so we can easily test with it on and off just to see how much difference it makes. I've been supplied an industry standard babble track that emulates a loud cafe or restaurant, complete with a din of voices, doors opening and closing, and background bustle. I've found that playing this on loop in my office when I want that cafe vibe mitigates the desire to go and pay exorbitant amounts of money for the luxury of distraction, but I digress.
Galaxy Note 2 - Noise Rejection Enabled by AnandTech

Galaxy Note 2 - Noise Reduction Off by AnandTech
Anyhow I went ahead and tested the Note 2 with the babble track at a very loud maximum loudness of 94 dBA which is likely above spec, but a worst case. You can hear a dramatic difference between the Note 2 with the noise rejection turned on and off. I've heard eS305 do even better at rejecting literally all noise on the Xolo X900, but this is our first time using the babble track as opposed to music so my mental comparison isn't quite fleshed out.