Content Creation Performance
Adobe Photoshop CS4
To measure performance under Photoshop CS4 we turn to the Retouch Artists' Speed Test. The test does basic photo editing; there are a couple of color space conversions, many layer creations, color curve adjustment, image and canvas size adjustment, unsharp mask, and finally a gaussian blur performed on the entire image.
The whole process is timed and thanks to the use of Intel's X25-M SSD as our test bed hard drive, performance is far more predictable than back when we used to test on mechanical disks.
Time is reported in seconds and the lower numbers mean better performance. The test is multithreaded and can hit all four cores in a quad-core machine.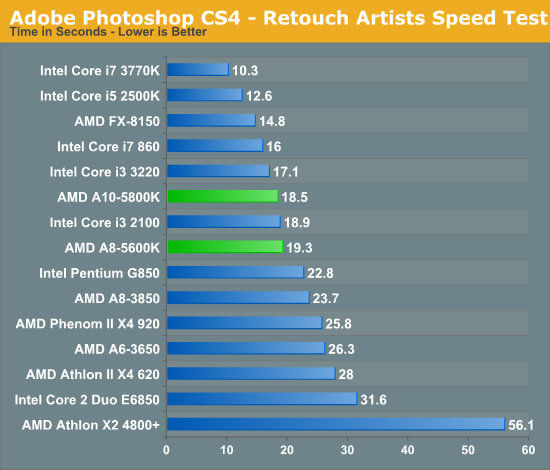 Our Photoshop workload still runs better on Intel hardware, but the gap in performance between the 5800K and 3220 is smaller than it was between the FX-8150 and 2500K last year. While Bulldozer was pretty much unrecommendable, Trinity approaches tradeoff territory.
3dsmax 9 & POV-ray
Today's desktop processors are more than fast enough to do professional level 3D rendering at home. To look at performance under 3dsmax we ran the SPECapc 3dsmax 8 benchmark (only the CPU rendering tests) under 3dsmax 9 SP1. The results reported are the rendering composite scores.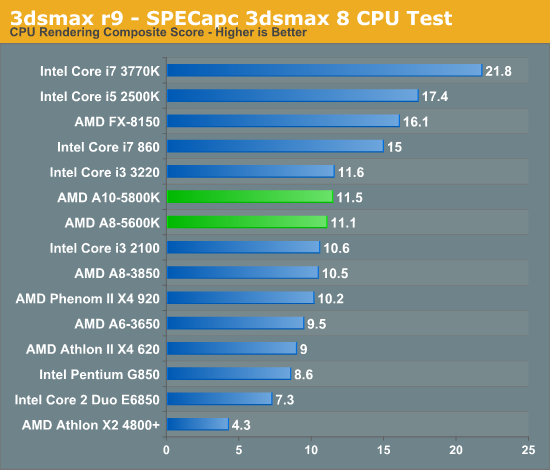 Once again in a heavily threaded FP benchmark, the A10 and Core i3 perform very similarly. POV-Ray is another example of this below: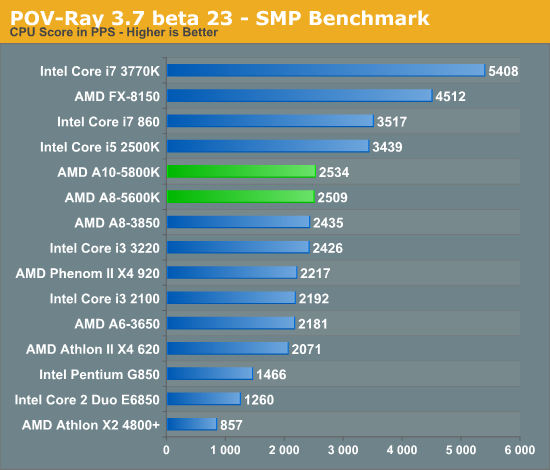 File Compression/Decompression Performance
Par2 is an application used for reconstructing downloaded archives. It can generate parity data from a given archive and later use it to recover the archive
Chuchusoft took the source code of par2cmdline 0.4 and parallelized it using Intel's Threading Building Blocks 2.1. The result is a version of par2cmdline that can spawn multiple threads to repair par2 archives. For this test we took a 708MB archive, corrupted nearly 60MB of it, and used the multithreaded par2cmdline to recover it. The scores reported are the repair and recover time in seconds.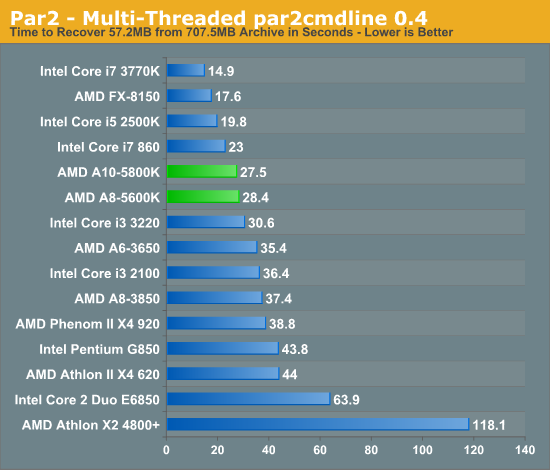 Our multithreaded Par2 recovery test shows AMD with a small advantage over the Core i3 3220, although it obviously can't touch any of the more expensive quad-core parts.
Excel Math Performance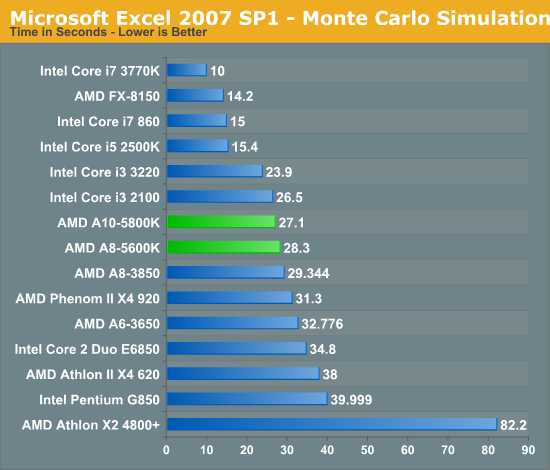 Not all heavily threaded FP applications are easy wins for AMD. In our Monte Carlo simulation benchmark the 3220 manages a decent lead over the A10-5800K.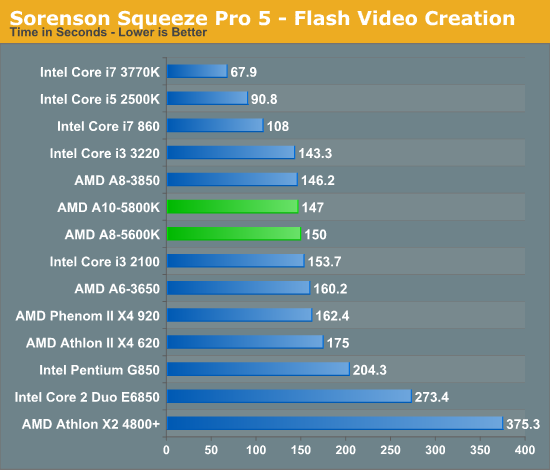 Our old Sorenson Squeeze test is one area where we see a slight regression compared to Llano. Like I mentioned earlier, this isn't super common but it does happen from time to time given the dramatic architecture difference between Llano and Trinity.