A TLC Refresher
Back in February, we published an article called Understanding TLC NAND, where we went in-depth about how NAND works and the differences between various kinds of NAND (SLC, MLC, and TLC). Back then we didn't know when TLC SSDs would be publicly available or who would be the first manufacturer. Supposedly, OCZ had interest in releasing TLC based SSDs but the supply of TLC NAND wasn't good enough for their needs. Samsung has the benefit of being a tier one manufacturer that makes its own NAND, which gives it an advantage when dealing with new technologies as it can control the output of NAND. In this case, Samsung was able to ramp up the production of TLC NAND when it wanted to, whereas OCZ must live with whatever the NAND manufacturers are ready to sell them.
While we have covered TLC in detail already, we have some new details to add:
| | | | |
| --- | --- | --- | --- |
| | SLC | MLC | TLC |
| Bits per Cell | 1 | 2 | 3 |
| P/E Cycles | 100,000 | 3,000 | 1,000 |
| Read Time | 25us | 50us | ~75us |
| Program Time | 200-300us | 600-900us | ~900-1350us |
| Erase Time | 1.5-2ms | 3ms | ~4.5ms |
Samsung would not tell us the exact read, program, and erase latencies but they told us that their TLC is around 50% slower than their MLC NAND. We don't know the latencies for Samsung's MLC NAND either, hence we have to go by general MLC NAND latencies, which varies a lot depending on process. However, we were able to get the P/E cycle count for TLC, which is 1,000. Samsung did not specify the process node but given that they listed MLC at 3,000 cycles, we are most likely talking about 27nm or 21nm. I wouldn't find it unlikely that Samsung is rating their 21nm MLC NAND at 3,000 P/E cycles as well because IMFT was able to keep the endurance at the same level with their 20nm MLC NAND.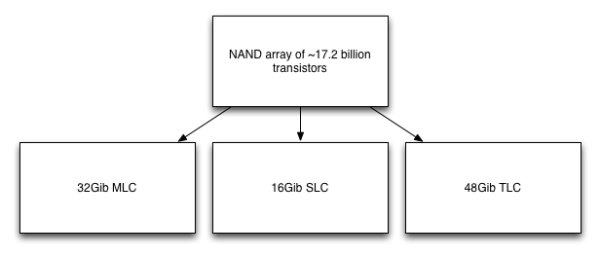 Physically, TLC is similar to SLC and MLC. All three consist of similar transistors, the only difference is that they store a different amount of bits per cell. SLC only stores one, whereas MLC stores two and TLC stores three. This actually creates a minor problem, as there is no multiple of three that is a power of two. Unlike with hard drives, SSD capacities typically go in powers of two, such as 64GB, 128GB, and 256GB.
NAND is actually built based on binary prefixes (Mebi, Gibi...) but is almost always referred to using metric prefixes (Mega, Giga...). For example a 128GB SSD has ~137.4GB of storage (128GiB) due to Gibi to Giga translation, but the remaining space is used as spare area.
If the raw NAND array has 17.2 billion transistors, you would get 16Gibibits (17.2Gbits) of storage with SLC NAND because each cell can store one bit of data. MLC yields 32Gib, which is still a nice power of two because all you're doing is adding one level. However, with TLC you get 48Gib, which is not a power of two. Technically nothing is stopping manufacturers from making a 48Gib die, but from the marketing and engineering standpoint it's much easier to stick with powers of two. A TLC die in this case should be 32Gib just like MLC. To achieve that, the die is simply reduced in size to around 11.5 billion transistors. 32Gib isn't exactly divisible by three, but thanks to spare bits it doesn't have to be. The trick here is that the same capacity TLC die is smaller than an MLC die, which results in more dies per wafer and hence lower production costs.