Introducing the Alienware M18x R2
Around the launch of the Alienware M17x R3, Alienware essentially bifurcated its high end notebook offerings into single-GPU (the M17x R3) and dual-GPU (the M18x). The M17x R3 was slimmed down from its beefy predecessor and the M17x actually remains one of the sleeker desktop replacement notebooks available. The M18x had to take its place at the top of Alienware's stack, then, as their contender for the most powerful gaming notebook on the market.
That contention continues with the M18x R2, which like the M17x R4 we recently reviewed is more of an incremental update than a fully-fledged new design. The R2, like the R4, brings with it an Ivy Bridge CPU and a pair of Kepler-based NVIDIA GeForce GTX 680M GPUs in SLI. As we saw, NVIDIA made fantastic gains with the 680M over the 580M; if that didn't impress you enough, you may want to hold on to your hat because two 680Ms in SLI are liable to blow your mind.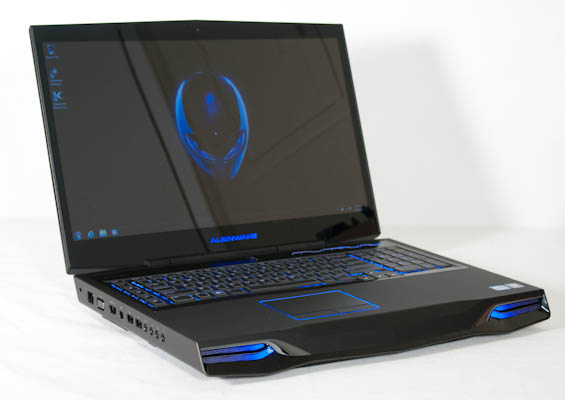 If you're having trouble getting psyched about this monster, I don't really blame you. We reviewed a pair of Alienware M18x's last year and came away with mixed feelings. Performance was as fast as you could ask for, bar none, but the M18x really pushes the limits of just how big a gaming notebook can get. It's heavy enough that it can be uncomfortable on your lap or even to cart around from place to place, and I've even personally recommended to people shopping for gaming notebooks to go with the smaller M17x. The M17x is easier to move around, can benefit from Optimus instead of having to stick to switchable graphics (that demand rebooting), and I actually prefer not having the gaming macro keys.
Of course, those macro keys and the potential for SLI may swing some users. If you're one of those users, the M18x R2 may be for you, so let's dig in.
Alienware M18x R2 Gaming Notebook
Processor
Intel Core i7-3820QM
(4x2.7GHz + HTT, 3.7GHz Turbo, 22nm, 8MB L3, 45W)
Chipset
Intel HM77
Memory
4x4GB Hynix DDR3-1600 (Max 4x8GB)
Graphics
2x NVIDIA GeForce GTX 680M 2GB GDDR5 in SLI
(1344 CUDA cores, 719MHz/3.6GHz core/memory clocks, 256-bit memory bus)
Display
18.4" LED Glossy 16:9 1080p (1920x1080)
Samsung 184HT (SEC5448)
Hard Drive(s)
2x Samsung PM830 256GB SATA 6Gbps SSD in RAID 0

(includes open mSATA slot and third 2.5" drive bay)
Optical Drive
Slot-loading Blu-ray/DVDRW Combo (HL-DT-ST CA30N)
Networking
Atheros AR8151 PCIe Gigabit Ethernet
Killer Wireless-N 1103 Network Adapter
Bluetooth 4.0
Audio
SoundBlaster Recon3Di (CA0132) HD Audio
Stereo speakers with subwoofer
S/PDIF, mic, and two headphone jacks
Battery
12-Cell, 11.1V, 97Wh
Front Side
N/A (Speaker grilles)
Right Side
ExpressCard/54
Slot-loading optical drive
MMC/SD/MS Flash reader
2x USB 3.0
eSATA/USB 2.0 combo port
HDMI input
Left Side
Kensington lock
Ethernet port
VGA
HDMI
Mini-DisplayPort
2x USB 3.0
S/PDIF, mic, and two headphone jacks
Back Side
AC jack
2x exhaust vents
Operating System
Windows 7 Home Premium 64-bit
Dimensions
17.17" x 12.7" x 2.09-2.15"
436mm x 322.5mm x 53-54.7mm
Weight
~11.93 lbs (5.41kg)
Extras
2.1MP Webcam
Backlit keyboard with 10-key and programmable macro keys
Flash reader (MMC, SD/Mini SD, MS/Duo/Pro/Pro Duo)
USB 3.0
SoundBlaster Recon3Di with THX TruStudio Pro
Configurable lighting
Warranty
1-year standard warranty
2-year, 3-year, and 4-year extended warranties available
Pricing
Starting at $1,999
Price as configured: $4,304
One thing's for certain, the Alienware M18x R2 as we have it in for review does not come cheap. Its starting price of $1,999 for just an i7-3610QM and a single GTX 660M is pretty high to begin with, and the upgrades are all pricy. This is another one of the reasons why I tend to recommend the M17x over its bigger brother, but if you absolutely must have the most performance you can cram in a notebook, pricetag be damned, obviously this is the way to go.
It's rare to see an Ivy Bridge CPU like the Intel Core i7-3820QM floating around in the wild. While top-end CPUs like the i7-3770K easily find their way into desktops, most notebook vendors are content with entry level chips like the perfectly adequate i7-3610QM. The i7-3820QM is a respectable piece of kit, though, boasting a nominal 2.7GHz core clock and able to turbo up to 3.5GHz on all four cores or even an impressive 3.7GHz on a single core. That means that despite the low 45W TDP, the i7-3820QM is actually able to ramp up clocks to the point where it's competitive with last generation's desktop quad cores and nip at the heels of chips like the i7-3770 non-K.
What we're really here for are the pair of NVIDIA GeForce GTX 680M GPUs in SLI. As I mentioned in the M17x R4 review, the silicon is basically a die-harvested GK104 identical to a desktop GeForce GTX 670 but with reduced clocks. Interestingly, it seems Alienware is getting different 680Ms than boutiques, as the pair of 680Ms in the M18x R2, like the M17x R4, only have 2GB of GDDR5 instead of 4GB. I don't consider this a drawback at all; even the desktop GTX 680 has a very difficult time utilizing more than 2GB of GDDR5, so the extra 2GB just winds up being mostly a waste. I'd rather have just the 2GB of GDDR5 than gain maybe a frame or two at the cost of additional power and heat.
The pair of 256GB Samsung PM830 SSDs in RAID 0 is impressive and mightily fast, though I continue to be skeptical about the value of putting SSDs in a striped RAID. Alienware leaves the M18x expandable, though; there's an mSATA slot and a third drive bay if you need it.
Ultimately though, the M18x R2 is as much an incremental update over its predecessor as the M17x R4 was, so the pro's and con's from that shell still essentially carry over here. The addition of mSATA is appreciated, as is the Killer Networks wireless-n, but the Creative sound chip is more of a "well, that's nice" inclusion, and nothing about the shell itself has really changed. Even the display panel is the same. If you own a first-generation M18x, you may not be missing that much here.