One of the surprising things we learned earlier this month with the launch of AMD's FirePro W Series was that AMD would be retiring their FireStream brand. FireStream had been AMD's dedicated compute part, sitting alongside – and in contrast to – AMD's workstation graphics focused FirePro brand in AMD's product lineup. With FireStream AMD had seen some success in the dedicated compute market over the years, but ultimately it fell behind NVIDIA and their Tesla lineup, leading to a shakeup of AMD's product lineup with this latest generation. Already too similar to FirePro, FireStream as a brand was to go away, and its functionality and users were to be rolled into a singular FirePro brand.
With such a significant move comes the obvious question of whether AMD is still intending to participate in the server GPU market, to which we got some mixed responses from AMD. One the one hand, for the launch of the FirePro W series AMD chose to focus on the workstation graphics functionality of the product lineup. On the other hand AMD fully admitted to the fact that they were also working on FirePro based compute clusters, but couldn't say much more than that, leading us to believe they were talking about building such clusters with the W series. As it turns out, we were asking the right questions but at the wrong time.
That brings us to today. Just 3 weeks after the launch of the FirePro W series AMD is making their second major FirePro product announcement, finally revealing how they are going to integrate the FireStream and FirePro markets. Joining the workstation-focused FirePro W series will be the server-focused FirePro S series. The FirePro S series will be the direct successor to the passively cooled FirePro Vx800P cards of the last generation, and will serve as the spiritual successor to FireStream.
AMD FirePro S Series Specification Comparison
AMD FirePro S9000
AMD FirePro V9800P
AMD FirePro S7000
AMD FirePro V7800P
Stream Processors
1792
1600
1280
1440
Texture Units
112
80
80
72
ROPs
32
32
32
32
Core Clock
900MHz
825MHz
700MHz
700MHz
Memory Clock
5.5GHz GDDR5
4.6GHz GDDR5
4.8GHz GDDR5
4GHz GDDR5
Memory Bus Width
384-bit
256-bit
256-bit
256-bit
VRAM
6GB
4GB
4GB
2GB
Double Precision
1/4
1/5
1/16
1/5
Transistor Count
4.31B
2.15B
2.8B
2.15B
TDP
225W
225W
150W
138W
Manufacturing Process
TSMC 28nm
TSMC 40nm
TSMC 28nm
TSMC 40nm
Architecture
GCN
VLIW5
GCN
VLIW5
Warranty
3-Year
3-Year
3-Year
3-Year
Launch Price
$2499
$2499
$1249
$1249
The FirePro S series will be composed by the FirePro S9000 and FirePro S7000. These parts are very similar – but not identical – to the W9000 and W7000 parts launched earlier this month. Like the W series they are based on AMD's Tahiti and Pitcairn GPUs respectively, but the resulting cards are constructed and speced for servers rather than workstations. For AMD this means building passively cooled cards that can also adhere to the tight TDP requirements that passive cooling brings with it.
The S9000 will be AMD's top FirePro S series card, based on Tahiti and engineered to fit within a 225W TDP limit. In this configuration we're looking at a partially cut-down Tahiti – only 28 of the 32 CUs are enabled – paired with 6GB OF GDDR5 and clocked at 900MHz. Though the FirePro S series is focused on several different uses, this will be AMD's only serious compute part, owing to the fact that it's the only S series card with ECC memory support. Meanwhile with AMD's specs this puts the card's theoretical compute performance at around 3.2 TFLOPs for single precision and 0.8 TFLOPs for double precision.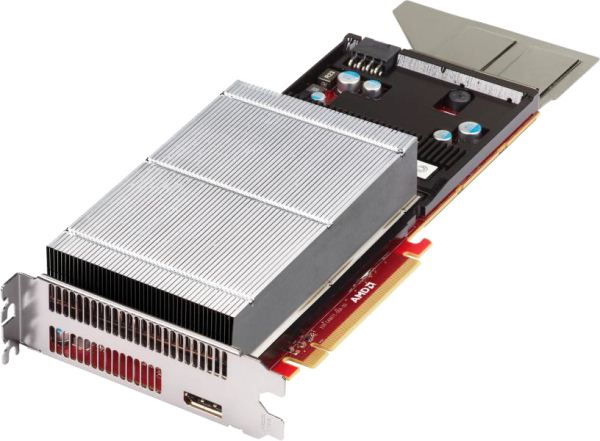 AMD's other card is the S7000, a Pitcairn based product with a 150W TDP. Unlike S9000 AMD didn't need to do a lot of work to hit their TDP target beyond tweaking clockspeeds, so we're looking at a fully enabled Pitcairn card clocked at 700MHz and paired with 4GB of GDDR5. Interestingly, this is a single-slot card, an intentional move by AMD to allow it to be installed in dense configurations. Even with its lower clocks its single precision compute performance is quite good at 2.4 TFLOPs, but lacking ECC this card is better suited for server-side graphics workloads.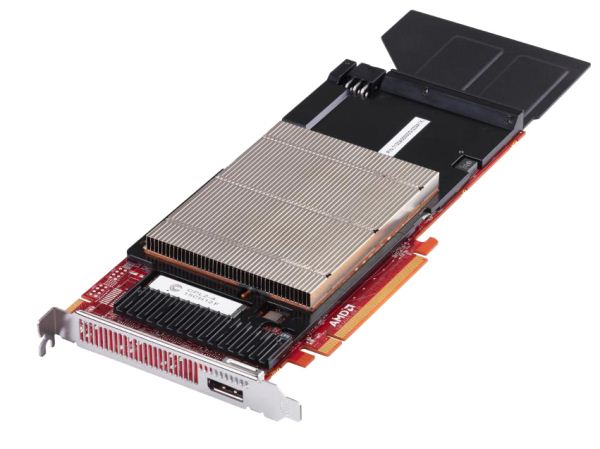 Of course the product specs are only half of the story. Having rolled FireStream into the FirePro family, the S series is now being tasked with covering all of AMD's server GPU businesses, which has affected how AMD has fleshed out their product lineup and how they intend to promote it. Whereas the S series' predecessors were primarily focused on graphical tasks, especially Virtual Desktop Infrastructure (VDI), the S series itself adds compute into the mix as part of its FireStream inheritance.
On the VDI side of things, AMD is effectively continuing from where they left off on the previous generation of products. This means that AMD is targeting low-performance/high-density workloads such as virtualizing a large number of office workers on a single server, while also targeting high-performance/low-density remote workstation workloads. There's nothing explicitly new here that AMD wasn't already working on, but with FirePro S the higher GPU performance means that AMD's customers can increase user density and/or increase the performance available to a single user.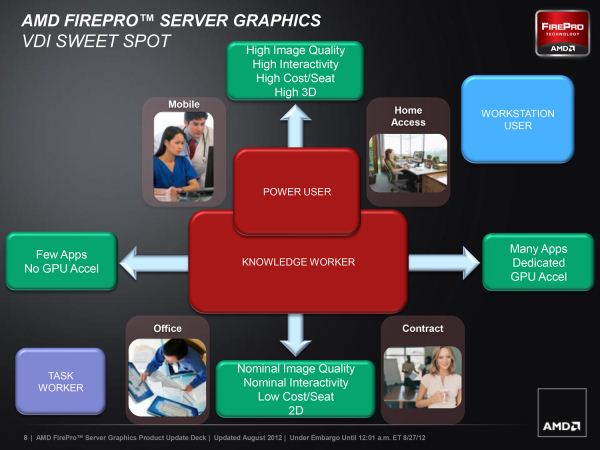 Either card can be used for this task, though for most scenarios S7000 is particularly well suited for this since its single-slot design means that it can be densely packed into servers, while the lack of compute performance and features is hardly a concern in this role. This kind of density also helps to offset AMD's one real hardware weakness at the moment, which is that higher performance (unabstracted) VDI passthrough modes restrict VDI to one user per GPU. AMD's eventual competition in the high-density space will be NVIDIA's VGX card, which packs 4 GK107 GPUs into a double-slot card, which is twice the density AMD can achieve (but with lower performing GPUs).
Meanwhile on the compute side of things, FirePro S takes over for the retired FireStream. As one of GCN's major design goals was to greatly improve AMD's GPU compute performance, this marks the first time AMD has offered a server compute product (dedicated or otherwise) using GCN. Though FirePro S isn't a dedicated compute part, in this role it still effectively goes head-to-head against NVIDIA's Tesla lineup in servers.
As was the case with VDI both cards are technically suited for the task, but for most scenarios the S9000 is the better compute card thanks to its much higher double precision performance and the inclusion of ECC support – a first for any AMD server GPU compute product. In this case the S9000 is basically a FireStream by any other name, with AMD taking advantage of their consolidation move to offer both a compute product at a high-performance VDI product based on a single card. We've seen GCN in action before and it's extremely potent, so it will be interesting to see how well the FirePro S series does in this market segment against NVIDIA's Tesla cards. The real differentiator may come down to software, with AMD having invested virtually everything into OpenCL. Success here means that AMD needs to continue turning developers away from CUDA and towards OpenCL, as they can't sell hardware to developers until developers can run their projects on AMD's hardware in the first place.
Finally, when it comes to pricing and availability it should come as no surprise that AMD is looking to beat NVIDIA both to the punch and to buyers' wallets. Both the S9000 and S7000 are expected to be available at the end of September; this is as opposed to December for NVIDIA's Tesla K20 (though AMD must already face the K10) and a still-unannounced launch date for NVIDIA's VGX hardware. Pricing will be $2499 for the S9000 ($700 below the Tesla K20) and $1249 for the S7000.