DualHead Take Two
What ended up being the biggest feature the G400 chip had to boast was its ability to drive multiple displays off of a single chip, appropriately dubbed DualHead.  This wasn't a first for the Montreal based company, in 1979 the company was the first to produce a single video board that could drive multiple displays with their QuadVideo products. 
Now, with the G450, Matrox improved upon their already very useful DualHead technology. 
Upon detecting a secondary display connected to the second output on the Millennium G450, whether in the form of an analog flat panel, a DVI flat panel (Millennium G450-DVI only), a secondary CRT, or a NTSC/PAL TV, the Matrox drivers will pop up with a dialogue box asking whether or not you want to enable DualHead functions.
The G450's DualHead remains unchanged from the first instance of DualHead introduced with the G400 in that it still offers three main operating modes: Multi-Display, Clone, Zoom and DVDMax.
DualHead Multi-Display is simply Matrox's multi-monitor support that is an extension of what is provided for under Windows 98/Me/2000, as well as support from scratch for Windows NT.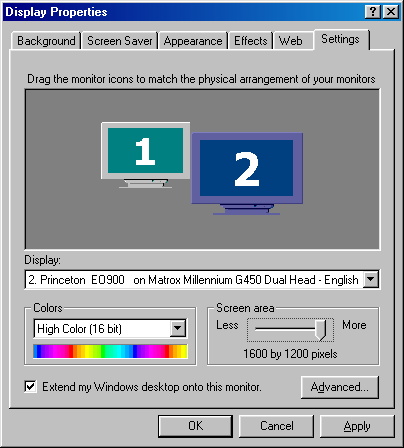 Under Windows 98 and Me, the G450's DualHead Multi-Display can be used to add a second monitor to your desktop that has a resolution and refresh rate independent of the primary display.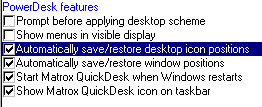 This secondary display can be used as an extension of your current desktop, and using a setting in Matrox's control panel you can ensure that your icons and window positions will remain in the same place every time you start up your computer.
Under Windows NT/2000 you lose some flexibility in that your two displays cannot have resolutions independent of one another.  This isn't as much of a limitation with the G450's DualHead implementation because the secondary display is no longer limited to 1280 x 1024, rather 1600 x 1200.  Regardless, if you're planning to use an older, smaller monitor alongside your current setup under NT/2000, keep in mind that you have to keep your resolutions synchronized. 
Eventually Matrox plans to have support for real time switching between the various DualHead display modes through keystroke combinations, however currently that is limited to being able to enable Zoom under Windows NT/2000.