The G400's strengths came not only from within the chip itself, but from the features that were included on the card as well.  Matrox essentially took the features that made the G400 popular, and integrated them, along with a few others, into the roomier G450 core. 
The external RAMDAC that used to power the secondary display has now been integrated alongside the 360MHz primary RAMDAC.  The Matrox TVO chip that used to allow for TV output on the G400 has also been integrated into the G450 chip.  The G450 core is also home to both CRT controllers that drive its DualHead features. 
Going the way of NVIDIA, Matrox has also integrated a TMDS transmitter into the G450 chip that allows for output to DVI based digital flat panel displays.  Let's hope that Matrox learned from NVIDIA's mistakes and integrated a TMDS transmitter capable of displaying at resolutions greater than 1024 x 768. 
Because of all of this integration, the G450 board is noticeably shorter than the G400 boards, and the PCB is much more plain.  A smaller PCB, combined with all of the integrated features of the G450 leads up to its $145 price tag. 
The G450 will be available on two cards, the Matrox Millennium G450 and the Millennium G450-DVI.  The latter replaces one of the two outputs with a DVI connector which takes advantage of the G450's integrated TMDS transmitter, but both cards support TV-output through an external dongle pictured below.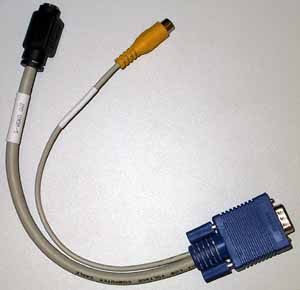 With all of these features integrated into the G450 the "cool running" 0.18-micron chip becomes noticeably warmer, but still only requires a heatsink to effectively cool it.