The Drive and The Teardown
The 910 starts as a half height PCIe 2.0 x8 card, although a full height bracket comes in the box as well: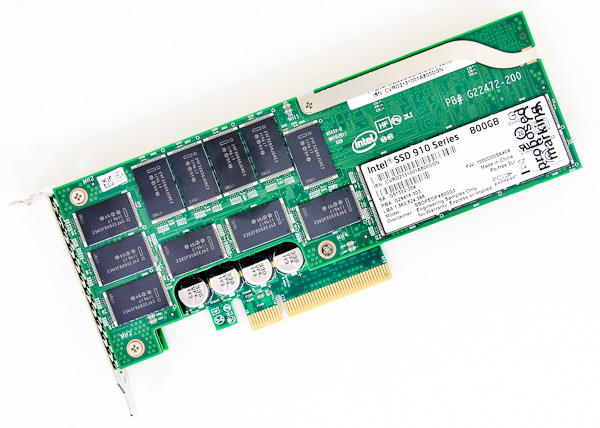 Intel sent us the 800GB 910, which features three total PCB layers that are sandwiched together. The 400GB model only has two boards. The top one/two PCBs (400GB/800GB) are home exclusively to NAND packages, the final PCB is where all of the controllers and DRAM reside. Each NAND PCB is home to a total of 28 NAND packages, for a total of 56 NAND devices on an 800GB Intel SSD 910. Here's a shot of the back of the topmost PCB: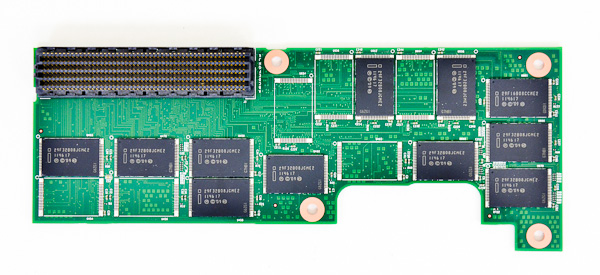 Each PCB has 17 NAND packages on the front and 11 on the back. If you look closely (and remember Intel's NAND nomenclature) you'll realize that these are quad-die 25nm MLC-HET NAND packages with a total capacity of 32GB per package. Do the math and that works out to be 1792GB of NAND on a 800GB drive (I originally underestimated how much NAND Intel was putting on these things). Intel uses copious amounts of NAND as spare area in all of its enterprise class SSDs (the 2.5" 200GB Intel SSD 710 used 320GB of NAND). Having tons of spare area helps ensure write amplification remains low and keeps endurance high, allowing the 910 to hit Intel's aggressive 7 - 14 Petabyte endurance target.
Intel SSD 910 Endurance Ratings
400GB
800GB
4KB Random Write
Up to 5PB
Up to 7PB
8KB Random Write
Up to 10PB
Up to 14PB
Remove the topmost PCB on the 800GB drive and you'll see the middle layer with another 28 NAND packages totalling 896GB. The NAND is organized in the same 17 + 11 confguration as the top PCB: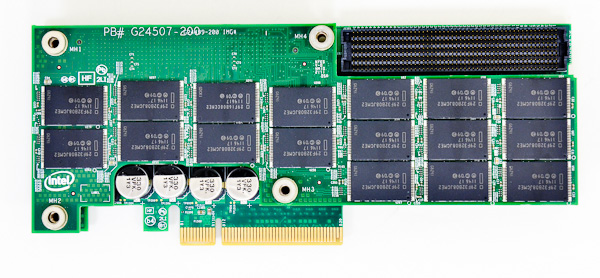 This next shot is the middle PCB again, just removed from the stack completely: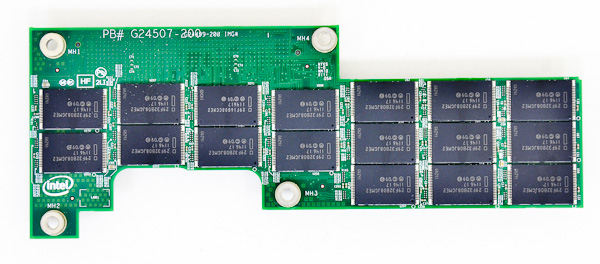 and here's the back of the second PCB: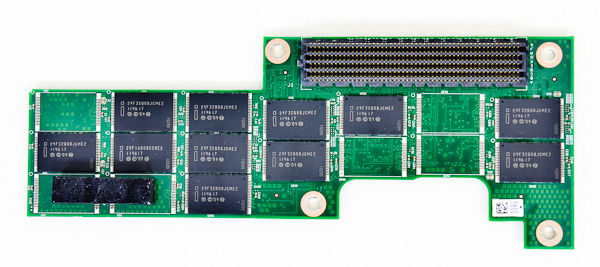 The final PCB in the stack is home to the four Intel/Hitachi controllers and half of the 2GB of DDR2-800: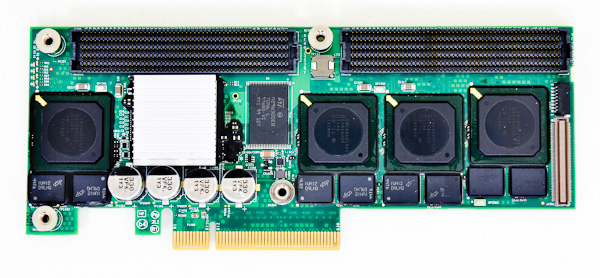 Under the heatsink is LSI's 2008 SAS to PCIe bridge, responsible for connecting all of the Intel/Hitachi controllers to the outside world. Finally we have the back of the Intel SSD 910, which is home to the other half of the 2GB of DDR2-800 on the card: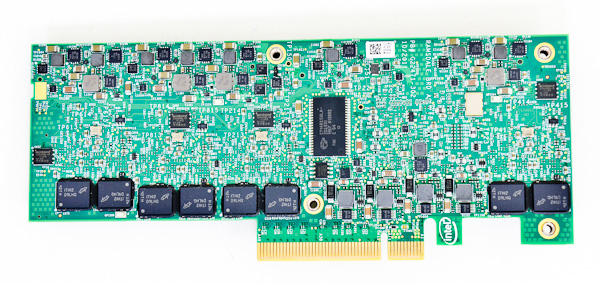 The 910 is a very compact design and is well assembled. The whole thing, even in its half height form factor only occupies a single PCIe slot. Cooling the card isn't a problem for a conventional server, Intel claims you need 200LFM of air to keep the 910 within comfortable temperatures.