Intel's SSD Data Center Tool
Despite Intel's wonderful desktop SSD toolbox, there's a more powerful but less user friendly option for the 910. It's called the Intel SSD Data Center Tool (isdct for short) and it's driven entirely by the command line. The tool is available for both Windows and Linux. You can use the isdct to secure erase the 910: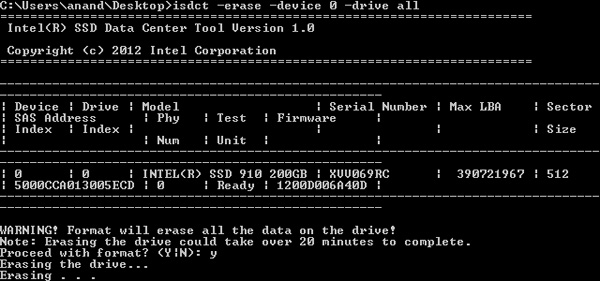 Each controller/partition must be secure erased independently, or in tandem by running four copies of isdct: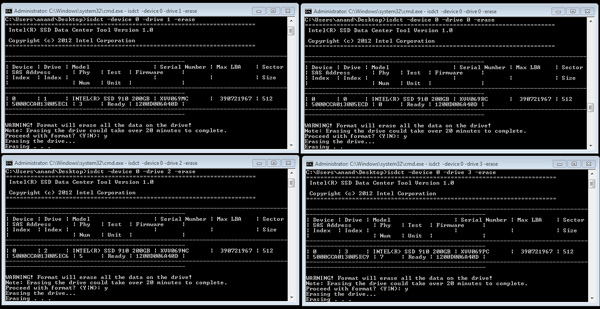 Since each partition is effectively an independent drive, you can run multiple isdct commands and just target a different drive with each instance. The isdct is also how you monitor temperatures on the individual drives, once again you have to execute a command per drive to get the temperature of that drive. Under Windows you need to execute the following command:
isdct.exe –log 0x2F –drive <drivenum> -device <devicenum> -verbose
Then look at the value of byte 10, which will tell you the current temperature...in hex. Convert back to decimal and you'll have the temperature of the specified NAND partition in degrees C. I have to admit I found all of this a bit endearing (I never get to read temperatures in hex), but your system administrator may be less impressed. Thankfully it shouldn't be all that difficult to script the isdct to quickly give you the data you want, even at regular intervals. The tool exposes quite a bit and since it's entirely command line driven it's pretty easy to automate, but I can't help feel like Intel should at least do some of this for you. I appreciate the flexibility, but others may want something a bit simpler.
Other than obsessively monitoring temperatures (I never saw a temperature higher than 1F, 37 is the operational limit) and secure erasing the drives, I used the isdct to switch between performance modes on the 910:

Remember the 400GB drive always runs in this max performance mode, but the 800GB drive must be forced into it. You get a warning about the increased cooling and power requirements (up from 25W max TDP and 200 LFM cooling requirement) but otherwise the process is painless.