OC: Gaming Performance
Having taken a look at how well we were able to overclock the GTX 680 Classified and what the power, temperature, and noise impact of that overclock was, it's finally time to take a look at what it does for gaming performance. As always we've culled our results a bit to focus on games that need the extra performance and avoid games that are likely to be CPU limited (and hence waste the overclock).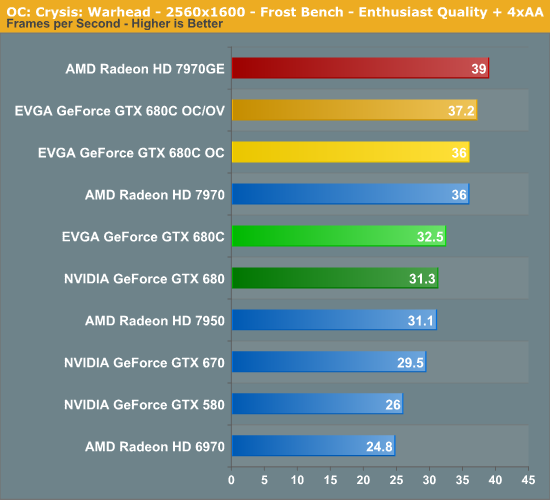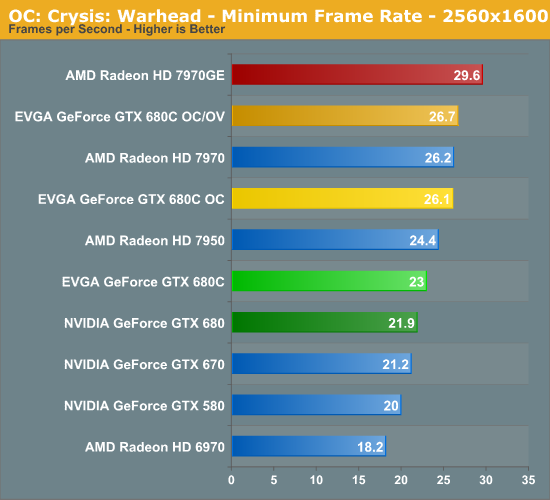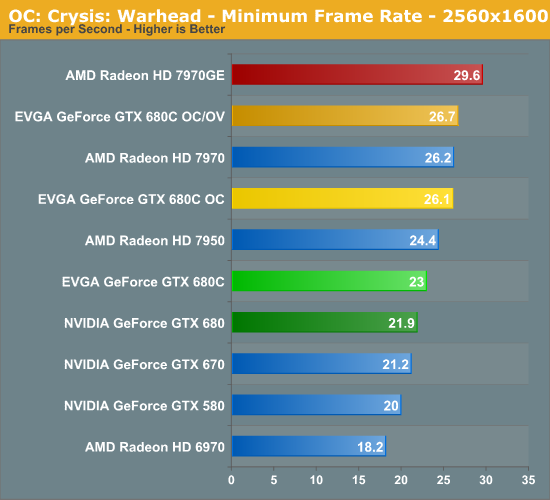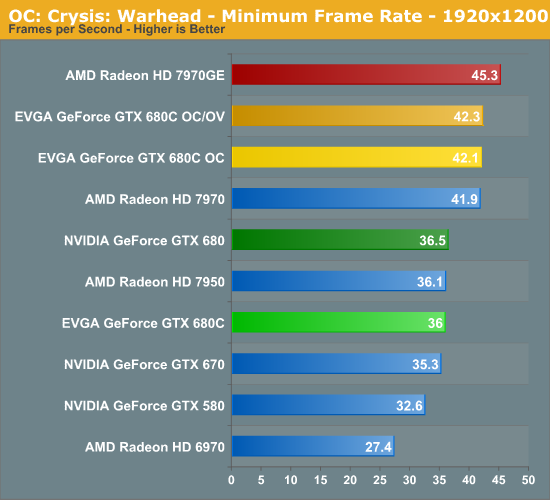 Thanks in large part to our memory overclock the GTX 680 Classified finally picks up some Steam in Crysis. At 36fps for overclocking without overvolting it's just enough to tie the Radeon HD 7970, which shows just how far behind the 7970 the GTX 680 is. The higher overclocks afforded by overvolting improve performance a bit more, but with such a small improvement in memory clocks we see an equally small improvement in Crysis performance.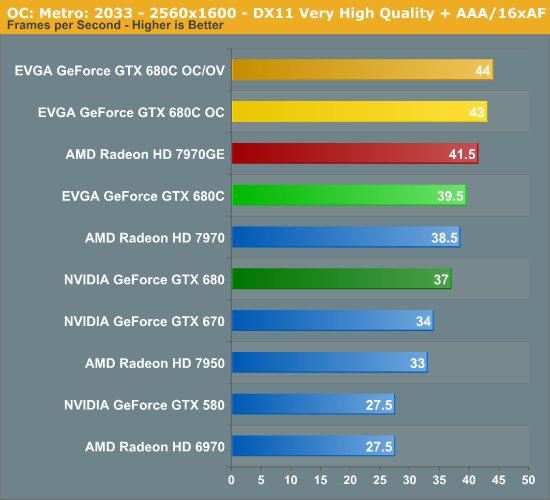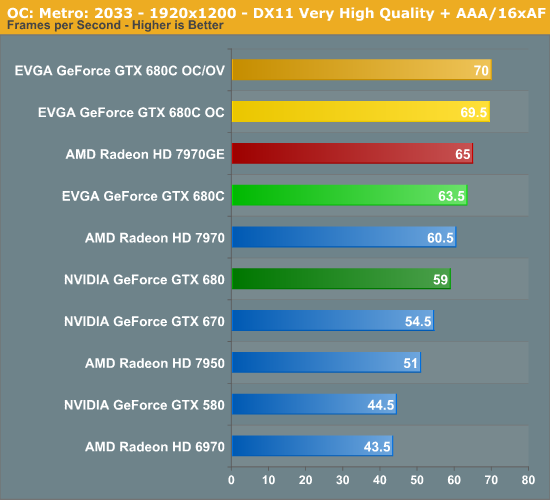 Metro responds well to our combination of core overclocking and memory overclocking, which leads to the stock voltage overclocked GTX 680 Classified picking up 9% and pushing it ahead of the 7970GE to 43fps. Overvolting and further overclocking adds just one more frame per second however.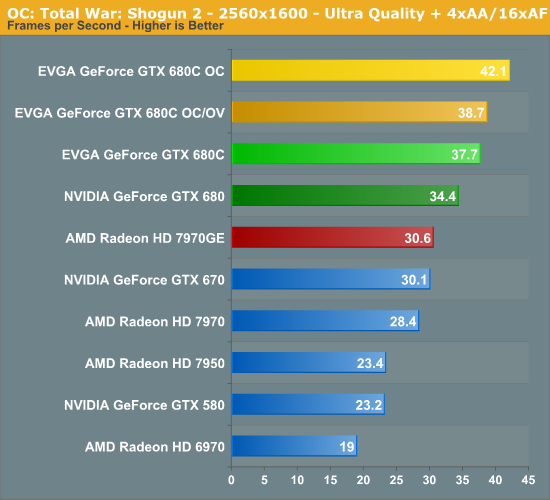 Shogun 2 ends up being our most interesting result, but not necessarily for the right reasons. As we alluded to earlier, overvolting will send power consumption shooting towards the GTX 680 Classified's power target, which is exactly what has happened here. The overclock without overvolting sees a respectable performance increase, but additional voltage sends performance back down to the point where it's not much better than the stock GTX 680 Classified. Overall our core clock was typically under 1100Mhz here when overvolted.
Shogun 2 appears to be an outlier among all of the games we test, but it's a stark reminder that there's more to overclocking than just adding power and cranking up the core clock.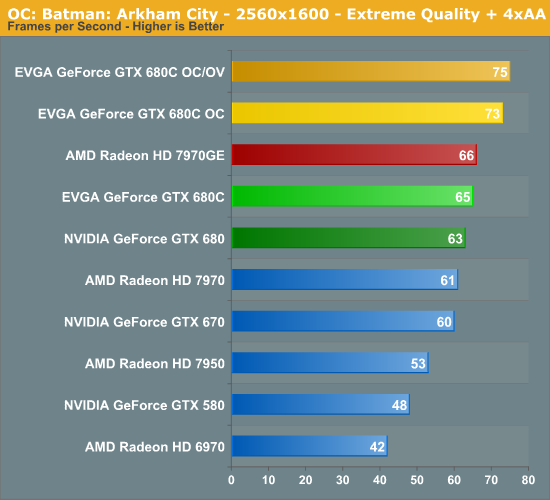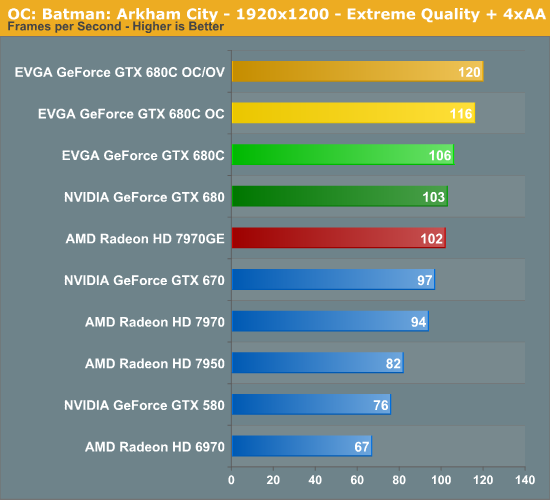 Where the stock GTX 680 Classified didn't greatly improve on the reference GTX 680, overclocking has changed things significantly. 73fps represents a 12% performance improvement for the stock voltage overclocked GTX 680 Classified, while overvolting gets us to 75fps.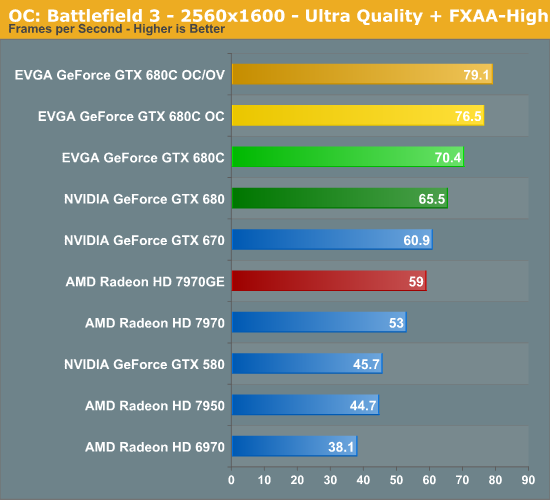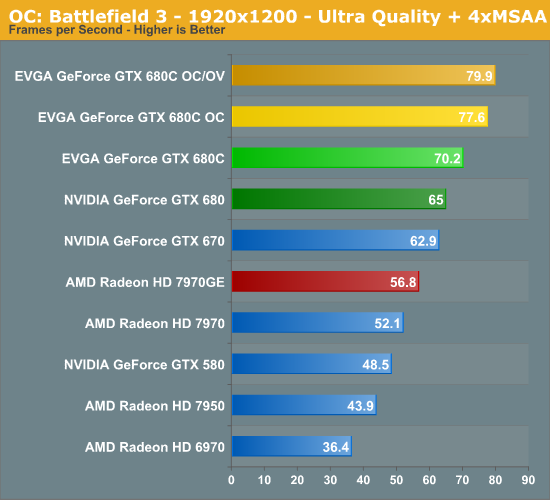 Finally with BF3 we see another solid gain from overclocking, with the non-overvolted GTX 680 Classified improving over the stock card by 9% to 76.5fps. Overvolting gets a further 2.6fps (3%) to 79.1fps.