Acer's V3-571G Value Proposition
While there have been a few reasonably impressive Acer laptops over the years, most target a familiar refrain: deliver better performance at a lower price than the competition. Acer manages this quite thanks to their size (e.g. large buying power) and their willingness to compromise on certain aspects of the laptop experience. Their latest Aspire V3 series does come with several noteworthy updates compared to previous value offerings, however, and the price might just scare a few of their competitors into making some much-needed improvements.
Starting with the exterior overview, we find a throwback to some of the older style Acer laptops with a preponderance of glossy black plastic. Let's be frank: I like glossy black plastic on a laptop about as much as I like letting my kids borrow my tablet after they've been eating chicken wings. I'm not sure if Acer actually did some research study that determined their customers actually like glossy plastic shells, but this one is about as bad as it gets on the lid and palm rest, and if you're a bit OCD on such things you'll find yourself constantly wiping away the inevitable fingerprints and smudges. The keyboard area at least gets a matte silver finish, which makes me wonder why they couldn't have done the same for the rest of the laptop. (Probably because it didn't photograph/render as well in the early design stages, and if so the people who made this decision need to clue in to the difference between marketing photos and actually using a laptop!)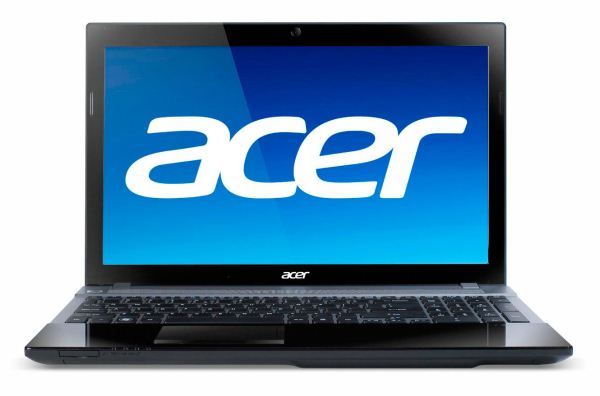 Naturally, the display is also glossy, but just about the only laptops delivering matte displays these days are business models—oh, and the ASUS N56VM/N56VZ that we really liked when we previewed Ivy Bridge. The casing of the laptop in general just feels a bit cheap, which is what you'd expect from plastic, but if you're not the type that abuses their laptop by stuffing it into a backpack with some heavy textbooks, or occasionally dropping it, the V3-571G should hold up okay.
The one thing that Acer gets right is something near and dear to my heart, however: the keyboard. Gone are the horrible floating island keys, replaced instead by a conventional chiclet keyboard. It may not be the absolute best laptop keyboard in the world, but there's little flex, key travel is decent, the spacing is right, and what's more Acer seems to be one of the few companies that understands what a laptop 10-key is supposed to look like. There's no silly half-size zero key, the plus, minus, etc. keys are all in the correct places, and for accountants or others that routinely input a lot of numbers the 10-key is exactly what it should be.
The only complaint I have is a minor one: the "merged" Enter and Backslash keys. We've seen this on a few Acer laptops in the past year, and I don't know what purpose the non-gap layout serves, but for the most part it's more of an aesthetic oddity than something that actually bothered me. I did a fair amount of typing on the V3 during the course of this review, and while I still prefer the key action on older ThinkPad and Latitude laptops, there's a lot of personal preference in what makes for a comfortable keyboard. At least the new key style doesn't make me want to cry.
For those interested in some shots of the internals, we did completely disassemble the V3-571G during testing (more on this later). Mostly, users might want to upgrade the RAM or storage, and that's thankfully much easier than getting at the other components. Before continuing the discussion, let's check out the full spec sheet to see exactly what hardware Acer delivers with the V3-571G-9435.
Acer Aspire V3-571G-9435 Specifications
Processor
Intel i7-3610QM
(Quad-core 2.30-3.30GHz, 6MB L3, 22nm, 45W)
Chipset
HM77
Memory
6GB (1x4GB + 1x2GB) DDR3-1333 (Hyundai 9-9-9-24 Timings)
Graphics
Intel HD 4000
(16 EUs, up to 1100MHz)

NVIDIA GeForce GT 640M 2GB DDR3 (Optimus)
(384 cores at 624MHz/709MHz Boost, 128-bit DDR3-1800)
Display
15.6" WLED Glossy 16:9 768p (1366x768)
(LG Display LP156WH4-TL-A1)
Storage
500GB 5400RPM 8MB Cache (Toshiba MK5059GSXP)
Optical Drive
DVDRW (Slimtype DVD A DS8A8SH)
Networking
802.11n dual-band 300Mb WiFi (Atheros AR9462/AR5BWB222)
Bluetooth 4.0 (Atheros/Foxconn/Hon Hai)
Gigabit Ethernet (Broadcom BCM57785)
Audio
Realtek ALC269
Stereo Speakers
Headphone/Microphone jacks
Capable of 5.1 digital output (HDMI)
Battery/Power
6-cell, 10.8V, 4400mAh, ~48Wh
90W Max AC Adapter (19V, 4.74A)
Front Side
Memory Card Reader
Left Side
Headphone and Microphone jacks
1 x USB 3.0
HDMI
Exhaust Vent
Gigabit Ethernet
AC Power Connection
Right Side
2 x USB 2.0
DVDRW
Kensington Lock
Back Side
N/A
Operating System
Windows 7 Home Premium 64-bit
Dimensions
15" x 9.96" x 0.99"-1.3" (WxDxH)
(381mm x 253mm x 25.1-33mm)
Weight
5.74 lbs (2.61kg)
Extras
HD Webcam
103-key Keyboard with Standard 10-key
Memory Card Reader (MMC/MS Pro/SD/xD)
Price
$850 MSRP; Online starting at $780 (7/02/12)
We'll start with the good news: quad-core Ivy Bridge i7-3610QM comes standard, along with NVIDIA's GT 640M Kepler GPU. That's an awful lot of performance potential right there, especially considering the sub-$800 price. Back when AMD's Trinity launched, I expressed concern about the target pricing we were hearing from AMD. At $700+ for laptops sporting the top-end A10-4600M APU, that left an awfully big gap in CPU performance compared to Intel's Ivy B