Power Consumption & Thermals
I dug up my old power draw and thermal numbers from the 2011 MacBook Air review, retested the old models to ensure they still performed as expected, and added the 2012 models to the list.
First up is power consumption. Here we're measuring total system power consumption with the display running at max brightness and the battery fully charged. We are forced to use a different power adapter for the 2012 MacBook Airs so there may be some variance here but the power rating remains the same.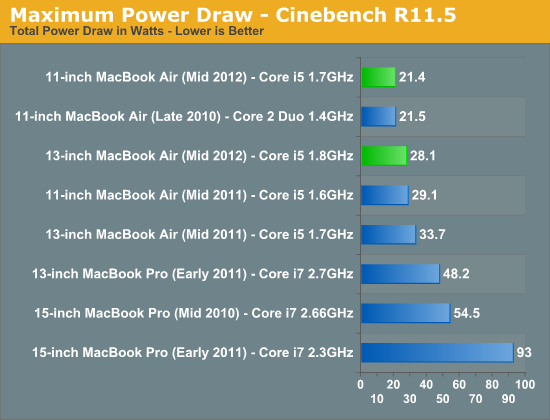 Cinebench shows a real reduction in power consumption under load. This is exactly what we expect to see from Ivy Bridge, which should translate into better battery life numbers.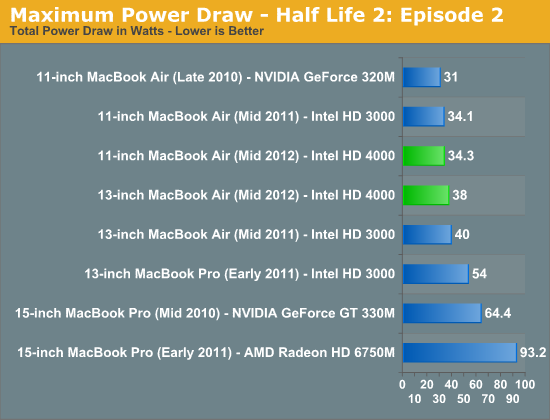 The power savings are basically non-existant under HL2ep2, but you have to keep in mind that the HD 4000 is able to deliver over 70% better performance at roughly the same power level as the HD 3000.
Surface temperatures haven't changed all that much, at idle the 11-inch system measured a bit cooler than its predecessor while the 13 was within a degree.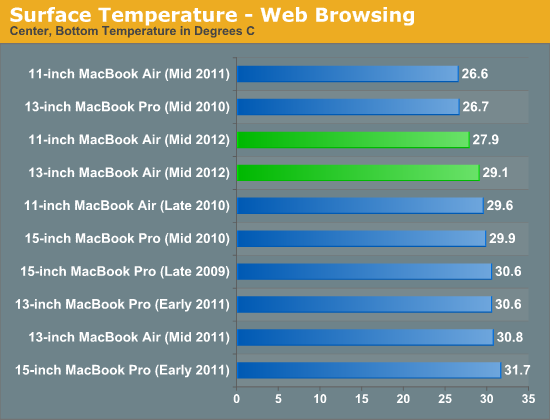 Under load these things can get hot - despite the power savings it looks like the base of the chassis gets roughly as warm as it did last year. There's only so much you can do with a tiny chassis and a single fan. Note that during my Diablo III benchmarking pass I measured 45C just north of the F2 key on the keyboard on the 13-inch MBA.