Civilization V
Our final game, Civilization 5, gives us an interesting look at things that other RTSes cannot match, with a much weaker focus on shading in the game world, and a much greater focus on creating the geometry needed to bring such a world to life. In doing so it uses a slew of DirectX 11 technologies, including tessellation for said geometry, driver command lists for reducing CPU overhead, and compute shaders for on-the-fly texture decompression.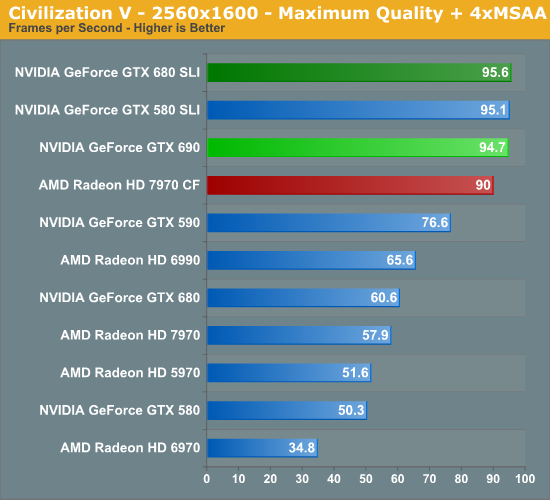 As with Total War: Shogun 2 we're reaching the point where we're CPU limited. Even at 2560 we're clearly capping out at around 95fps, and at 1920 our results just get outright weird to the point where we may be seeing the first and only evidence of the overhead from NVIDIA's move to static scheduling on Kepler.
In any case, even though we're approaching a CPU bottleneck the GTX 690 still does well enough for itself here versus both AMD and NVIDIA. We're looking at a 5% lead at 2560 over the 7970CF, while performance reaches 99% of the GTX 680 SLI.