Compute Performance
For our look at compute performance this is going to be a brief look. Our OpenGL AES and DirectCompute Fluid Simulation benchmarks simply don't scale with multiple GPUs, so we'll skip though (though the data is still available in Bench).
Our first compute benchmark comes from Civilization V, which uses DirectCompute to decompress textures on the fly. Civ V includes a sub-benchmark that exclusively tests the speed of their texture decompression algorithm by repeatedly decompressing the textures required for one of the game's leader scenes. Note that this is a DX11 DirectCompute benchmark.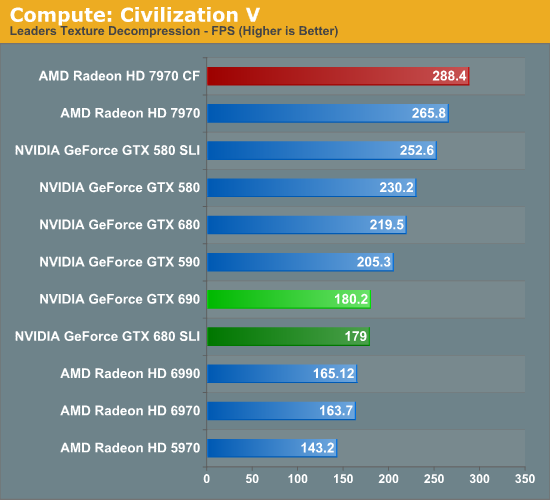 Given the nature of the benchmark, it's not surprising that we see a performance regression here with some setups. The nature of this benchmark is that it doesn't split across multiple GPUs well, though that doesn't stop AMD and NVIDIA from tying. This doesn't impact real game performance as we've seen, but it's a good reminder of the potential pitfalls of multi-GPU configurations. Though AMD does deserve some credit here for gaining on their single GPU performance, pushing their lead even higher.
Our other compute benchmark is SmallLuxGPU, the GPU ray tracing branch of the open source LuxRender renderer. We're now using a development build from the version 2.0 branch, and we've moved on to a more complex scene that hopefully will provide a greater challenge to our GPUs.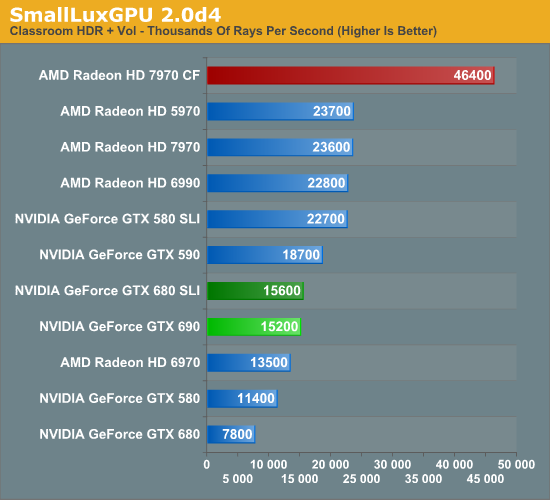 Unlike the Civ V compute benchmark, SLG scales very well with multiple GPUs, nearly doubling in performance. Unfortunately for NVIDIA GK104 shows its colors here as a compute-weak GPU, and even with two of them we're nowhere close to one 7970, let alone the monster that is two. If you're looking at doing serious GPGPU compute work, you should be looking at Fermi, Tahiti, or the future Big Kepler.